Rewatch- Descubre tus raíces irlandesas
Event
11 June 2021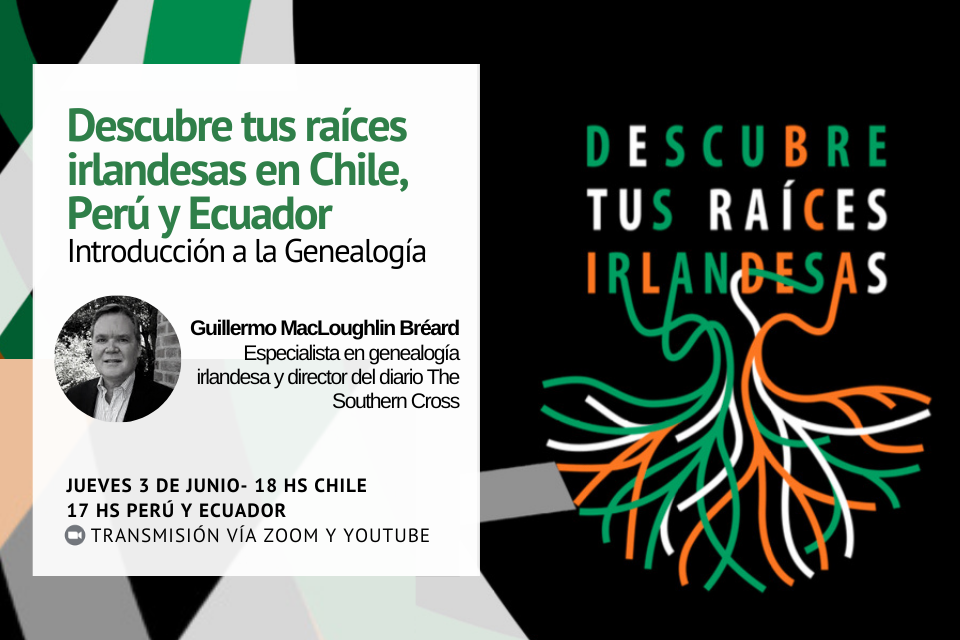 Si deseas saber más sobre tus orígenes irlandeses, te invitamos a revivir este webinar junto a Guillermo MacLoughlin Bréard, especialista en genealogía irlandesa y director del diario, The Southern Cross.
Orientado a Chile, Perú y Ecuador, este conversatorio es una introducción a la genealogía donde se brindan herramientas prácticas para descubrir tus raíces irlandesas. VIDEO

A continuación se detalla la bibliografía mencionada por Guillermo durante el evento:
- "Handbook on Irish Genealogy: How to Trace Your Ancestors and Relatives (Heraldry and genealogy series)". Donal Begley, Irish Books & Media; 1984.
- "The Surnames of Ireland". Edward MacLysaght, Irish Academic Press; 1988.
- "Ireland and Latin America: Links and lessons (Trócaire world topics)". Peadar Kirby, Gill and MacMillan; 1992.
- "The English-language Press in Latin America". Oliver Marshall, Institute of Latin American Studies; 1996.
- "Wherever Green Is Worn: The Story of the Irish Diaspora". Tim Pat Coogan, Arrow; 2002.
- "The English in South America". Michael George Mulhall, E. Stanford; 1878. Digitalizado en 2008.
- "Paisanos. Los irlandeses olvidados que cambiaron la faz de Latinoamérica". Tim Fanning, Fondo de Cultura Economica; 2018.
- "La experiencia invisible. Inmigrantes irlandeses en el Perú". Gabriela McEvoy, Universidad Nacional Mayor de San Marcos Fondo Editorial; 2018.
- "Irish Immigration to Latin America". Harry Dunleavy, Newman Springs Publishing, Inc.; 2019.
- "Don Juan O'Brien. Un aventurero irlandés en la Sudamérica del siglo XIX". Tim Fanning, Ediciones UC, 2021.
Páginas web con herramientas para investigar:
Censos www.census.nationalarchives.ie
Biblioteca Nacional de Irlanda www.nli.ie/en/intro/what-we-have.aspx
Public Record Office of Northern Ireland www.nidirect.gov.uk/contacts/contacts-az/public-record-office-northern-ireland
Algunas asociaciones irlandesas de Genealogía y sus publicaciones:
Society for Irish Latin American Studies (SILAS). Edmundo Murray y Brian McGinn tienen una bibliografía donde se mencionan historias de irlandeses en America Latina.
The Irish Genealogical Research Society.
Genealogical Society of Ireland.
Upper Ards Historical Society (Northern Ireland) y sus publiaciones "Familia".
Accredited Genealogists Ireland (AGI) www.accreditedgenealogists.ie

Te invitamos a completar este sencillo formulario para recibir la guía "Descubre tus raíces irlandesas". El manual contiene consejos para empezar la búsqueda, registros online disponibles, 20 preguntas útiles para entrevistar a tus parientes sobre la historia familiar y un modelo de árbol genealógico para completar. LINK al formulario.