Visit to Japan by Taoiseach (Prime Minister of Ireland) Mr Micheál Martin 19-21 July
News
15 July 2022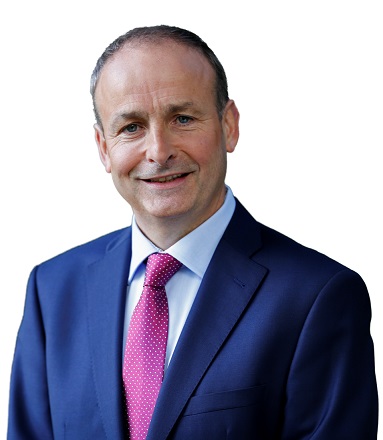 The Taoiseach will visit Japan and Singapore from 19-21 July.
The key objectives of the visit will be to reinforce the bilateral relationship and to signal Ireland's deep commitment to both countries and growing relationship with the Asia Pacific region.
In Tokyo, the Taoiseach will meet with members of the Irish diaspora, political representatives and the international business community. The Taoiseach will also meet with Japanese Prime Minister Kishida to discuss the long and well-established political and economic relationship between Ireland and Japan and to explore opportunities to bring relations and exchanges to a new, higher level.
He will also express sincere condolences to the Prime Minister and the people of Japan on the murder of former Prime Minister Shinzo Abe, which has shocked the world.
The Taoiseach will visit the site of the new Ireland House in Tokyo which is due for completion in 2024, under the Government's Global Ireland Strategy.
This is the first visit to Japan by an Irish Taoiseach since 2013.
ENDS
アイルランド首相ミホール・マーティン来日 7月19日~21日
7月19日から21日にかけ、二国間関係の強化およびアジア太平洋地域での関係深化を目的として、アイルランド首相ミホール・マーティンが日本を訪問します。
滞在中マーティン首相は、在日アイルランド人コミュニティ、政府関係者、国際的ビジネスコミュニティと懇談します。また、岸田文雄内閣総理大臣と会談し、二国間関係と交流を次の段階へと引き上げるべく、長きにわたり揺るぎのないアイルランドと日本の政治的・経済的関係について協議する予定です。
マーティン首相は、安倍晋三元総理大臣の逝去に対し、岸田総理大臣ならびに日本国民の皆様へ改めて弔意を表明します。
また、アイルランド政府による「グローバル・アイルランド戦略」のもと、2024年の竣工を予定する新しい大使館ビル「アイルランドハウス」建設予定地の見学も予定されています。
アイルランド首相の来日は、2013年以来9年ぶりとなります。