Searching for the 2020 Luxembourg Rose - Closing date for entries: 31 January 2020
News
06 November 2019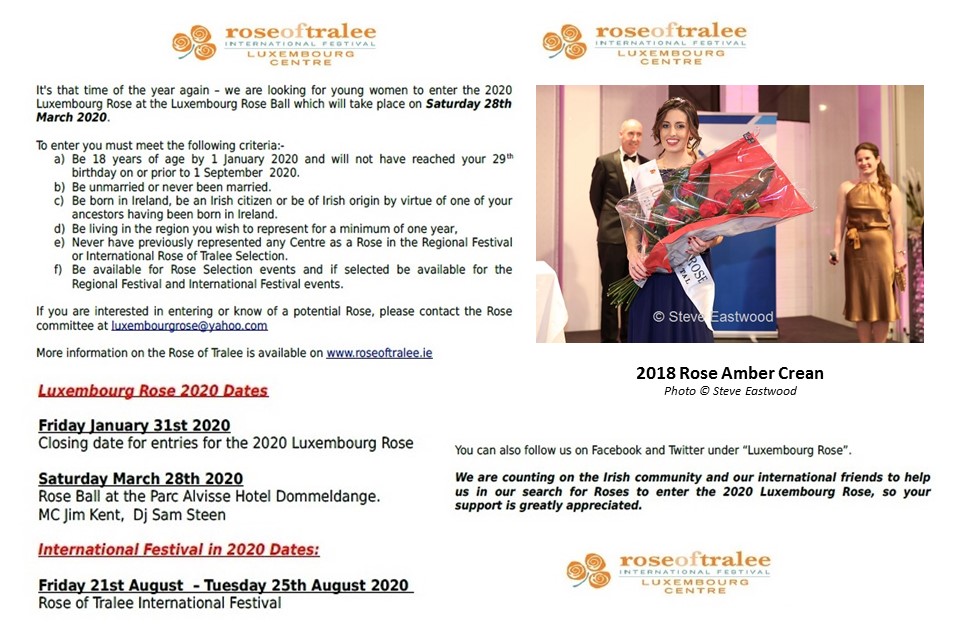 Searching for the 2020 Luxembourg Rose - Closing date for entries: 31 January 2020
The Rose of Tralee Luxembourg Centre is looking for young women to enter the 2020 Luxembourg Rose at the Luxembourg Rose Ball which will take place on Saturday 28th March 2020.
To enter you must meet the following criteria:
Be 18 years of age by 1 January 2020 and will not have reached your 29th
birthday on or prior to 1 September 2020.
Be unmarried or never been married.
Be born in Ireland, be an Irish citizen or be of Irish origin by virtue of one of your
ancestors having been born in Ireland.
Be living in the region you wish to represent for a minimum of one year,
Never have previously represented any Centre as a Rose in the Regional Festival
or International Rose of Tralee Selection.
Be available for Rose Selection events and if selected be available for the
Regional Festival and International Festival events.
If you are interested in entering or know of a potential Rose, please contact the Rose committee at luxembourgrose@yahoo.com