Ambassador Kelly Highlights Irish EU Commitment During Panel Debate
News
05 October 2018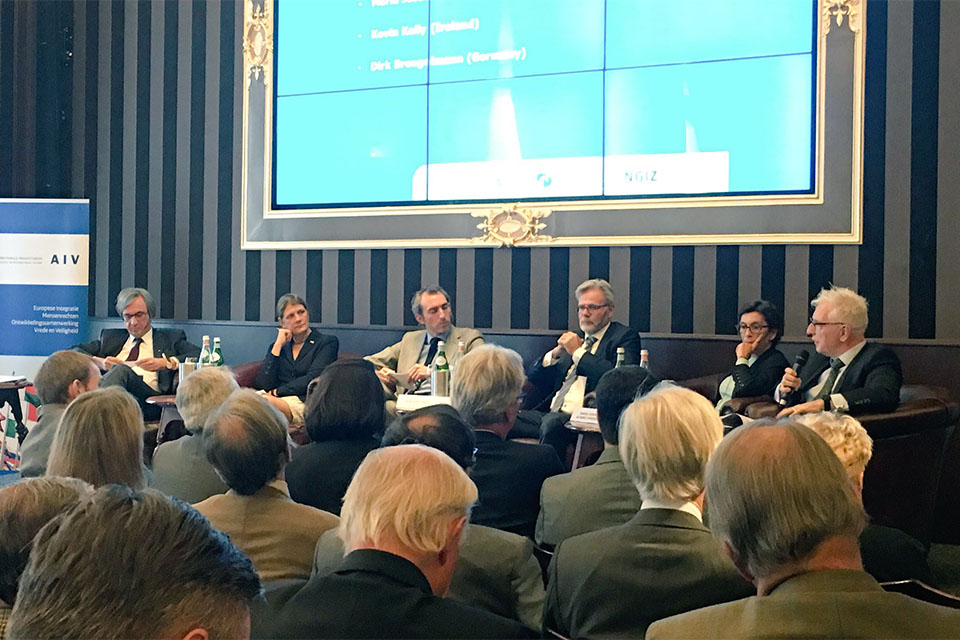 Ambassador Kelly Speaking on the Ambassador's Panel
After Brexit, who will become the new allies of the Netherlands?" was a question asked last Monday at a very well-attended event organised by Clingendael, the Netherlands Institute for International Relations, along with the Advisory Council on International Affairs (AIV) and the Dutch Association for International Affairs (NGIZ). The event marked the publication of the AIV's new report entitled Coalition Forming after Brexit: Alliances for a European Union That Modernises and Protects, the English translation of which will be published in December 2018.
Ambassador Kevin Kelly featured on a panel together with the Ambassadors of Germany, Spain, Latvia, and Denmark. The panel was moderated by Rem Korteweg, a senior research fellow at Clingendael Institute. Ambassadors stressed the importance of working together in coalitions on an issue-by-issue basis within the EU to achieve common aims. Ambassador Kelly emphasised Ireland's commitment to the EU as a Member State that is focused on expanding its connections across the EU as well as the solidarity that Ireland has experienced from the EU-27 throughout the Brexit negotiations. When commenting on the Irish commitment to the EU, he noted that 92% of Irish people support being in the EU, and that "97% of Irish 18-24 year olds support the EU" – which is amongst the highest figure in Europe and which shows great promise for the future.
The Ambassador's Panel was followed by a keynote speech by Thijs van der Plas, the Director-General of European Cooperation at the Dutch Ministry of Foreign Affairs, who announced that the Netherlands is strengthening its diplomatic network across Europe – including its Embassy in Dublin, meaning that there will be closer cooperation between Ireland and the Netherlands in the near future.