Visit to Northern Uganda with International Criminal Court Trust Fund for Victims
News
05 March 2018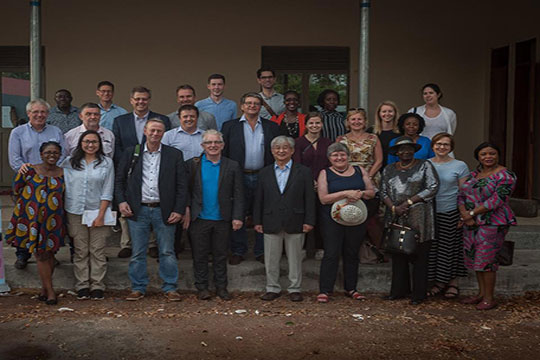 Delegation pictured during a visit to Ayira Health Service, a TFV implementing partner, in Lira, northern Uganda.
On Sunday 18th February, Ambassador Kevin Kelly travelled to Uganda as part of Ireland's delegation to an 11 nation mission to monitor ICC Trust Fund for Victims projects in northern Uganda, where tens of thousands of survivors of atrocities committed by the Lord's Resistance Army over a 20 year conflict continue to cope with their physical and psychological injuries.
The Trust Fund provides rehabilitation and reparation to victims of serious international crimes such as war crimes, crimes against humanity and genocide. Ireland has been a strong support of both the Court and the Fund, providing approximately €1 million to the Fund in voluntary contributions since its establishment.
The mission was organised by the Embassies of Ireland in The Hague and Kampala in coordination with the Trust Fund and ICC field office. The high-profile delegation included the newly elected President of the ICC's Assembly of States Parties, Mr. O-Gon Kwon of Korea, Ambassadors from Ireland, Canada, Uganda, the Netherlands and Denmark, along with representatives of Chile, Finland and Sweden, Norway, the United Kingdom and the European Union. The Trust Fund for Victims was well-represented by two Board members and the Executive Director. The ICC was represented by colleagues from its Ugandan field office.
Over the course of one week, the delegation visited the districts of Gulu and Lira in northern Uganda, including hospitals, local officials and meetings with community representatives. They met with, and heard the harrowing stories of, survivors of LRA violence who had benefited from TFV programmes in the region. On returning to Kampala, a representative delegation met with the Ugandan Minister for Justice, who expressed his support for the work of the Trust Fund.
Upon returning to The Hague Ambassador Kelly, had the following reflection: "It was a truly moving experience to hear, first-hand the accounts of the survivors and to learn how their lives have been improved for the better as a result of the work of the Trust fund for Victims. I hope that in some small way this mission has helped to profile the important work being done by the Fund, and to encourage further support. I am also hopeful that the visit will help change the narrative about the ICC – away from an exclusive focus on criminals towards an awareness of the needs and interests of victims".