Equator Monument Goes Green for St Patrick's Day
News
18 March 2018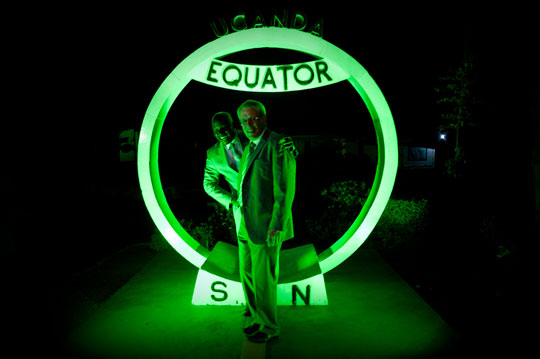 North met South on Tuesday 13 March as the Embassy of Ireland and the Uganda Tourism Board joined together to light the Equator monument up in green for St Patrick's Day.
This marks the fourth year that Uganda has participated in the Global Greening initiative, an event that sees over 200 famous landmarks and iconic sites across the world go green for 17thMarch.
Adding to the ceremony this year was a cultural performance by traditional Irish band Spraoi, flown in from Ireland, and a local Uganda cultural troop, Bamukisa Cultural Performers. The gathered audience was treated to an impromptu blend of Irish and Uganda culture as both sets of performers strove to show off their respective skills.
Speaking on behalf of the Embassy, Frank Kirwan, Chargé d'Affaires, noted that "the eagerness of cities and countries worldwide to take part in the 'Global Greening' initiative underlines the strength of the deep connection that people all over the world feel to Ireland", adding that, for Uganda, "the 'Global Greening' initiative offers a platform to reach across the world and showcase the country's tourism potential."
Minister of State for Tourism, Wildlife and Antiquities, Godfrey Kiwanda, thanked Ireland for partnering with Uganda on the national day celebrations and noted that the greening of the Equator "boosts both Uganda and Ireland's tourism sector as images of the activities are broadcast across the world".
The Global Greening kicked off a series of events in Uganda in celebration of St Patrick's Day, including the official reception at the Ambassador's Residence, a traditional Irish music night hosted by the Irish Society in Uganda and the Irish Society Charity Ball.