Ireland's work on Gender Equality at the United Nations
News
25 February 2015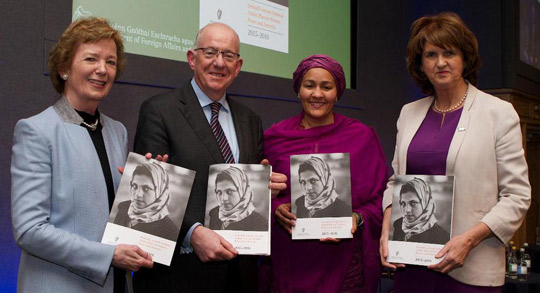 Special Envoy Mary Robinson, Minister Charlie Flanagan, Special Advisor Amina Mohammed and Tánaiste Joan Burton launching Ireland's second National Action Plan on Women, Peace and Security (1325), January 2015
Commission on the Status of Women 59th session
Ireland is an active participant at the annual meeting of the UN Commission on the Status of Women (CSW), the principal global policy-making body on gender equality and the advancement of women. The Commission meets each March and brings together all member states as well as a large civil society presence.
The main focus of this year's CSW session is to mark the twentieth anniversary of the Beijing Declaration and Platform for Action. Ireland has been very active in preparatory negotiations, seeking to ensure a strong political declaration to mark the anniversary, and to agree a resolution that will enhance the effectiveness of CSW in the coming years.
Ireland co-hosts 3 side-events at CSW 2015, to highlight the important themes of encouraging young women's political participation; enhancing women's participation in peacebuilding; and expanding the influence of women in the Arab world in driving the women, peace and security agenda there.
Ireland presented its candidature in November 2014 for membership of CSW for the term 2018 – 2022. If elected, this will be the first time that Ireland has served on the Commission, and will be a good opportunity to enhance our efforts to promote gender equality.
President of Ireland appointed as Champion for UN Women's HeForShe Campaign
The President of Ireland, Michael D Higgins, recently became the latest Head of State to join UN Women's HeForShe Campaign which encourages men to play a greater role in advocating gender equality. In accepting this invitation from UN Women to be one of 10 Champion World Leaders, President Higgins will provide leadership in mobilizing communities in Ireland and around the world to engage men in the campaign for gender equality and women's rights.
Women, Peace and Security at PMUN
Reflecting the priority we accord gender equality, the Irish mission pursues a team approach to realising the rights of women and girls. Drawing on our expertise in development, peace and security as well as human rights at our mission, and in collaboration with UN Women, we have embarked on an initiative to bring women's civil society leaders and human rights defenders to New York during 2015.
It is important that the voice of these courageous women is heard and that their field perspective and concerns are shared, first-hand, with global policymakers.
The first event in our series of panel discussions was held in January and featured a prominent Somali civil society human rights defender, Ms Ilwad Elman of the Elman Peace and Human Rights Center, Mogadishu. Other panellists in the discussion on women's participation and leadership in Somalia included the UN Population Fund, Human Rights Watch and Oxfam, as well as Ireland's Deputy Permanent Representative.
Ireland and UN Security Council Resolution 1325 on Women, Peace and Security
In January 2015, Ireland launched its second National Action Plan on UN Security Council 1325. This plan will run from 2015-2018 and has an increased focus on the empowerment and participation of women in peacemaking and peacebuilding. Ireland commits to work to:
strengthen women's leadership and participation in decision-making in conflict and post-conflict situations;
ensure that a gender perspective is incorporated across our humanitarian and development aid, peacekeeping, and post-conflict work;
bolster our ongoing work to prevent gender-based violence; and
champion the Women, Peace and Security agenda internationally.
Post-2015 Development Agenda
Gender equality and the empowerment of women and girls is a crucial part of the Post-2015 development agenda, currently being negotiated at UN Headquarters in New York. Intergovernmental negotiations on this new framework for global development are being led by Ireland and Kenya. There has been a groundswell of support for a strong goal on gender equality and women's empowerment, and also for effective mainstreaming of gender equality across all goals, targets and indicators.
Agreeing a goal on gender would reflect renewed political commitment to dismantling structural gender inequality, transforming gender relations and effecting positive change in the lives of all women and girls. A crucial priority is ending gender-based violence, the most pervasive yet least recognised human rights abuse in the world.