Post-2015 development agenda
News
14 October 2014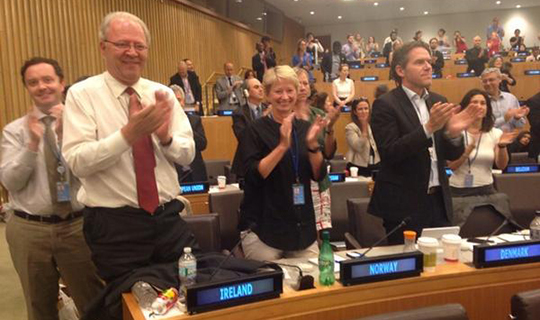 Ambassador Donoghue leading UN negotiations on a new Global Development Agenda
The United Nations is in the process of agreeing a new agenda for international development which will have a defining impact on a broad range of economic, social and environmental challenges. This agenda will be adopted at a Summit of world leaders in New York in September 2015. It will succeed the Millennium Development Goals, and seeks to galvanise efforts globally to eradicate extreme poverty by 2030 and promote sustainable development. Key features of this agenda will include a set of universally applicable Sustainable Development Goals, as well as a new global partnership which will mobilise the resources, capacity and energy required to help meet these goals.
Ambassador David Donoghue, Permanent Representative of Ireland to the UN, and Ambassador Macharia Kamau, Permanent Representative of the Republic of Kenya to the UN, were appointed to facilitate the international negotiations in October, by Mr Sam Kutesa, President of the UN General Assembly.
The appointment is a huge honour for Ireland and for Ambassador Donoghue. It is testament to Ireland's international standing and builds on our co-facilitation, with South Africa, of negotiations to agree the Outcome Document of the Special Event on achieving the Millennium Development Goals in September 2013.
Learn more about Ireland's role in the Post-2015 Development Agenda.
Other links:
http://www.un.org/millenniumgoals/beyond2015.shtml
DFAT Press release: https://www.dfa.ie/news-and-media/press-releases/press-release-archive/2014/october/ireland-new-global-development-agenda/