Post-2015 development agenda
News
03 August 2015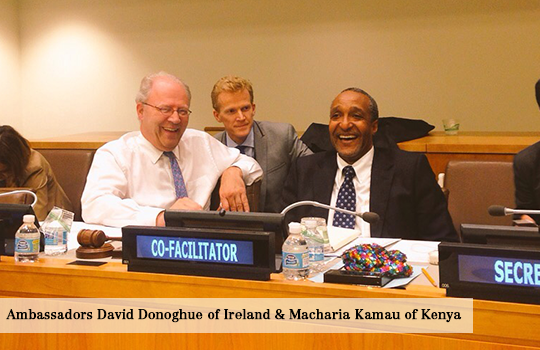 Ambassador Donoghue and Ambassador Macharia Kamau" title="Ambassador Donoghue and Ambassador Macharia Kamau
The United Nations recently agreed a new agenda for international development which will have a defining impact on a broad range of economic, social and environmental challenges. Key features of this agenda include a set of universally applicable Sustainable Development Goals, and a revitalised Global Partnership for Sustainable Development which will mobilise the resources, capacity and energy required to help meet these goals. The goals are integrated and indivisible and balance the three dimensions of sustainable development: the economic, social and environmental.As co-facilitator of the negotiation process, Ambassador David Donoghue, Permanent Representative of Ireland to the UN, had a central role in ensuring an ambitious and transformative agreement was reached.
Ambassador Donoghue and Ambassador Macharia Kamau, Permanent Representative of the Republic of Kenya to the UN, were appointed to facilitate the international negotiations in October 2013, by Mr Sam Kutesa, President of the UN General Assembly.
The appointment was a huge honour for Ireland and for Ambassador Donoghue. It is testament to Ireland's international standing, and marks a very real commitment to the UN. It is a tremendous way to mark both the 70th anniversary of the United Nations and the 60th anniversary of Ireland's membership of the organisation.
Learn more about Ireland's role in the Post-2015 Development Agenda.
DFAT Press release: Ministers Flanagan and Sherlock welcome historic agreement on Sustainable Development Agenda