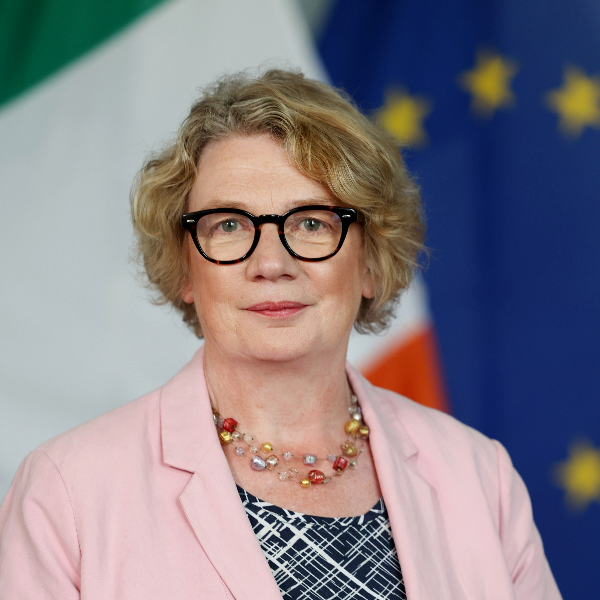 ‌
‌Welcome to the website of the Permanent Representation of Ireland to the EU.
It is both a privilege and an honour to have been appointed as Ireland's Permanent Representative to the EU. The Permanent Representation is Ireland's largest overseas Mission and includes officials from nearly every Government Department.
Together we support the Taoiseach and Government Ministers in their EU engagements and in negotiations on EU legislation and policies. At a time of great possibility, but also significant global challenges and uncertainties, it is important that Ireland's voice at the EU table is clear and coherent. We work to shape EU policies and ambitions to reflect Ireland's interests and values and contribute to deepening cooperation with our European partners.
Working closely with Government Departments back home, we represent Ireland in a wide range of EU meetings, maintain close contacts with the other Member States, with the EU Institutions and with the wider stakeholder community both here and in Ireland.
A major priority for us in the period ahead will be delivery of Ireland's EU Presidency in 2026. Our preparations have already begun and we will keep you updated on developments.
Le gach dea-ghuí,
Aingeal O'Donoghue
Ambassador
August 2023
Ambassador Aingeal O'Donoghue
August 2023 – present
Ambassador, Permanent Representative of Ireland to the EU
September 2020-August 2023
Assistant Secretary General, Department of the Taoiseach (Prime Minister's Office) with responsibility for Northern Ireland, British Irish Affairs and the Shared Island Initiative.
June 2017-August 2020
Director General, EU Division, Department of Foreign Affairs.
August 2013-June 2017
Ambassador of Ireland to the Republic of Korea, with secondary accreditation to North Korea.
September 2008-August 2013
Institutions Counsellor at the Permanent Representation of Ireland to the EU.
2004-2008
Counsellor, North/South Section, Anglo-Irish Division, Department of Foreign Affairs
2003-2004
First Secretary, EU Division, Department of Foreign Affairs.
1999-2003
First Secretary, Embassy of Ireland, Washington DC.
Having joined the Department of Foreign Affairs in 1986, other assignments have included postings at Embassies Madrid and New Delhi, and periods in Political Division and Corporate Services Division.
A native of Co. Cork, educated at UCC and Kings Inns, married to Peter Bullen, one daughter.