Peacekeeping
Ireland has an unbroken record of service with UN peacekeeping missions since our first deployment in 1958. Currently we are the sixth largest EU troop contributor to the UN.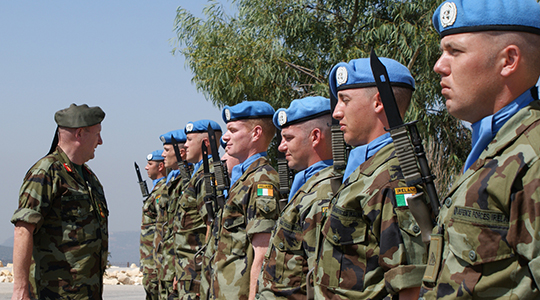 A hallmark of Ireland's membership of the UN is our unbroken and distinguished involvement in UN peacekeeping. We have had a continuous presence in UN peacekeeping since our first deployment in 1958. In this time we have provided a Head of a UN Mission on twelve occasions, a remarkable achievement for a small country.
As of June 2014, there are 361 Irish Defence Forces personnel serving overseas on UN peacekeeping missions. This makes us the sixth largest EU troop contributor to UN peacekeeping operations. Ireland's deployments are mainly in the Middle East - Lebanon and the Golan Heights - and in Africa. We have 5 specialists deployed with the UN in South Sudan who are providing mine action training to the South Sudanese police.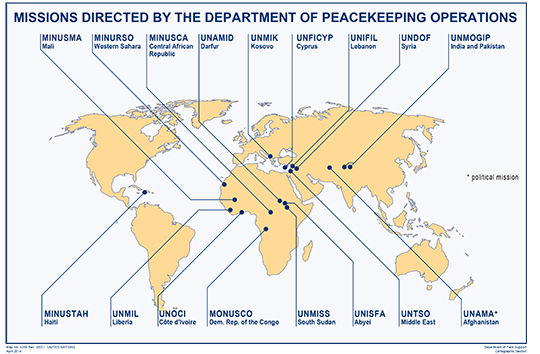 Members of An Garda Síochána (Irish police) have served with UN peacekeeping missions since 1989, including in Namibia and the Western Balkans. Currently, Ireland has twelve Garda members deployed with UNFICYP in Cyprus.
We actively contribute to evolving UN peacekeeping policy, including by delivering national statements at the Security Council during important debates. We have for example defended more robust UN peacekeeping approaches in order to target armed groups that prey on vulnerable civilians. We have called for greater use of modern technology, such as unarmed unmanned aerial vehicles, which strengthen missions in delivering their mandates and increase the force protection for our peacekeepers. And we have pressed for peacebuilding tasks which are undertaken by UN missions to prioritise the transformative role of women as peacebuilders. We have also welcomed greater regional participation in peacekeeping operations as a concrete expression of the sharing of a collective security burden
Along with our contribution to the UN peacekeeping budget, we also contribute to a range of peacekeeping-related UN Trust Funds. For example, we have funded a pilot programme on Integrating a Gender Perspective in the work of UNIFIL, the UN's peacekeeping mission in Lebanon.
Ireland's recognition of the UN's unique legitimacy on matters of international peace and security is evident in the so-called "Triple Lock" system, which governs the deployment of Irish military personnel to peace operations. Under this system, all such deployments require a UN mandate, along with Government and parliamentary approval.