Global Irish Newsletter 14 May 2020 - a Message from Minister Cannon
News
14 May 2020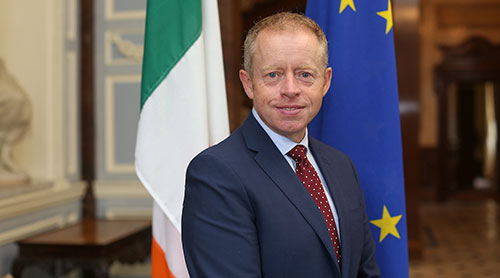 In recent weeks, we have witnessed many truly remarkable acts of selflessness, both here in Ireland and among our Diaspora. It is these of acts of friendship, generosity and community that shine most brightly during these difficult days. Our Diaspora communities continue to lead the way in supporting each other in a time of need.
In Shanghai, Irish community groups have rallied together to provide practical support and advice to each other. One community member has offered an online physical and mental health wellbeing seminar to Irish citizens in eastern China. The Irish community has also raised close to €30,000 to send essential PPEs to hospitals in Limerick, Galway and Belfast and to charities for children, the homeless, and a domestic violence refuge in Ireland.
In Toronto, our Honorary Consul, Eithne Heffernan, tells us how local Irish organisations have come together to help the older and more vulnerable members of their community, with a particular focus on supporting mental health challenges that might arise from self-isolation. They are working to keep their community connected.
Martin Logan, who tirelessly reports on the activities of the Irish community in Britain on The Irish in UK TV show, describes some of the great work that is being carried out by the community across Britain in response to Covid-19.
I know that in these uncertain times, some of you may be thinking of returning home to Ireland. I recommend the excellent material which the Citizens Information Board has developed to help returning emigrants make a smooth and successful return to Ireland.
Ciarán Cannon T.D.
Minister of State for the Diaspora and International Development