Passport Express - Current turnaround times
Current turnaround times
As at 26 February 2014, renewal applications made through the Passport Express services were taking on average 9 to 12 working days to process. First time applicants or those who are replacing lost or stolen books, the processing time can take up to 15 working days.
As at 5 March 2014, the general position for Passport Express services has improved. Renewal applications are taking on average 9 to 11 working days while the processing time for first time applicants or those who are replacing lost or stolen books, is taking between 10 and 13 working days. However, it should be noted that express services for Northern Ireland is still taking a minimum of 15 working days.
The Passport Service recommends that applicants apply well in advance of their travel date for three reasons:
present demand on Passport Express remains high with an increase of 6% on year to date figures 2013 v 2014;
applicants who are applying for their first passports or who are replacing a lost or stolen passport must allow more time for compliance and passport entitlement checks to be done in periods of high demand;
leave ample time to deal with submitted applications that are either incomplete or are not compliant with Passports Act, 2008.
It should be remembered that the stated turnaround period above indicates a performance level at a particular time. It is not a stated guarantee for applications. The Passport Service is committed to achieving its business goal of issuing passports on time and in compliance with the Passports Act, 2008 from available resources. As part of this effort, the appointment of 160 temporary clerical officers started in the last few weeks.
Turnaround times previously achieved are as follows:
| Week Ending | Passport Express Turnaround |
| --- | --- |
| 19th Feb 2014 | 9-12 Working Days |
| 12th Feb 2014 | 9-12 Working Days |
| 5th Feb 2014 | 10 Working Days |
| 29th Jan 2014 | 9-10 Working Days |
If you have completed the application correctly, you should get the passport within 10 working days from the time we receive your application.
Use the 11-digit barcode number (on the receipt issued by An Post) to track the passport application.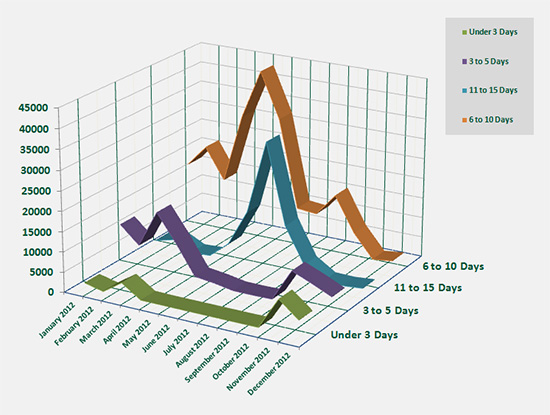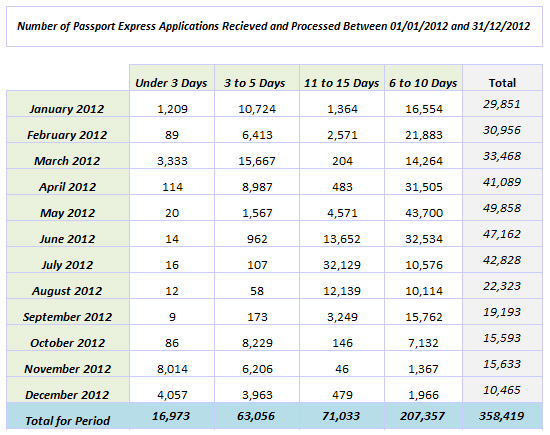 During the peak season, the volume of applications can increase dramatically. While we aim to process all applications within the appropriate timeframe we would advise that our busiest period for processing applications occurs from April to September.
From the period of October to March a larger amount of applications are processed with a turnaround time of 3 to 5 working days. We would therefore advise applicants who are looking for a quicker turnaround time to apply during these months. (see above diagram for numbers of applications processed).