International Women's Day Online Event
Event
01 March 2022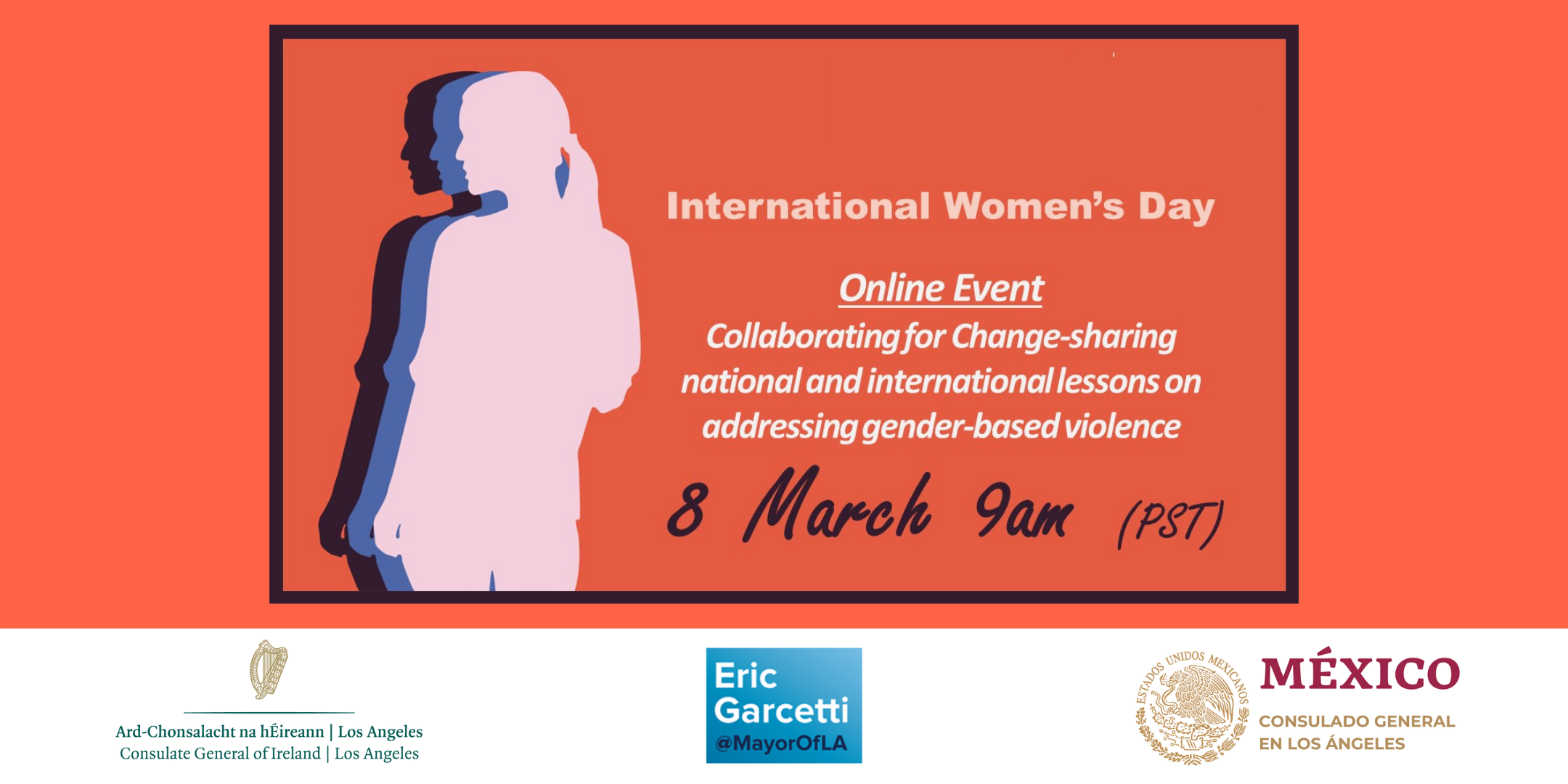 On
International Women's Day,
8
th
March 2022,
the Consulate General of Ireland in Los Angeles
in partnership with the
Consulate General of Mexico, Los Angeles, and the Office of the Mayor of Los Angeles, hosted
an open discussion on addressing gender-based violence at the national and international levels.

Ireland and Mexico currently sit on the UN Security Council, working together on gender equality and women, peace and security issues. As co-chairs of the UN Security Council Informal Expert Group on Women, Peace and Security (WPS), Ireland and Mexico are working to ensure that women's rights are placed front and centre of the deliberations and negotiations of the Security Council. Nationally, both Ireland and Mexico have developed National Action Plans on UN Security Council Resolution 1325 for the implementation of the women, peace and security agenda which are linked to national plans of action to address domestic, sexual and gender based violence .
Los Angeles Mayor Eric Garcetti chairs an international coalition of cities committed to advancing gender equality. The City Hub And Network for Gender Equity - known as CHANGE, whose membership extends from Barcelona, to Mexico, to Sierra Leone, is committed to advancing policies and programmes on gender equity which include a focus on gender based violence (GBV). The online event, open to the public, will consist of a panel discussion, followed by a moderated question and answers session with the panellists.
Speakers included:
Consul General of Mexico Marcela Celorio

Áine Hearns, Director, Conflict Resolution Unit, Ireland's Department of Foreign Affairs

Deaglán Ó Briain of Ireland's Department of Justice

Ambassador Nina Hachigian, L.A. Deputy Mayor of International Affairs

Dulce Colin, General Coordinator for Equality and Attention to Gender Violence, Government of Mexico City
The panel was moderated by Elizabeth Cafferty, former UN Gender Advisor and Global Women's Rights Expert.
If you or anyone you know is experiencing domestic violence and is in need of shelter and services, please see the following resources below.
Support is always available.