Patrick Cassidy's "The Mass"
Event
16 February 2022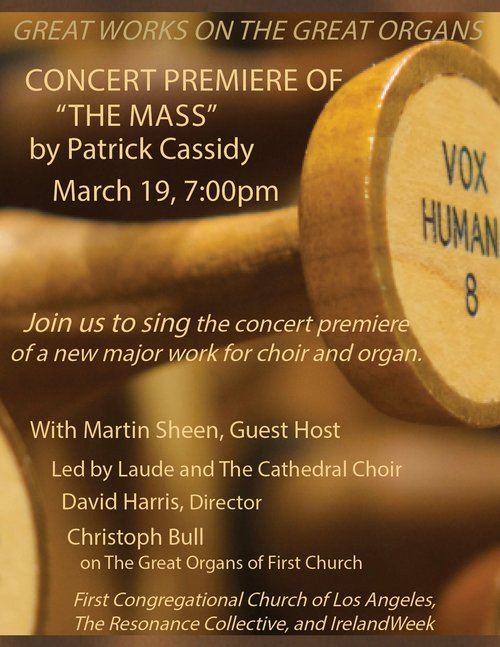 Patrick Cassidy's "The Mass" premiers on Saturday March 19th, 7pm at The First Congregational Church Los Angeles.
Join special guest host Martin Sheen as people across Los Angeles gather and commemorate the past two years in a healing celebration.
This Mass setting creates spaces for listeners to sink into themselves as its complexities wash over them. By reimagining the traditional Catholic Mass text in the context of universal solace, it has created a body of work for the ages. Cohosted by FCCLA and The Resonance Collective, the live premiere will align with many historical moments including the ongoing pandemic, its two-year anniversary, Ireland's centennial of independence, and the continuing energies of so many to fulfill promises of equity in our pluralistic society.
Tickets are $50 for front section seating and a cocktails with the composer reception before the concert, $35 for middle section seating, $25 for rear section seating, and $25 for virtual viewing. Anyone seeking financial assistance for a ticket please email mpease@fccla.org.