A very Happy St. Patrick's Day!
Announcement
17 March 2021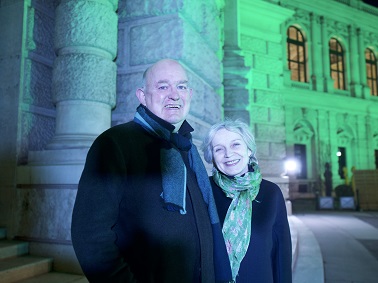 Eoin O'Leary, Ambassador of Ireland and his wife Anne in front of the 'greened' Burgtheater, Vienna
We wish everyone a very Happy St. Patrick's Day! LáFhéilePádraig sona daoibh ar fad! St. Patrick's Day is a special day to those of us of Irish birth or descent. This is our time for showcasing the spirit of the Irish through our wonderful culture and heritage, our gift for friendship and our love of life. Join us at this year's SPD reception https://ireland.ie/austria/ which will be accessible online from 11am, 17 March!
Is lá speisialta é Lá Fhéile Pádraig dúinn de bhunadh nó na de bhonn ginealaigh na hÉireann. Is í seo ár n-am le sárthaispeántas a dhéanamh ar spiorad na hÉireannaigh tríd ár gcultúr agus oidhreacht den scoth, ár mbronntanas don gcairdeas agus dár ngrá don tsaoil. Go mbeadh Naomh Pádraig leat agus le do theaghlaigh ar an lá seo, agus gach lá.
Beimid ag ceiliúradh Lá Fhéile Pádraig ar líne i mbliana! Caith súil ar https://ireland.ie/austria/ agus https://www.ireland.com/de-at/features/st-patricks-day-at-home/ ar LFP!