Christmas message from Ambassador O'Leary
Announcement
21 December 2021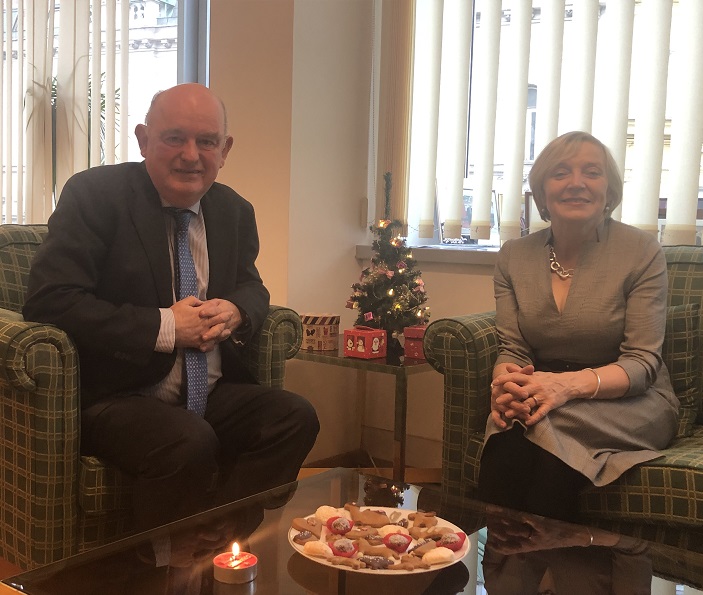 We wish you and your loved ones a very merry Christmas and a happy New Year! Nollaig shona daoibh!
Dear Friends, A Chairde,
On behalf of the Embassy of Ireland to Austria, Anne and I send our warmest Christmas greetings to you and yours.
This has been another challenging year for many of us, with many of us having suffered the loss of loved ones or being separated from our families for very lengthy periods. And while regrettably, many traditional Christmas activities will not take place in 2021, or will have to be severely curtailed, we have also achieved and learned a lot. We are relieved that the Covid vaccines made things a little easier this year on a personal, social, economic and indeed cultural level.
Regrettably, the pandemic continues to impact on all of our lives. I know I speak for all of us when I thank all those, in Ireland and Austria, who made a difference to us, including all those working tirelessly on the frontline.
St. Patrick's Day's 2021 took place in an entirely virtual format but we are hoping that a physical, or perhaps 'hybrid' St. Patrick's Day 2022 will be possible. We are in touch with some of you to share and exchange ideas and set this in motion.
The Embassies work for Ireland continues, despite the restrictions that have waxed and waned over the year. The bilateral and multilateral sides kept us busy as always with the Embassy hosting two ministerial visits over the summer and Ireland becoming a member of the IAEA Board of Governors in September. Ireland enjoys deep historical and cultural connections with Austria, and I was pleased to have the opportunity to meet with some of you and take part in a number of bilateral and cultural events such as the talk on George Bernard Shaw in the national library and the greenings of key Austrian landmarks for Saint Patrick's Day.
Last, but not least, we also welcomed a number of new colleagues to the team, while bidding farewell to others. A word of thanks goes out to former colleagues who greatly supported this mission during their tenure.
Anne and I, and all of us at the Embassy wish you and your loved ones a merry Christmas and a very happy New Year!
Beir Bua agus Beannacht.
Nollaig shona agus athbhliain faoi mhaise daoibh.
Eoin and Anne.