Farewell Reception: Dr Michael O'Flaherty, FRA Director
News
14 November 2023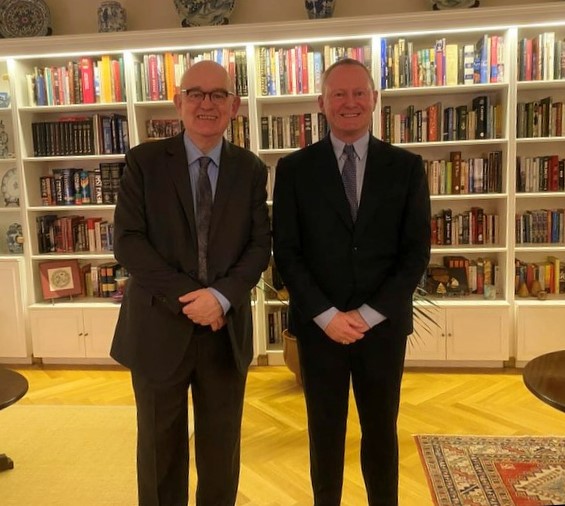 Ambassador Eoin O'Leary and Dr Michael O'Flaherty
Embassy Vienna hosted a farewell reception for the Director of the EU Fundamental Rights Agency ('FRA'), Dr Michael O'Flaherty, celebrating his eight years in the role. The reception gathered over 100 representatives of civil society and the diplomatic community in Vienna.
Ambassador O'Leary was joined by Vice-Chair of the FRA Management Board, Rick Lawson, to pay tribute to Dr O'Flaherty's outstanding contribution to the work of the Fundamental Rights Agency and his tireless promotion of human rights since his appointment in 2015.
In his farewell remarks, Dr O'Flaherty thanked those present on the evening and expressed his gratitude to all current and former colleagues at FRA for their collaboration during his tenure. Special thanks were addressed to the city of Vienna for hosting FRA, and to the representatives of the EU Member States and the UK for their close cooperation in working to achieve the goals of the Agency.
Ending his address on an optimistic note, Dr O'Flaherty drew attention to the upcoming 75th anniversary of the Universal Declaration of Human Rights and the roadmap that it provides for progress. Ambassador O'Leary also highlighted the work of UN bodies to protect human rights as one of the greatest achievements of the post-WWII era.
Ambassador O'Leary and the team at the Embassy of Ireland would like to wish Dr O'Flaherty all the best for his next endeavour as he campaigns for the position of the Council of Europe's Commissioner for Human Rights.