Embassy Book Club 2021 Reading List
Announcement
03 December 2020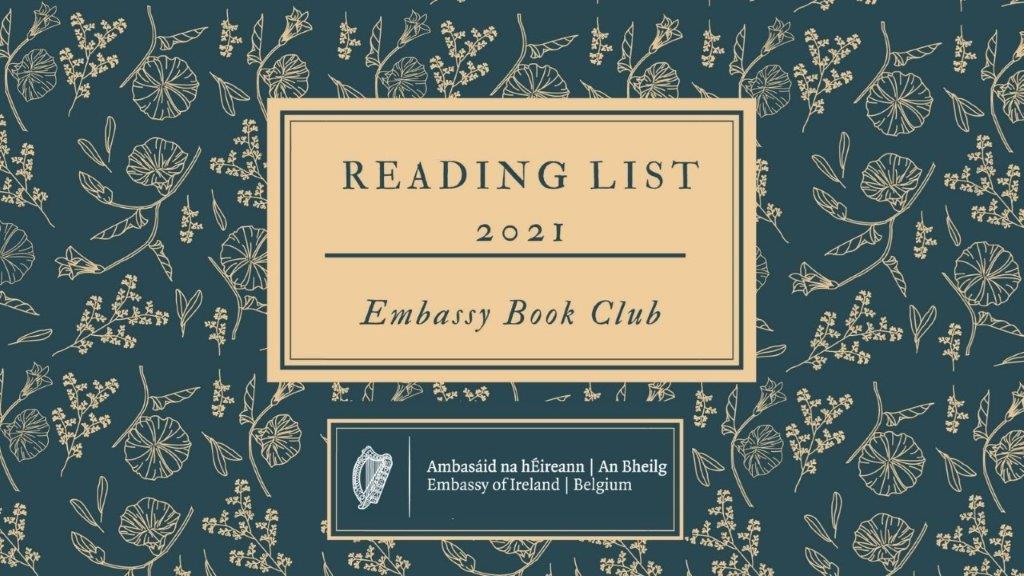 A message from Ambassador Helena Nolan
Dear Book clubbers and Readers of Irish Writing,
This has been a year quite unlike any other but, from the perspective of Irish writing, there is actually lots of good news. Books and the world of culture and the arts generally, have never seemed so popular, or so much a part of our daily lives, a welcome respite and inspiration.
The challenges we have all faced have driven innovation on virtual platforms, which in turn has enhanced access to literary festivals, readings, workshops, interviews, gallery and museum tours, drama, concerts and all sorts of artistic performances. Whatever happens in the future, some form of hybrid presentations are likely to be maintained, in order to ensure these benefits of accessibility and affordability.
Bookshops too have been pro-active to deliver for their customers despite restrictions and so many have now developed online ordering and click & collect services, making book shopping more accessible than ever. Well done to all our heroic and hardworking booksellers (34 Irish bookshops where you can order online).
Here at the embassy, we have a very active programme of cultural diplomacy, with strong support for Irish writing including through our award-winning Embassy Book Club and author events and we see all the time how books bring people together.
At the start of this year, we were delighted to host Catherine Dunne for a really impactful and engaging reading and conversation, and it was such a thrill to be able to bring Éilís Ní Dhuibhne and David Park to beautiful Bruges in February, for literary events organised by our dear friends in Bruges Library – like all book lovers, we also love libraries and we treasure their contribution to society and to community, here in Belgium and in Ireland.
In February, we also had a large book club gathering in the embassy for a very enthusiastic and lively discussion of Things In Jars by Jess Kidd, the perfect choice for the month of Saint Brigid, with its feisty heroine Bridie Devine. By March we had swiftly migrated the Embassy Book Club onto Zoom, where we have happily managed to continue with very engaging discussions each month since, right through what has been a difficult and lonely year for so many. Our reading list for 2020 has been full of vibrant talent and variety and, in keeping with our #VisibleWomen2020 initiative, we have been reading Irish women – our full 2020 reading list is here.
Some of the most rewarding feedback has been to hear that the regular book club has been like a lifeline and I have personally valued and very much enjoyed this connection with our diaspora and dear friends.
We are all looking forward to our Christmas Book Club on 17 December, and many of us will be dressing up for the occasion, as we discuss Marian Keyes, Grown-Ups.
Normally, at this time of year, we would be partnering with Waterstones Bookshop in Brussels to bring you a lovely evening of Irish Books for Christmas, complete with Choir and festive treats and offering our suggestions for your Christmas shopping book list. It was wonderful to see Maggie O'Farrell's new novel selected as the Waterstones Book of the Year and this provides a timely opportunity for us to launch our Embassy Book Club 2021 Reading List, as our first choice, for January will be - Hamnet.
The rest of the 2021 reading list is below. I hope that you will find it a delicious selection box, with plenty of variety for all tastes, and maybe some names that are new to you, that it will give you some ideas for your Christmas gifting, including to yourselves of course, and that we will be able to welcome you back to the Embassy Book Club in 2021.
Merry Christmas, enjoy the festive season, stay safe and well, and please do remember to support our local bookshops, here in Belgium and in Ireland, as well as our wonderful local libraries.
Helena and the team
#Reading4Ireland #ToBeIrish #VisibleWomen2020
2021 Reading List
| | |
| --- | --- |
| Title | Author |
| Hammet | Maggie O'Farrell |
| A Ghost in the Throat | Doireann Ní Ghríofa |
| Home Stretch | Graham Norton |
| Big Girl, Small Town | Michelle Gallen |
| This is Happiness | Niall Williams |
| Nora | Nuala O'Connor |
| The Last Days at Bowen's Court | Eibhear Walshe |
| The Art of Falling | Danielle McLaughlin |
| Life Sentences | Billy O'Callaghan |
| Holding Her Breath | Eimear Ryan |
| We are not in the World | Conor O'Callaghan |