Embassy of Ireland, Belgium St. Brigid's Day 2020
Press release
31 January 2020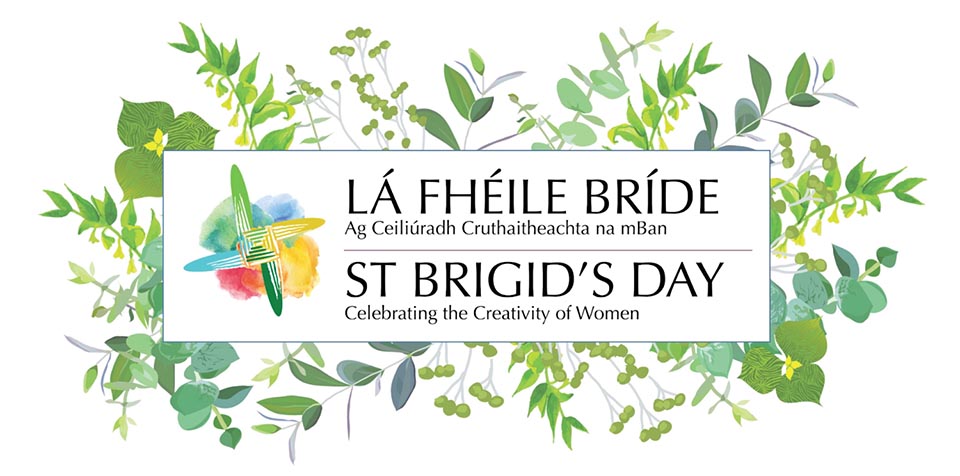 The Embassy of Ireland is thrilled to be hosting our 3rd annual event to mark Saint Brigid's Day. In Ireland, Saint Brigid's Day is traditionally associated with the coming of spring and renewal. This year, the Embassy of Ireland will mark the occasion by celebrating Irish and Belgian female creativity, entrepreneurship and design.
Following the success of our 2019 celebration of the women who have shaped both Ireland and the world, we return to BOZAR Centre for Fine Arts for a discussion, moderated by author and researcher Antonia Hart, with a panel of inspiring Irish and Belgian women from the world of entrepreneurship, innovation and design.
Originally from Dublin, Rebecca Devaney is a haute couture embroiderer, textile researcher and facilitator. Rebecca has worked with Yves Saint Laurent, Chanel, Dior, Valentino, Givenchy and Louis Vuitton and on creations which have been worn by the likes of Kate Moss and Beyoncé. Rebecca's most recent work, The Tears of Aphrodite, has been selected for exhibition at the OECD inaugural conference on Violence Against Women in Paris, February 2020. She also established Textile Tours of Paris, giving guided tours of the haberdasheries of Paris. Rebecca's work and research into the origins, history and heritage of haute couture embroidery has been exhibited and presented around the world, including at the Hasselt Museum of Fashion, Belgium.
Elke Jeurissen is a Belgian entrepreneur and author. Elke founded the Fierce Ladies network for women in business, and is co-founder of Glassroots and 72 Hours Reload. Elke is co-author of the book 'Vreemdgaan voor Managers' with her Glassroots business partner Cato Léonard, which was nominated as Dutch Management Book of the Year in 2013.
Brid Ryan co-founded, with her sister Aedin, Irish sportswear company Queen B Athletics with a mission to create quality sports kit specifically designed and has inspired the growth of a Queen B community promoting women in sport. In 2019, Queen B Athletics became the first sportswear company to supply a sports bra as part of the official kit to a national sports team in Ireland - the Tokyo Olympics-bound Irish Women's Hockey team.
From an Irish-Polish upbringing, researcher Camille Taper Schüller is a dual Irish-Belgian national, recently married to a German national – factors which have influenced her interest in multi-cultural environments, and which led her to undertake her PhD research in cross-cultural business management.
The Embassy of Ireland in Belgium was among the first of a small number of Irish Embassies selected to mark Lá Fheile Bríde in 2018. The Feast of Brigid, Ireland's only female patron saint, was the ideal occasion to celebrate the enormous creativity and talent of women and will be celebrated in over 35 Irish Embassies and Consulates worldwide.
This event is part of the Embassy's #VisibleWomen2020 programme, the banner under which the Embassy will deliver a range of events and initiatives in 2020 inspired by the 20th Anniversary of United Nations Security Council Resolution 1325 on Women Peace and Security, as well as the 25th Anniversary of the Beijing Declaration and Platform for Action (on gender equality and the empowerment of all women).
This event is made possible by the support of the Irish Abroad Unit of the Department of Foreign Affairs and Trade.
ENDS
Notes
Event Details
#VisibleWomen2020 celebrating Irish and Belgian female entrepreneurship, innovation and design
Programme:
• 18:30 - Networking reception and showcase
• 19:30 - Opening remarks by H.E. Helena Nolan, Ambassador of Ireland to the Kingdom of Belgium
• 19:40 - Panel discussion
• 20:40 – Q&A
Venue: BOZAR, Studio, Rue Ravenstein 23, 1000 Brussels
Places are now full but if you are interested in attending please register on Eventbrite in order to be on the waiting list. More spaces may become available closer to the event
About Saint Brigid's Day and the Belgian connection
St. Brigid is one of Ireland's three patron saints, alongside St. Columba and the world famous St. Patrick. The origins of her Feast Day on 1st February are thought to originally be a pagan festival called Imbolc, marking the beginning of spring after a long dark winter. Lá Fhéile Bríde or St. Brigid's Day celebrates the arrival of longer, warmer days and the early signs of spring. Traditionally, this day also celebrates Brigid's divine femininity. For a number of years now, Irish Embassies have been marking St Brigid's Day by celebrating the creativity of women, both Irish women and women in their countries of accreditation.
An important relic, the Saint Brigid's mantle is kept in the Holy Saviour Cathedral in Brugge/Bruges, Belgium.
About the Moderator
Antonia Hart is a writer and researcher at the Department of History at Trinity College Dublin and her book Ghost Signs of Dublin was published by History Press in 2014. Antonia was the guest speaker at our inaugural St. Brigid's day event in 2018 when she presented her Irish Research Council funded research on nineteenth century Irish female entrepreneurs and featured on our 2019 SBD panel.
About the Showcase
The event will feature a showcase curated for #VisibleWomen2020. There will be an opportunity for attendees to meet representatives from organisations involved in promoting female participation in the worlds of enterprise, diplomacy, international security, innovation and development.
Among those featured will be Enterprise Ireland, The Brussels Binder, Women on Board, WIIS (Women in International Security) and LadyAgri.
About female entrepreneurship in Ireland
The rate of entrepreneurship among women in Ireland is the 8th highest in Europe. Promoting Female entrepreneurship is viewed as a key source of job creation and innovation and a necessary step for addressing income inequality and social exclusion.
Enterprise Ireland established a Female Entrepreneurship Unit to support ambitious women grow scalable businesses and to address the key challenges impacting on the growth of female led business opportunities. Enterprise Ireland's website has a dedicated Female Entrepreneurship page where you can learn more about their supports for female entrepreneurs.
Since introducing measures targeting women in 2013, the number of women setting up their own businesses has grown year-on-year. In 2012, just 8% of participating high potential start-ups were female-led, which has increased to 28% in 2017, 25 of the 90 participating in the programme were female led.
The Enterprise Ireland 2020 Action Plan for Women in Business is available here.
Source: Department of Business, Enterprise and Innovation & Enterprise Ireland
Lookback at St. Brigid's Day Brussels 2019
You can view a report on our St. Brigid's Day 2019 event celebrating the women who have shaped both Ireland and the world, broadcast on Brussels television station BRUZZ here.