21 September - Heinrich Böll Centenary - 100 Jahre Heinrich Böll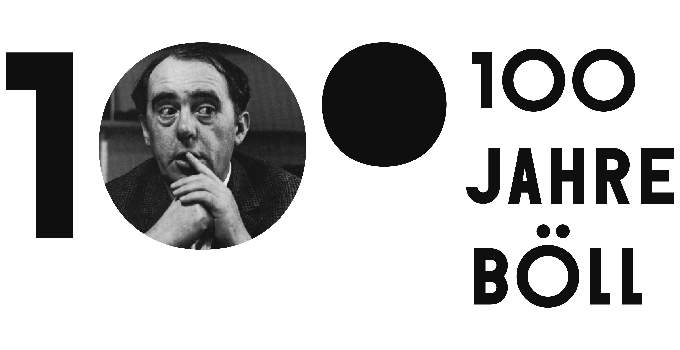 In celebration of the centenary of Heinrich Böll, as well as the 60th anniversary of the publication of the acclaimed 'Irisches Tagebuch', the Embassy of Ireland in Berlin is hosting a screening of Böll's film; 'Irland und seine Kinder'. The film will be followed by a short reading from the 'Irisches Tagebuch' by actor Daniel Hoevels and a discussion between renowned Irish-German author Hugo Hamilton and artist René Böll, son of Heinrich Böll.
Date: 21 September 2017
Time: 18:30 – 21:30
Location: Hackesche Höfe Kino, Rosenthaler Str. 40 -41, 10178 Berlin
Spaces for the event are limited and the Embassy requests that all interested parties email before Monday 11 September in order to secure a seat. Please include your name, your email address and the code "BoellWB". Individual ticket confirmations will be issued by the Embassy in advance of the event.
* Please note that this event will be predominantly held in German. Please note also that the event will take place on the third floor of the Hackesche Höfe and is not wheelchair accessible.
---
In Gedenken an den 100. Geburtstag des am 16. Juli 1985 gestorbenen deutschen Schriftstellers Heinrich Böll, sowie an den 60. Jahrestag des Erscheinens des gefeierten 'Irischen Tagebuch', veranstaltet die Botschaft von Irland eine Vorführung des Films 'Irland und seine Kinder' von Heinrich Böll. Nach dem Film wird eine kurze Lesung von dem Schauspieler Daniel Hoevels präsentiert werden sowie eine Diskussion zwischen dem berühmten Schriftsteller Hugo Hamilton und Künstler René Böll, Heinrich Böll's Sohn.
Datum: 21 September 2017
Zeit: 18:30 – 21:30
Ort: Hackesche Höfe Kino, Rosenthaler Str. 40 -41, 10178 Berlin
Aufgrund des begrenzten Platzkontigents empfehlen wir eine frühzeitige Anmeldung bei der Botschaft von Irland. Um sich für das Event anzumelden, klicken sie bitte hier und senden uns eine Mail mit ihrem Namen, ihrer Emailadresse und dem Code "BoellWB" bis Montag den 11. September. Gäste werden einzelne Kartenbestätigungen von der Botschaft per Email zugeschickt bekommen.
* Bitte beachten Sie, dass diese Veranstaltung hauptsächlich auf Deutsch stattfinden wird. Weiterhin möchten wir darauf hinweisen, dass die Veranstaltung im 3. Stock der Hackeschen Höfe stattfindet und leider nicht rollstuhlgerecht ist.
Image courtesy of https://www.boell.de/de/100JahreBoell