St Brigid's Festival 2020
News
27 January 2021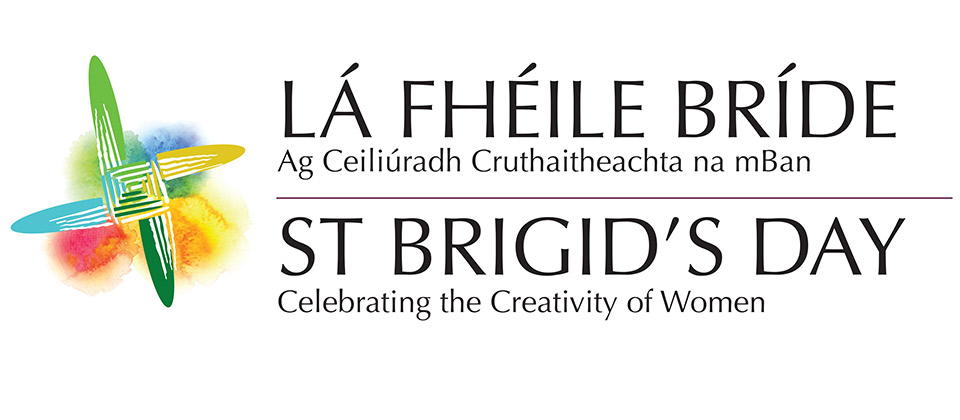 St Brigid's Day 2020
We are excited to announce the details of the St Brigid's Festival 2020 which will take place from the 30th January to the 4th February.
The St Brigid's Day Festival London began in 2018, developed in association with consultant producer Alison McKenna, when we decided that it was time for St Patrick to share the limelight! Brigid's Day seemed like the ideal occasion to celebrate the enormous creativity and talent of women and we are delighted that the day is now celebrated at Irish Embassies and Consulates worldwide.
The Festival will launch at the
Embassy on 30th January
with a St Brigid's Day celebration of the creativity and talent of women from Ireland and beyond.
We are collaborating again this year with our friends and partners in the London Irish Centre, Irish Cultural Centre, and Irish Film London who will host a series of events across St Brigid's weekend, with the Festival concluding at the British Library on the 4th February.
‌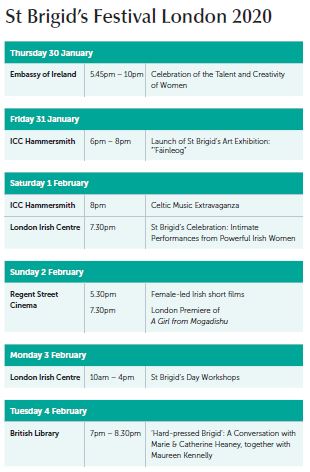 The
Irish Cultural Centre Hammersmith
will host a Celtic music extravaganza of Ireland and the UK's finest female musicians, including The London Lasses, The Friel Sisters, plus Speical Guests Mairéad Ni Mohoanaigh & Nia Byrne on Saturday 1st February.
The
London Irish Centre
are celebrating female Irish talent with a night of musical and spoken word performances on Saturday 1st February.
Irish Film London
will be bringing some of Ireland's finest female filmmakers, both behind and in front of the camera, to the Regent Street Cinema on Sunday 2nd February, including the London Premiere of
A Girl From Mogadishu
.
We're looking forward to hearing the experiences and witnessing the talent of the outstanding women who will be performing and speaking at all our events. We will be making a number of tickets available on Eventbrite for our event at the Embassy so keep an eye on our social media channels (@IrelandEmbGB) and on our partners' accounts (@LDNIrishCentre , @MyICCLondon , @irishfilmLondon) for more information on how to get involved.
St. Brigid is one of Ireland's three patron saints, alongside St. Columba and the world famous St. Patrick. The origins of her Feast Day on 1st February are thought to originally be a pagan festival called Imbolc, marking the beginning of spring. Lá Fhéile Bríde, celebrates the arrival of longer, warmer days, so please come and say goodbye to winter and celebrate the creativity of women with us and our brilliant partners this year.
Lá Fheile Bríde Shona Daoibh!