St. Patrick's Day in Japan Guide 2018
News
21 February 2018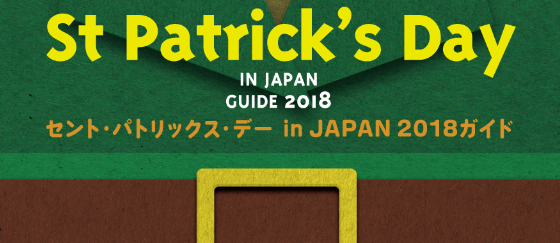 St. Patrick's Day in Japan: 13 parades, the I Love Ireland Festival, the Emerald Ball and a multitude of other events will be held in March to celebrate Ireland's national day!
3月にはアイルランドのナショナルデー「セント・パトリックス・デー」を祝う行事が全国各地で開催されます。代表的なイベントはアイラブアイルランド・フェスティバル、ザ・エメラルド・ボール東京、セント・パトリックス・デー・パレードなど!
The Embassy is involved in promoting and supporting these events, and if you are Irish or a friend of Ireland, please join this great occasion to celebrate our country and all things Irish.
駐日アイルランド大使館はこうしたイベントをサポートしています。日本にお住まいのアイルランド人、そのご友人の方々をはじめ、ぜひ皆さまご一緒にアイルランドの祝日を楽しみましょう。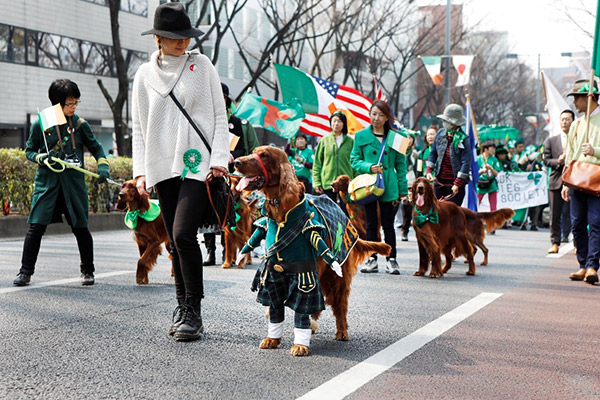 Ireland in Japan Guide 2018
パンフレット「アイルランド・イン・ジャパン2018ガイド」
Download: ダウンロードはこちら
You can see an update on all events at the Embassy's Facebook page:
イベント情報は大使館のフェイスブックページで随時アップデートいたします:
www.facebook.com/irelandinjapan
*Many of these events are organized by volunteers. If you have time and are interested in helping out, please refer to the links below.
イベントの多くはボランティアの方々によって運営されており、ご協力いただける方を募集しています。詳しくは各イベントのウェブサイトをご覧ください。

Events:
There are 13 parades around Japan, with the largest parade held in Tokyo, at Omotesando-dori on 18th March, starting from 1pm.
今年は全国13都市でセント・パトリックス・デー・パレードが開催されます。最も大きな東京のパレードは3月18日の13時から、原宿・表参道にて行われます。
10 March (Saturday) 3月10日(土)
-Yokohama parade 横浜パレード
-Nagoya parade 名古屋パレード
-Kumamoto parade 熊本パレード
-St. Patrick's Weekend at Togoshi Ginza Shotengai
セント・パトリックス・ウィークエンド、戸越銀座商店街にて
11 March (Sunday) 3月11日(日)
-Matsue parade 松江パレード
-St. Patrick's Weekend at Togoshi Ginza Shotengai
セント・パトリックス・ウィークエンド、戸越銀座商店街にて
17 March (Saturday) 3月17日(土)
-Osaka parade 大阪パレード
-Okinawa parade 沖縄パレード
-I Love Ireland Festival
10.00~18.00, Yoyogi Park in Shibuya
アイラブアイルランド・フェスティバル
10時~18時、代々木公園にて
-The Emerald Ball Tokyo
18.30~, Hotel Gajoen Tokyo
ザ・エメラルド・ボール東京
18時30分から、ホテル雅叙園東京にて
18 March (Sunday) 3月18日(日)
-Tokyo parade 東京パレード
-Okayama parade 岡山パレード
-Fukuoka parade 福岡パレード
-I Love Ireland Festival
10.00~17.00, Yoyogi Park in Shibuya
アイラブアイルランド・フェスティバル
10時~17時、代々木公園にて

21 March (Monday) 3月21日(水・祝)
-Chiba parade 千葉パレード
-Takamatsu parade 高松パレード
24 March (Saturday) 3月24日(土)
-Saint Patrick's Day Festival at Maker's Pier Nagoya 2018
10:00~19:00 at Maker's Pier
セントパトリックス・デー・フェスティバル名古屋 2018
10時~19時、メイカーズピアにて
-Matsumoto parade 松本パレード
-Saint Patrick's Day Festival at Maker's Pier Nagoya 2018
10:00~19:00 at Maker's Pier
セントパトリックス・デー・フェスティバル名古屋 2018
10時~19時、メイカーズピアにて
25 March (Sunday) 3月25日(日)
-Fukui parade 福井パレード
-Saint Patrick's Day Festival at Maker's Pier Nagoya 2018
10:00~19:00 at Maker's Pier
セントパトリックス・デー・フェスティバル名古屋 2018
10時~19時、メイカーズピアにて

-The Wild Rover at Shibuya O-WEST / clubasia / VUENOS / Glad / Lounge NEO 14:00~
ザ・ワイルド・ローバー、Shibuya O-WEST / clubasia / VUENOS / Glad / Lounge NEOにて、14時~、5会場同時開催
*More events and updated information related to the celebration of St. Patrick's Day in Japan can be found on the following websites:
 この他にも全国各地でさまざまなセント・パトリックス・デーのイベントが開催されます。最新情報は下記のウェブサイトでご確認ください。
www.facebook.com/TheEmeraldBallTokyo
www.facebook.com/iloveireland.japan
japan-ireland.jugem.jp
www.thewildrover.info