Building resilience: The power of effective community level disaster risk management
Case Study
31 May 2019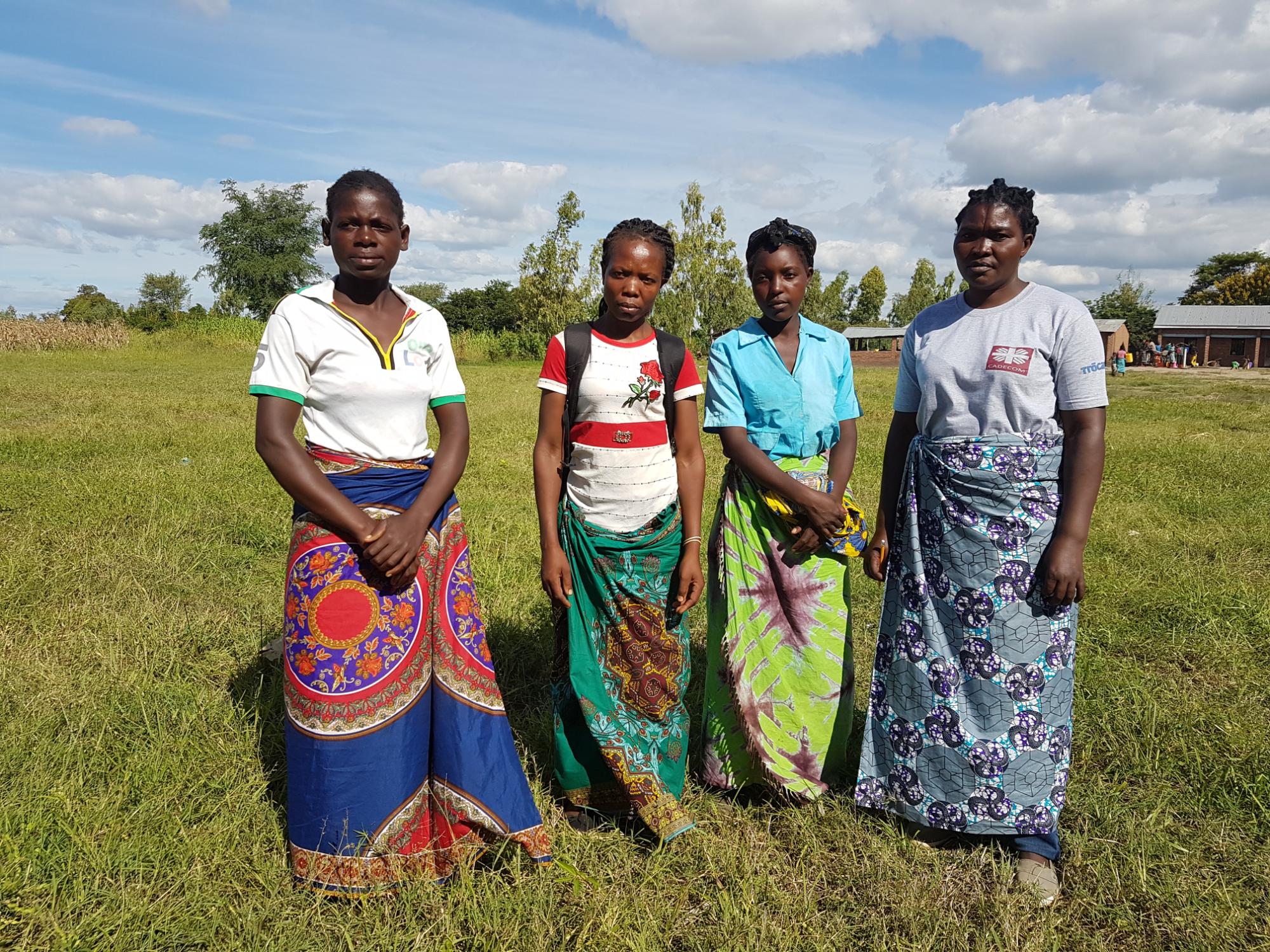 L-R Deborah Almson, Ennifer Malambo (Chair of the Village Civil Protection Committee), Esme Mvula, Maureen Musukwa (Field Officer CADECOM)
Ennifer Malambo (2nd left) is chair of her village's civil protection committee. She is highly regarded by everyone the Embassy of Ireland met in at the temporary camp in Kathebwe, in Zomba District, Southern Malawi. Kathebwe is the short-term home for hundreds of families forced to leave their homes in March in the build up to Cyclone Idai. Some 436 families are based here waiting for flood waters to recede so they can return home and start the long, costly process of recovery.
The village civil protection committees play a vital role in supporting the communities to plan for and reduce the impact of disasters, react during and immediately following a disaster, and take steps to recover after a disaster has occurred.
When government officials, health-care workers, and aid organisations come to the camp, Ennifer is the first to provide accurate and detailed information. Quiet and unassuming, her role in protecting her community the night the waters came only emerges as her neighbours start to recount events.
Esme Mvula (2nd right) and Deborah Almson (far left) tell similarly terrifying stories. The flood water reached their houses at night. The waters came rapidly and in no time it was waist high. "It all happened so quickly" Esme recalls. Esme has six children and was struggling to evacuate the whole family. Thanks to dry runs organised by the civil protection committee, Esme knew the safest place was the nearby primary school. As she tried to make her way to the school, members of the committee arrived with canoes and helped get her and her children to safety. Esme said "It was terrifying for the children. They were crying and very scared". Esme's ten-year-old son nearly drowned during the evacuation. "Now the children are too scared to go back to the house. They think the water is still there"
Deborah's house began to collapse as the water rushed in so she escaped with her husband and five-year-old son. As she left the house, members of the civil protection team arrived in the canoe and brought them to the school. "It was an unbearable situation. We feared for our lives. This (the floods) has never happened to this level before"
It was Ennifer's quick action as chair of the civil protection committee that saved the lives of many in the community. She recalls that the heavy downpour began at midnight. On learning that a nearby dyke had burst, Esme alerted all the committee members. Some checked the dyke, and others began to warn all the households to evacuate. They then began to rescue the families closest to the dyke by canoe. She explains: 'We had a plan and we followed it'. She smiles and proudly says "No lives were lost".
The floods brought devastation to many parts of the country, but this story of an active and committed village civil protection committee with a strong female leader demonstrates the value of communities being able to anticipate, prepare for, and respond to disasters.
Ireland has been working in Malawi since 2007 with a wide range of partners working with communities at risk from climate related and other shocks. We focus on building resilience and reducing the impact of shocks by helping farmers grow climate resilient crops and use climate smart farming practices; encouraging families to diversify their source of income and be less dependent on farming; and supporting communities to have disaster plans in place so they can like Ennifer take quick action to minimise damage when crises strike. As well as reducing risk and building resilience, we also provide support in the aftermath of a crisis. In response to the floods in March 2019, Ireland rapidly allocated €750,000 for relief and early recovery activities. The money was used by NGOs including Trócaire, Goal, Christian Aid and others to provide shelter; water and sanitation; and multi-purpose cash transfers for the worst affected communities. The support included a particular focus on nutritional needs of women and children, and recognising that crisis situations and displacement can leave people, especially women and children, more exposed to incidents of violence and abuse, the organisations we supported worked with the host and displaced communities to provide protection services.