Ireland congratulates Malawi on meeting 2 million clean cookstoves
Press release
15 December 2020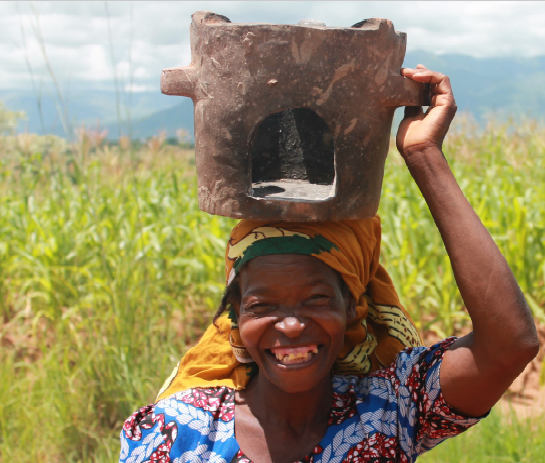 Photo Credit: National Cookstoves Steering Committee. Used with permission
Seven years ago, in 2013, Malawi joined a worldwide effort to reduce deforestation and carbon emissions, and improve the health of individuals and economies, by reducing the use of three-stone fires for cooking. The global commitment, orchestrated by the Global Alliance for Clean Cooking aimed to deliver more environmentally friendly, or 'cleaner', cooking options to 100 million households around the world. Malawi, with its very high dependence on open fires at the time, especially in rural areas, made a very ambitious pledge that would see 2 million households switch to energy saving stoves by the end of 2020.
We now extend our very warm congratulations to the Government of Malawi and its partners for having successfully achieved this target. This is a success story that involves every level of society, from the Ministers and their officials at both the Ministry of Energy and Ministry of Forestry and Natural Resources to the members of the many, many small women's groups around the country that have successfully learned how to make, market, and use the energy saving stoves, now commonly known as the Chitetezo Mbaula.
By switching from the three-stone fire to the Chitetezo Mbaula, a family can reduce the amount of wood it uses each week by approximately 40%. This means less damage to the country's precious natural resource base, it also means less time is spent each week gathering wood leaving more time for income generation or other activities. The stove can be used inside or outside the home, and this can significantly reduce the hazard to the health of all family members caused by smoke inhalation.
Chargé d'Affaires at the Embassy of Ireland, Diarmuid McClean said this week: "We are delighted to have been able to work with the Government of Malawi and the National Cook stove Steering Committee since 2013 to help deliver this very impressive result. Zabwino Nonse!"
"As a rural, farming nation, Malawi is very vulnerable to the negative impacts of climate change. Every effort must be made to protect the natural resource base so it can continue to sustain the lives and livelihoods of the families that depend on it. Reducing the amount of wood that is used each day for cooking is simply essential, and one of many steps needed to ensure growth and development is possible, and can be sustained.
"As we celebrate this achievement, we are aware that much more is needed, and is possible. We need to build on this success and widen our ambition. A key next step is to reduce the unsustainable production of charcoal and wood-fired bricks, while in the farming sector we need to urgently adopt climate smart practices at all levels. Ireland is committed to stepping up our efforts to tackle climate change at home and with our partner countries and we look forward to continue collaboration with our many valued partners in Malawi into the future."
ENDS
Notes for the editor:
The Irish Government supported the strengthening of the MBAULA network comprised of government, NGOs and private sector whose objective was to coordinate all fuel efficient clean cook stove partners. Further, a National Cook Stove Steering Committee was established and provided further support on quality control and establishment of standards, awareness and communication as well technology generation.
The Irish government has also tested and successfully implemented innovative approaches for the manufacture, distribution, and marketing of stoves. Key amongst the initiatives taken has been the distribution of cook stoves to some of Malawi's most vulnerable people via the social cash transfer programme, in combination with targeted sales in key districts. This delivery method has meant that improved cook stoves are now being used in nearly 50% of homes in Balaka and Ntcheu where the Irish Government provides funding for the Social Cash Transfer Programme.
Ireland has supported distribution of over 150,000 improved cookstoves through collaboration with United Purpose, Sunfire Energy, Trinity College Dublin and NASFAM
Looking ahead, the Ireland remains committed to supporting the Malawi Government in its commitment to reducing energy poverty through the National Energy Policy as well as the National Charcoal Strategy.