Go Raibh Míle Maith Agat - Honorary Consul General Seán O'Neill Retires
News
09 July 2019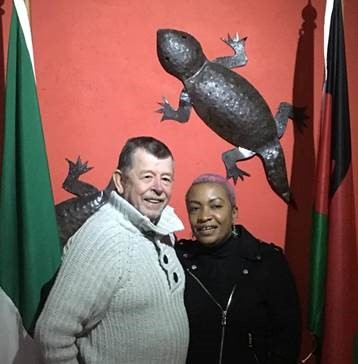 Seán and Omega O'Neill celebrate Seán's 18 years of contribution to Ireland in Malawi. Photo: Embassy of Ireland
After 18 years of exemplary service to Irish citizens, Ireland's Honorary Consul General in Blantyre, Seán O'Neill retired at the of June 2019.
Appointed Honorary Consul in 2001, Seán until the opening of the Embassy in Lilongwe in 2007, was always available to deal with consular, visa and business related queries. He was a strong advocate for the opening of the Irish Embassy in Lilongwe further enhancing the warm and growing bilateral relations between Ireland and Malawi. Since 2007 Seán continued to provide outstanding service to Irish citizens and to the general public in the South of Malawi while colleagues at the Embassy continued to benefit hugely from his expertise and advice.
Ireland's Tánaiste and Minister for Foreign Affairs and Trade in congratulating Seán on his retirement said that Seán….
"represented Ireland in Malawi with great dignity and commitment and that this is reflected in the high regard in which you are held in the Irish community and among your consular colleagues in Malawi. The assistance you have provided to Irish citizens in Malawi and your support for the Embassy in Lilongwe, particularly during the opening of the Embassy in 2007, is greatly appreciated".
Seán's remarkable service and retirement was celebrated with the Irish community and friends and colleagues in Blantyre. Together we wish Seán and his family a long and happy retirement back in Ireland and look forward to their regular visits back to Malawi.