Ireland Africa Fellows Programme 2020-21
News
08 August 2019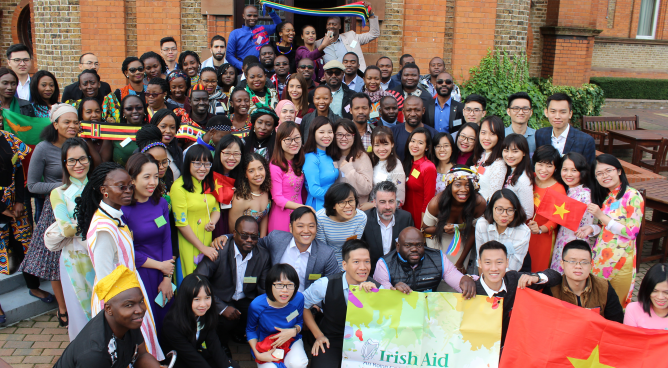 Recipients of the 2018 Irish Aid Fellowships with the Director-General of Irish Aid
The Ireland Africa Fellows Programme will this year offer a select number of future leaders from Malawi the opportunity to study for a prestigious Masters degree in Ireland. Application forms and further details are available from the Programme website: https://www.irishaidfellowships.ie/strands/ireland-africa-fellows-programme.
Candidates should pay careful attention to the eligibility criteria laid out in the Guidance Note. Please note that the closing date for Stage 1 applications is strictly Wednesday 28th August.
The following organisations have been invited to nominate either one or two candidates and organisations have been informed of their quota for applications. In addition, a small number of individuals have been contacted to apply for the Programme. Applications from other individuals will not be accepted. Applicants should note that even if they are employed by an eligible organisation, they must be nominated by the head of organisation / controlling officer to apply.
Heads of organisations which appear on the list but who have not received the email inviting them to nominate candidates should email: malawifellowships@dfa.ie.
Organisations invited to submit candidates for 2020-2021
International Crop Research Institute for the Semi-Arid Tropics
International centre for Tropical Agriculture (CIAT)
International Potato centre (CIP)
International Institute of Tropical Agriculture (IITA)
Ministry of Agriculture, Irrigation and Water Development (MoAWD)
National Smallholder Farmers' Association of Malawi (NASFAM)
Lilongwe University of Agriculture & Natural Resources (LUANAR)
Department of Nutrition and HIV and AIDS
Department of Disaster Management Affairs (DoDMA)
Ministry of Gender, Children, Disability and Social Welfare
Ministry of Natural Resources energy & Mining (Department of Climate change and Meteorological Services)
Department of Energy
Ministry of Finance, Economic planning and Development
Malawi Electoral Commission (MEC)
Anti-Corruption Bureau (ACB)
Ministry of Local Government and Rural Development
Malawi Human Rights Commission
National Registration Bureau
National Statistics Office
Ministry of Justice & Cons. Affairs
Malawi Police Service
National Audit Service
Malawi Revenue Authority
Office of the Ombudsman
Ministry of Foreign Affairs
ECAMA (Economic Association of Malawi)
Women in Law Association
MISA (Media Institute for Southern Africa)
PAC (Public Affairs Committee)
Parliamentary Staff (Not MPs)
MITC (Malawi Investment & Trade Centre)
Malawi Defence Force
Malawi Law Society
Nyasa Rainbow Alliance
APAM
District Commissioners and CEOs of City Councils