State Visit to Ireland
News
24 May 2019
Their Majesties King Carl XVI Gustaf and Queen Silvia of Sweden paid a State Visit to Ireland on 22–24 May 2019 at the invitation of President Michael D. Higgins.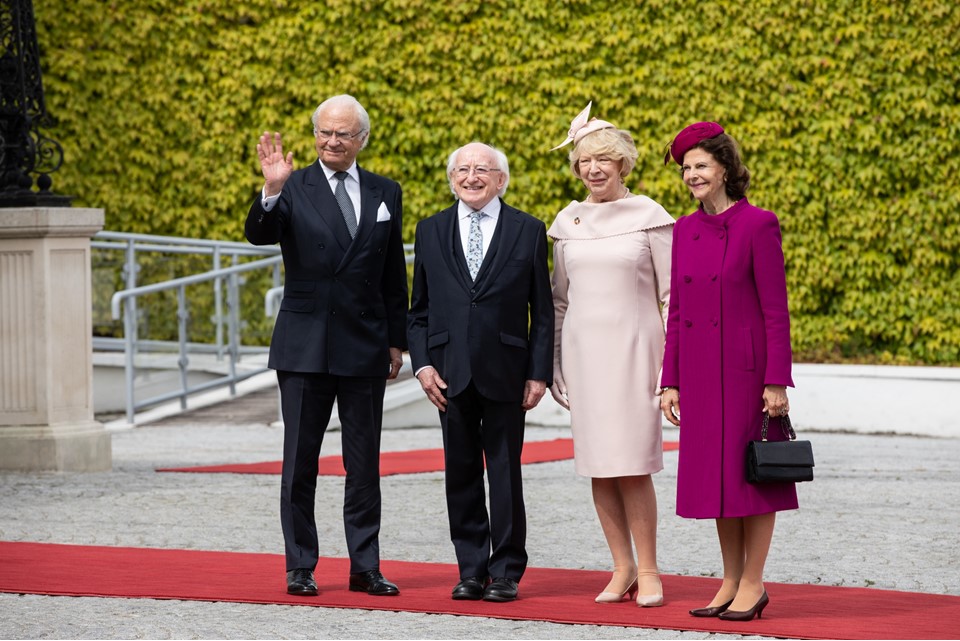 Photo: His Majesty King Carl XVI Gustaf of Sweden and Queen Silvia with President Michael D. Higgins and his wife Mrs Sabina Higgins. From left to right: His Majesty King Carl XVI Gustaf; President Michael D. Higgins; Mrs Sabina Higgins; Her Majesty Queen Silvia

This was the second State Visit to Ireland by their Majesties - the first one was in 1992- and was designed to highlight the historic and modern links between Ireland and Sweden and to further strengthen the bonds of friendship between our two nations. While Ireland's friendship with Sweden long predates our common EU membership there is no doubt that the latter underpins and supports our strong bilateral relationship, highlighting that we are like minded on a broad range of issues including human rights, social inclusion and gender equality, as well as on economic issues and business and trade.

The visit included the traditional formal welcome ceremony with Irish President Michael D. Higgins and his wife Sabina at Áras an Uachtaráin and a ceremony at the Garden of Remembrance in Dublin city centre where the King laid a wreath to honour all those who died for Irish freedom.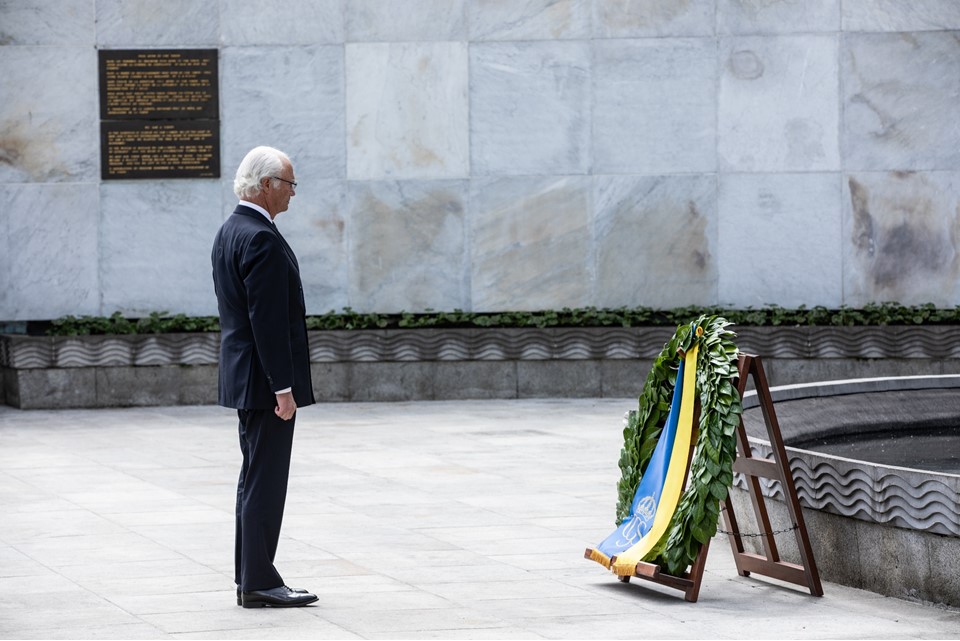 Photo: His Majesty King Carl XVI Gustaf of Sweden lays a wreath at the Garden of Remembrance in memory of those who gave their lives in the cause of Irish freedom
Their Majesties visited the Mansion House where they were received by Dublin Lord Mayor Niall Ring, before going to visit the Irish Parliament at Leinster House, where they met with Ceann Comhairle ( Speaker of the Lower House) Seán Ó Fearghaíl and Cathaoirleach of the Seanad (Speaker of the Upper House) Denis O'Donovan. The King also paid a courtesy call on the Taoiseach, Leo Varadkar T.D., Prime Minister of Ireland.
President Michael D. Higgins and Mrs Sabina Higgins hosted a dinner at the official presidential residence in honour of The King and Queen and their Majesties hosted a dinner for the President and Mrs Higgins in Trinity College.
The visit itself focused on digitalisation, sustainability, healthcare, culture and cooperation within the EU and the UN. The Swedish Government was represented by Minister for Foreign Affairs Margot Wallström, Minister for Energy and Digital Development Anders Ygeman, and Maja Fjaestad, State Secretary to Minister for Health and Social Affairs Lena Hallengren. The Swedish business sector also take part via a business delegation arranged by Business Sweden. Their Majesties attended a meeting at Eirgrid (state-owned electric power transmission operator in Ireland) with the focus on new technology and the transfer of renewable energy, as well as a number of seminars including on bilateral cooperation to meet future challenges in healthcare as well as on digital infrastructure, where Minister Anders Ygeman and State Secretary Maja Fjaestad also participated. These seminars provided opportunities for government Ministers and representatives, businesses and academia, and experts, to meet and discuss joint challenges. There were also opportunities to build networks for ongoing cooperation.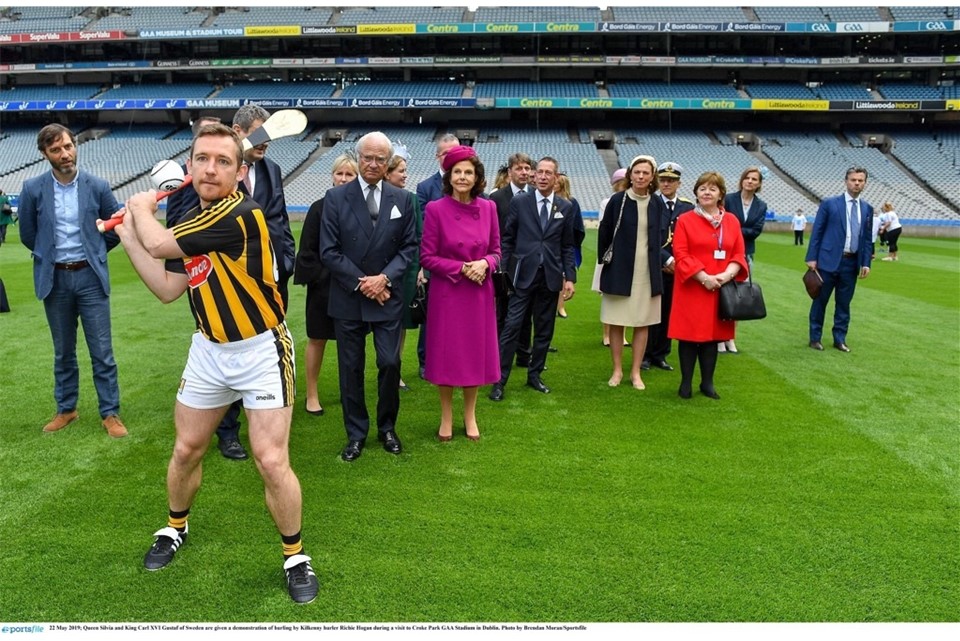 ‌

Photo: Kilkenny's Richie Hogan demonstrated his skills to Their Majesties King Carl XVI Gustaf of Sweden and Queen Silvia. Photo by Brendan Moran / Sportsfile.

Their Majesties participated in a number of cultural events, including a visit to Croke Park where they met young GAA players. The King was presented with a hurley, while the Queen tried her hand at hurling.

They attended a seminar on literature in the National Library, where the panellists included Professor Declan Kiberd and author Joseph O'Connor. As they had done in 1992, their Majesties visited the National Museum of Ireland to view the "Ór - Ireland's Gold" exhibiton. The Queen visited the Science Gallery where she met young people, researchers, clinics, organisations, parents and teachers who are part of a project aimed at improving mental health and well-being among 15-25 year olds.

On the final day of their visit their Majesties travelled to Athlone in the West of Ireland for the seminar on digital Infrastructure at the Ericsson Software Campus, after which the King and Queen travelled to Galway for a tour of the Marine Institute, where they were greeted by Mr. Seán Kyne T.D., Government Chief Whip and Minister with special responsibility for the Irish Language, Gaeltacht and the Islands. Their Majesties also managed to participate in a tour of an Eco-Farm in Ballybornagh, Co. Clare, and the Burren Smokehouse in Lisdoonvarna before departing for Stockholm from Shannon airport.