Sunday Business Post Supplement on Doing Business in Sweden
News
03 June 2019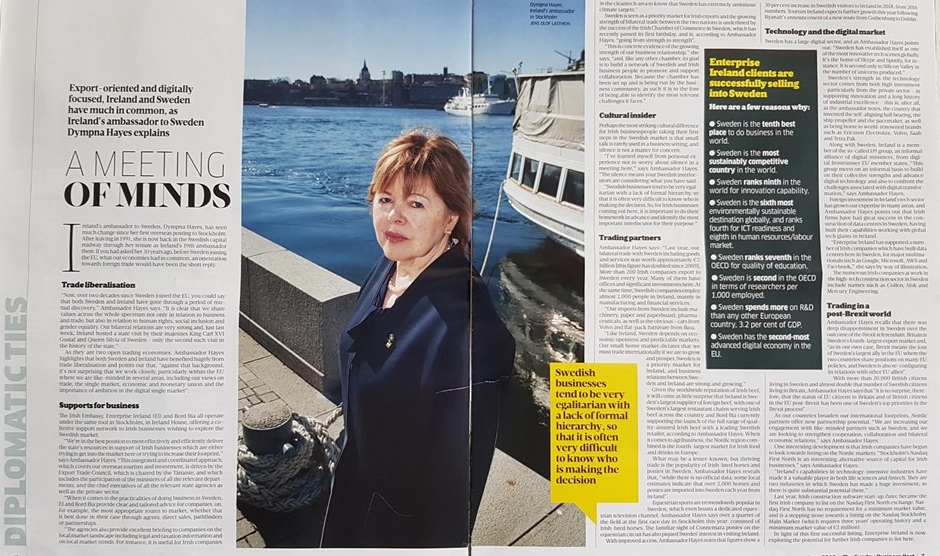 ‌
Photo: Sunday Business Post interview with Ambassador Dympna Hayes. Image credit: Jens Olof Lasthein / The Sunday Business Post.
On 02 June last, Ireland's Sunday Business Post published a special supplement on doing business in Sweden, Stockholm – Routes to Capital: Exploring pathways to Ireland-Sweden Collaboration. This once-off publication explores through a series of interviews and articles how Ireland can build stronger bridges with like-minded EU partners such as Sweden, in a post-Brexit EU. In the words of Enda O'Coineen, publisher of the newspaper:
"This publication tells the story of the considerable potential that exists for Sweden-Ireland collaboration. It also tells the story of alternative routes to capital markets, as best portrayed by Irish company Zutec, whose flotation on the Stockholm-based Nasdaq First North stock exchange represents a first for Irish business."
The supplement featured an interview with Ambassador Dympna Hayes. To access the online version of this interview, please click on the following link: https://www.businesspost.ie/focus-on/sweden-2019-meeting-minds-444773.
‌