The Ugandan Teachers Making a Difference in Learners' Lives
News
05 February 2018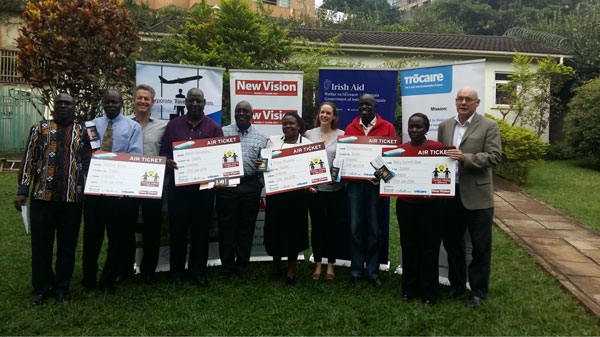 In 2017, the Embassy of Ireland was proud to support the Teachers Making a Difference Award for the first time. Initiated by the New Vision Group in 2008, the project aims to recognise the great work being done by teachers in Uganda. The Embassy, Trócaire, and Irish-owned local travel agency, Simba TravelCare, were proud to partner with New Vision on the project, which culminated in a week-long trip to Ireland in January for the top five awardees.
As the world celebrated International Teachers' Day on 5 October 2017, twelve teachers were awarded for the differences they are making in learners' lives through different innovative methods. This followed a highly competitive process where teachers were nominated by the communities in which they serve, profiled in the New Vision newspaper, and shortlisted by an esteemed panel of education experts.
On 27 January 2018, the top five teachers, together with a journalist from New Vision and the Irish Aid Education Advisor, were flagged off for the week-long visit to Ireland.
While in Ireland, the teachers met with Minister of Education and Skills, Richard Bruton, Irish Aid Director General, Ruairí de Burca, Irish Ambassador to Uganda, Finbar O'Brien, together with staff of the Department of Foreign Affairs and Trade.
The teachers also interacted with their Irish counterparts at Froebel Primary Teacher Education College, Maynooth University, St. Patrick's Boys School and Trinity Comprehensive Ballymun School. In the different institutions, the visiting teachers learnt about the importance of teacher training in Ireland and the motivations and challenges of teachers. They also witnessed and experienced the application of practical interactive and child centred teaching. The teachers visit coincided with the WorldWise Global Schools Post Primary Teacher Conference where they had the opportunity to participate in the group work and discussions held around Development Education-Methodology and links to the Sustainable Development Goals (SDGs).
It wasn't all work as the teachers also had a chance to visit different tourist sites around Dublin including the National Gallery, Leinster House, St Stephen's Green and the famous Ha'Penny Bridge.
During the feedback session at the end of the visit, Martin Kananura, a teacher from Mbarara district said, "Since I was in constant communication with my colleagues back home throughout the visit and sharing what I was learning with them, they said that, it wasn't only me that benefited from the visit but the school teaching staff as a whole."
The Embassy is very proud of its support to the Teachers Making a Difference Award and education in Uganda and is committed to supporting the award again in 2018.