Ireland's UN Youth Delegates 2017-18
The Department of Foreign Affairs and Trade is pleased to announce the selection of the 2017-18 UN Youth Delegates who will represent Ireland in the third year of the programme. The UN Youth Delegate programme is organised by the Department of Foreign Affairs and Trade, Irish Aid and the National Youth Council of Ireland (NYCI) with the goal of supporting young people to be agents of change through active engagement in the United Nations. This year, two new Youth Delegates, Lauren Flanagan and Paul Dockery, have been selected by NYCI via a public competition and will travel to New York to participate in activities during the 72nd General Assembly. The new Youth Delegates undertook their first engagements at a 'Young Voices' consultation event organised by the NYCI as part of the UN International Youth Day celebrations and will participate in the European Youth Forum in Brussels at the end of August.
The Youth Delegates will represent the young people of Ireland at the UN Third Committee at the 72nd session of the United Nations General Assembly in September and October in New York. In addition to this, their role will include direct consultation with youth groups throughout the country and abroad during their year long term of events.
Watch Ireland's UN Youth Delegates address the United Nations:
Meet the UN Youth Delegates:
Lauren Flanagan is from Manor Kilbride, Co. Wicklow. Lauren has just returned from New York after completing her LL.M. in International Legal Studies at New York University School of Law. Lauren is also a law and politics graduate from UCD Sutherland School of Law.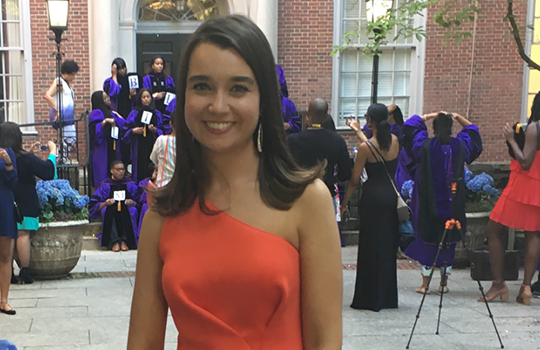 Lauren is passionate about tackling economic and social inequality - issues which she had the opportunity to raise with former UN Sectary General Ban Ki-moon in 2015. While at NYU, Lauren was a student advocate in the Global Justice Clinic where she worked on the issue of tax abuse and the rights of women in developing countries. She also held the position of LL.M. representative on the board of NYU's chapter of If/When/How: Lawyering for Reproductive Justice. Lauren has also volunteered with the Hope Foundation in Kolkata, India and St. Vincent de Paul in Dublin.
Lauren has had many experiences of working with the UN on children's and youth issues. In 2014 she worked with the Children's Rights Alliance in Dublin, co-authoring 'Are We There Yet?' Ireland's civil society shadow report to the UN Committee on the Rights of the Child, and travelled to Geneva to lobby the Committee on multiple youth issues. Lauren has also lobbied before the CEDAW Committee and held the position of junior research scholar for Professor Gráinne de Búrca, working on the issue of human rights experimentalism and the UNCRC Committee. In 2015, Lauren represented UCD at the National Model United Nations in New York, where she was awarded outstanding delegate for the UNICEF Committee.
Lauren believes that empowering young people through education is the most important aspect to tackling inequality in the long-term. In order to bring about universal education without discrimination, Lauren believes that young people need more meaningful opportunities to engage in politics, policy and decision making, both nationally and internationally, in order to influence the provision and quality of education globally and its impact on inequality.
Paul Dockery is from Rooskey in Co. Leitrim. Paul attended St. Mel's College in Longford and has recently graduated from University College Dublin with a Bachelors' Degree in Economics with Politics and International Relations.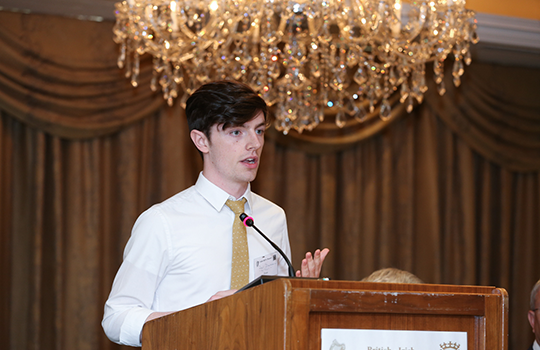 Paul joined the UCD Economics Society Committee in 2014, and has been active within UCD Students' Union. In 2016 Paul represented UCD Law Society at the National Model United Nations in New York, where UCD was given a Distinguished Delegation Award.
Paul is passionate about youth empowerment and participation and believes that young people should be given a greater role in decision-making processes. He also believes that education should not discriminate or exclude anyone; and that quality education is the key to eradicating systematic inequalities within society.
Paul believes that the Sustainable Development Goals should not just be achieved for young people, but with young people and by young people. Representing Ireland at the OSCE's recent "Youth, Peace and Security" Conference, Paul presented these points to the OSCE Secretary General, as well as the Ambassadors and Delegates in attendance, which were then included in the final decalogue of recommendations from the conference.
Paul has also represented the NYCI's "Young Voices" group at the EU Youth Conference in Malta, focusing on rebuilding young people's trust in public institutions and in politics in general – something that Paul is passionate about. Paul has also volunteered as a media representative for SpunOut.ie at the 2016 European Youth Event in Strasbourg, as well as volunteering at AsIAm's National Autism Conference. Paul has a huge interest in Irish culture, sport and heritage, and has represented his GAA club, Bornacoola, at All-Ireland level in Scór (the GAA's cultural competition) on several occasions.
If you would like to keep up to date with news and information about the UN Youth Delegates work, you can follow at the DFAT and NYCI Twitter and Facebook accounts or on the NYCI website. Additionally, those holding youth events in Ireland can contact unyouth@nyci.ie to invite the Irish UN Youth Delegates to attend. The delegates will also address a Youth Summit on Peace and Justice, as part of One World Week organised by the NYCI, which will take place on November 23rd in the Aviva Stadium.
Follow on Twitter: @Irish_Aid
Follow on Facebook: Irish Aid Centre