Joe McHugh T.D.
Minister of state for the Diaspora and International Development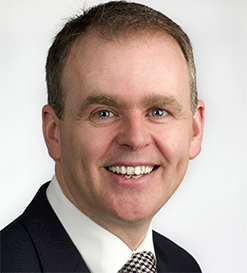 Joe McHugh T.D. was appointed Minister of State for the Diaspora and International Development at the Departments of the Taoiseach and Foreign Affairs and Trade in May 2016. He was previously Minister of State at the Department of Arts, Heritage and Gaeltacht Affairs and the Department of Communications, Energy and Natural Resources with Special Responsibility for Gaeltacht Affairs and Natural Resources from July 2014. He was also previously appointed by An Taoiseach Enda Kenny as Co-Chairperson of the British Irish Parliamentary Assembly in July 2011. In July 2012, Deputy McHugh was elected as Chairperson of the Joint Oireachtas Committee on the Implementation of the Good Friday Agreement. Deputy McHugh was re-elected to Dáil Éireann as a Fine Gael T.D. for Donegal North-East in February 2016.
Joe McHugh became a Fine Gael public representative in June 1999 when he was elected to represent the Milford electoral area as a Member of Donegal County Council. Cllr McHugh proposed the establishment of Donegal Youth Council, which led to the first democratically-elected youth forum in Ireland. Cllr McHugh was also appointed as Chairperson of ERNACT (European Region Network for the Application of Communications Technology), where he placed emphasis on broadband provision in border areas.
He was elected to Seanad Éireann in 2002 and served as Fine Gael Seanad Spokesperson on Community, Rural, Gaeltacht and Marine Affairs from 2002-2007. He was selected by Fine Gael as the Party's Donegal North-East candidate for the 2007 general election. He amassed 22.6% to top the poll in the 2007 general election, and was elected to Dáil Éireann, re-establishing a Fine Gael Dáil presence in Donegal North-East after 10 years without Fine Gael Dáil representation in the constituency. He was appointed as Fine Gael Spokesperson on North-South Cooperation followed in October 2007and authored 'The Fine Gael Border Forum Report' in July 2010. This 16-page policy document set out the Party's plans for North-South economic synergies and for job creation in the Border region. Proposals set out in the Report are being implemented as part of the Fine Gael-Lab 2011-2016 Programme for Government. He established the Fine Gael Border Forum in February 2010.
Before being elected, Joe was a geography and maths teacher at Loreto Convent in Letterkenny from 1993-95 and taught A-level economics in Dubai in 1995-96. He worked as a Community Youth Worker in Glenwood, Letterkenny from 1996-1999.