Film Festival aGLIFF 2022
News
17 August 2022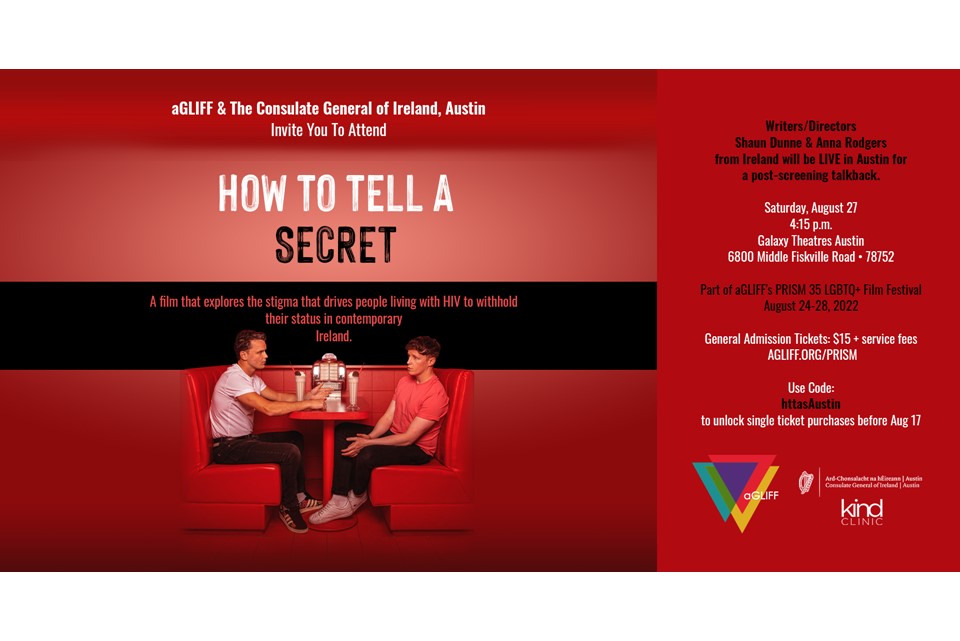 The Consulate is once again pleased to partner with All Genders, Lifestyles, and Identities Film Festival (AGLIFF) in the screening of an Irish film as part of their annual Festival.
The US premiere of 'How to Tell a Secret', will be screened in Austin on Saturday 27 August, at 4:15pm in the Galaxy Theatre (Screen 7).
'How to Tell a Secret' is an artistic exploration of HIV disclosure, presenting the experiences of people in Ireland living with HIV and the importance of dismantling the stigma that still persists. Following the screening, the film's directors and screenwriters, Anna Rodgers and Shaun Dunne of Invisible Thread Films will participate in a special Q&A.
If you are interested in attending the film screening, tickets can be purchased online at www.agliff.org
AGLIFF are kindly offering the Irish Community and friends of the Consulate a reduced rate for purchasing tickets either for this film or the entire festival. Use the discount code httasAustin (case sensitive) at checkout to save $3 OFF each single ticket purchased for 'How to Tell a Secret'. Use the discount code PRIDETWENTY (case sensitive) at checkout to save $20 OFF a festival badge (reg. $125.00)