Inspirational Women: A Conversation with Monica McWilliams
News
19 February 2022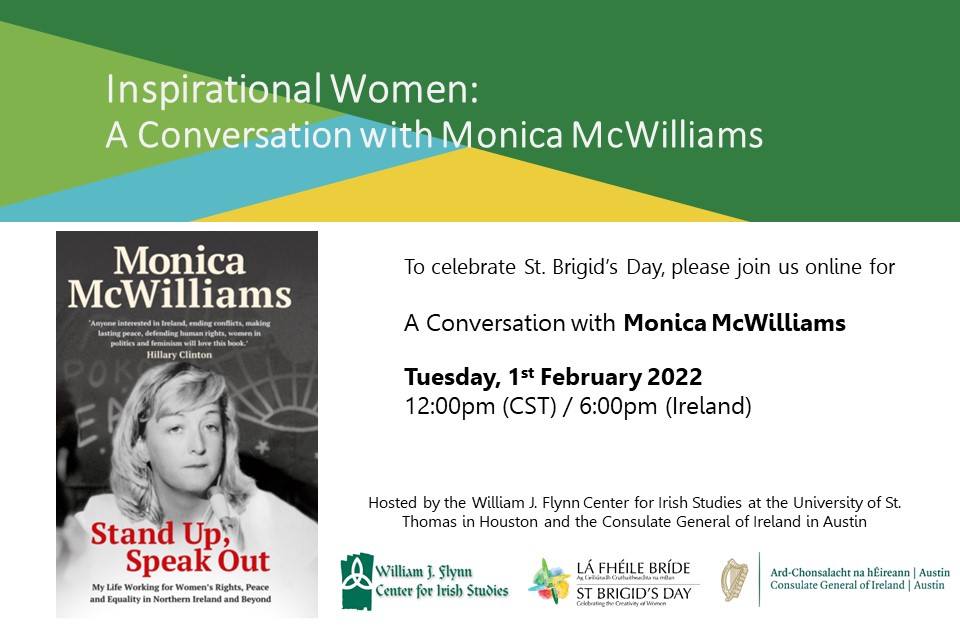 On 1 February 2022, the Consulate General of Ireland co-hosted 'A Conversation with Monica McWilliams' with the Flynn Center for Irish Studies at the University of St. Thomas in Houston, in celebration of St.Brigid's Day.
If you missed the event, you can access the video here.
On St Brigid's Day we mark the beginning of spring in Ireland, but it has also come to be a day to acknowledge the talent, creativity and contributions of women.
Monica McWilliams, a ground-breaking leader and campaigner for peace in Northern Ireland, is a wonderful example of the trail-blazing women we celebrate on St. Brigid's Day. The conversation covered her work with the Northern Ireland Women's Coalition and the peace talks that lead to the Good Friday agreement, as well her experiences in the US and her later work with women in conflict societies internationally.
Her book, 'Stand Up, Speak Out' was recently published by Blackstaff Press.