"Future Irelands: The Next Irish Century"
News
31 January 2022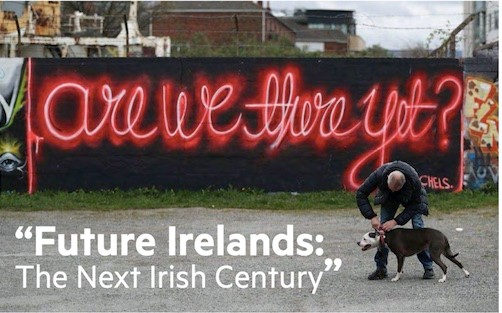 Tuesday, Feb. 8, 2022
12 – 2 p.m. (PST)
Register for the event here.
As we approach the end of Ireland's decade of centenaries (2012-2023), the Consulate General of Ireland in Los Angeles and Irish Studies at LMU invites you to a discussion of the next Irish century. Our panelists will explore the implications of Brexit and the proposed border poll for those in the North and South of Ireland. Our conversation will also be an opportunity to highlight possible future Irelands that are sometimes overlooked in our discussions of Ireland's constitutional future. What kinds of cultural, economic, and demographic changes in the coming decades will impact the future for those living on the island as well as the larger Irish diaspora?
Joining Consul General Marcella Smyth is Dermot Ryan, Associate Professor of English and Director of the Irish Studies Program at Loyola Marymount University.
Conor Houston, is a lawyer, civic activist and politician. He is the inaugural Visiting Fellow of Irish Studies at Loyola Marymount University. In 2021, he was selected by the Social Democratic & Labour Party (SDLP) in Northern Ireland to be their candidate in the Strangford constituency in the Northern Ireland Assembly Election to be held in May 2022.
Marion McKeone is currently the US Correspondent for the Sunday Business Post and National Irish Radio/ Today FM. Marion was awarded the Newsbrands Foreign Correspondents Award for 2020 and 2021. She is also a regular contributor to RTE Radio and TV, Virgin Media, TV3, and BBC Radio.