Interview with Finbar Hill
News
17 June 2021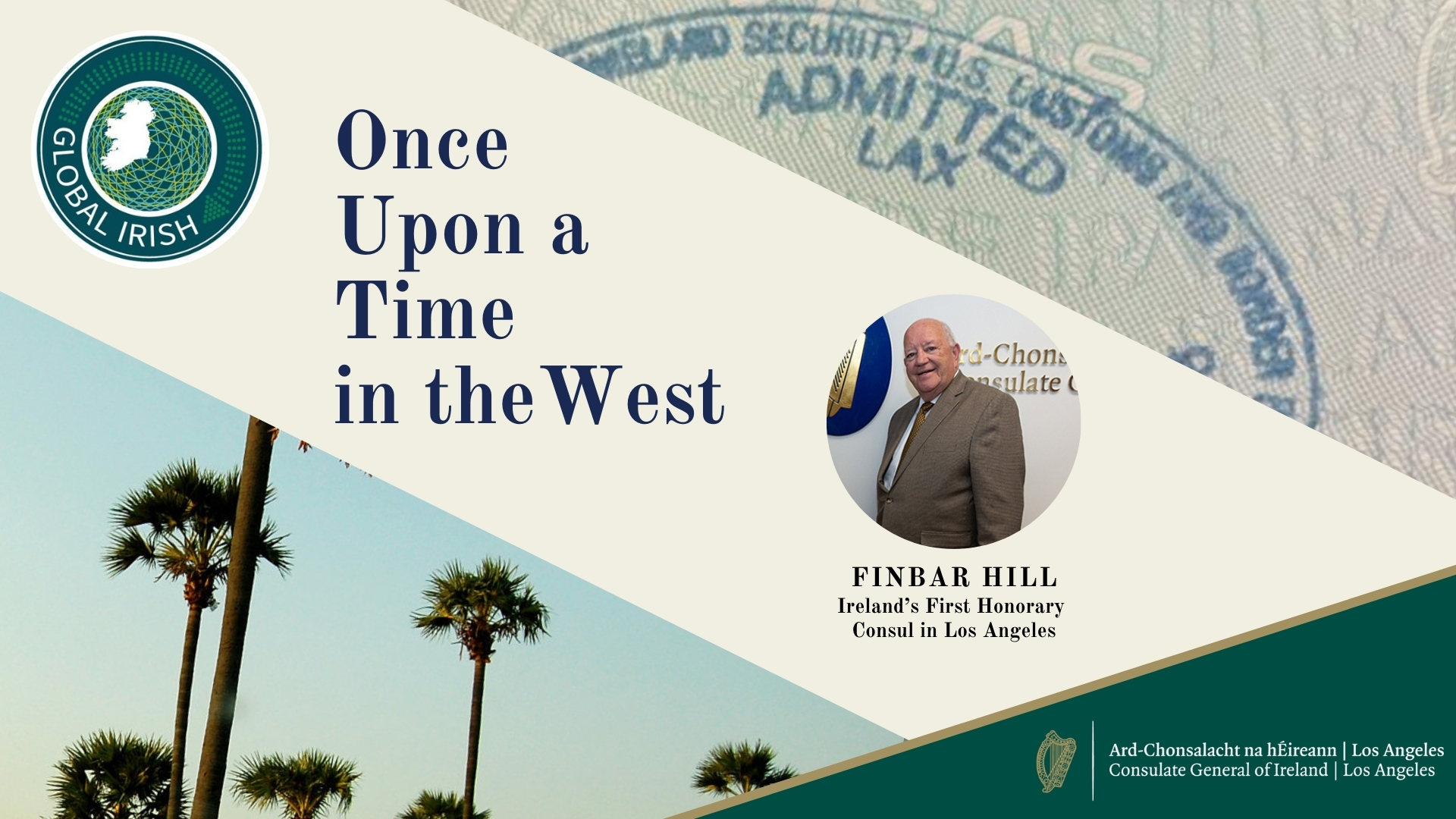 * This interview was condensed and edited for clarity.
Finbar Hill was Ireland's First Honorary Consul in Los Angeles, serving in the role from 2002 to 2016. He is married to his wife Carmel, who served on the Board of Regents of Loyola Marymount for 10 years and was the first woman to chair the Board. They have two sons, Michael and Alan, also living in Southern California.
1. Where are you from in Ireland and how did up end up in the US?
I was born in Cork where I worked for 26 years before I left for the US. While there, I was involved in establishing and developing services for both the physically and mentally challenged. I set up and organized the first holiday in Ireland for 80 persons confined to wheelchairs. It lasted 2 weeks and was assisted by 200 volunteers. I remember some very emotional moments during these holidays. The event continues annually to this day. Along with that, I set up a public speaking competition for secondary/high schools dealing with the importance of mental health issues surrounding teenagers.
From there, I joined an Irish property development company as an Executive and Director. We dealt with high-end retail developments in both Ireland and England and in 1989 I transferred to the US as Chief Executive of a property development company. Our first development was 2 Rodeo Drive, Beverly Hills - now a world-renowned upscale shopping area.
2. How did you become the Honorary Consul of Ireland to Los Angeles, and what took up the majority of your time?
The Consul General in San Francisco at the time, Declan Kelly, occasionally asked me to fill in when he couldn't come down to Los Angeles for events. Subsequently I was invited in November 2002, by the then Ambassador of Ireland to the US, Dermot Gallagher, to become the Honorary Consul in Los Angeles. Minister Brian Cowen confirmed the appointment on behalf of the Irish Government.
It sometimes felt like a full time job! During this time, I issued 1,150 Emergency Travel Certificates, assisted with 21,000 passport applications and roughly 6,250 citizenship applications. I also performed a myriad of other tasks.
In 2003, I accepted the role of Chief of Protocol for the Los Angeles Consular Corps, one of the largest of its kind in the world. Apart from great insight into the customs and cultures of so many countries, it allowed me fly Ireland's flag, so to speak, at many events.
3. Can you share with us any particular memories you have about your time as Honorary Consul General?
There were several but for me the 1916 commemoration service was very special. It took the guts of 18 months to organize this huge celebration, which included Irish actors, art exhibitions, choirs and musicians followed by a celebration mass (as ghaeilge) with Bishop Dave O'Connell, a fellow Cork man! We had about 1,000 people in attendance that day.
Some other highlights included giving lectures on Ireland at ten universities, welcoming two Presidents (Mary Robinson and Mary McAlleese), three Taoiseachs [Irish Prime Ministers], along with multiple Government Ministers, the Garda Commissioner and the Attorney General.
Getting to know the Irish community and organizations, and celebrating St Patrick's Day events in Los Angeles were very memorable too.
4. Do you think Ireland and its image abroad has changed a lot over recent decades?
Yes, I think there is no doubt it has changed. You now have highly qualified young professionals emigrating and taking up jobs in IT and pharma and often holding very senior positions within companies. They have an international outlook that is different to previous generations. That is why it is so important to continue to support different Irish groups, for example, the GAA, the Irish American Bar Association and the various groups involved in the arts.
The other big change since I arrived is the much diminished impact Irish priests and nuns are having now on education throughout Los Angeles. They were once the bedrock of Catholic education in the diocese. They previously ran schools throughout Los Angeles, once having a huge influence on the Irish community.
5. Where is your favorite place to visit in Ireland (except Cork!)?
West Kerry so! Ceann Sibéal is where we love to spend time. I also have many friends in Dublin who I regularly visit. I am proud to say I have not missed attending an All-Ireland Hurling Final since 1956! Sport in fact has been a massive part of my life, having attended an Olympic Games, World Cups, boxing championships, Wimbledon and a Super Bowl in New Orleans plus many more.
6. What are you currently reading?
Well, I am reading a difficult one! Plato's Republic in fact. My grandson is studying literature in College and he asked that we talk about this book.
As for entertainment, because of Covid we go for a walk along the beach every day. That is about all we are allowed to do these days!
* This interview was condensed and edited for clarity.