Interview with Olivia Tracey
News
09 July 2021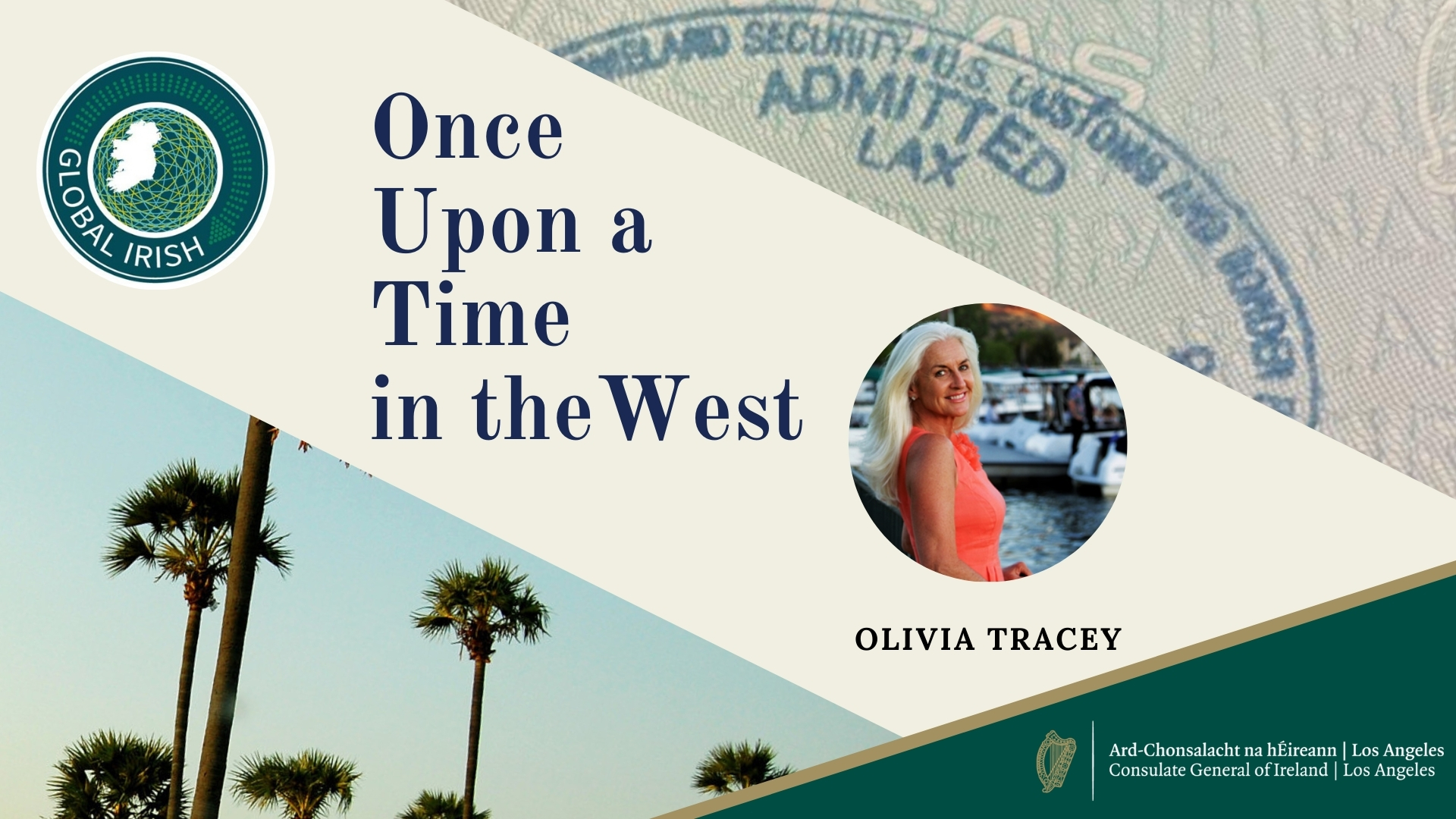 * This interview was condensed and edited for clarity.
Olivia Tracey is a model, actor, producer and writer who has lived in Los Angeles for over 20 years. Originally from Terenure in Dublin, she won the Miss Ireland crown in 1984 and has since enjoyed a varied career in Ireland and the United States.
1. I read that when you first moved to LA you said it was like starting all over again. Having been so successful in Ireland that would surprise most people. Do you have any advice to anyone thinking about a move or for recent arrivals?
I said that because I had mostly worked in theatre in Ireland (The Gaiety and Andrews Lane). Little or nothing on film. I had worked a lot as a TV Presenter in Ireland on RTE [Ireland's national public service media] but over here RTE means nothing to them even though it's the equivalent of their networks.
As for advice, I would say make the effort to reach out to the Irish community – there is great connection, friendship and support. People are always happy to help.
Also, know that LA is beautiful but it's enormous and sometimes intimidating. When you arrive, give yourself time. At least a year or two. Everything takes longer than you might expect. Keep an eye on the big picture.
Lastly, I would say do not lose touch with Ireland. I try returning every year to see friends and family, and I still like to work when I return home. In this business, you are essentially a freelancer so that gives freedom to work for a few months in Ireland and then return to US.
2. Have you noticed any significant differences in working in the US compared to working in Ireland?
Things are definitely more relaxed in Ireland. Whether working on commercials or movies the entire crew are more laid-back at home. Even with casting, you almost feel like the casting directors are more approachable and often give you a warm Irish welcome! In the US, there is no time for that because of tight deadlines. In the States, the pay is better but the tradeoff is greater stress and much more competition.
3. With so many different careers, can you pick some of the highlights of your time here in the US?
I initially arrived in New York on a writer's visa working for The Sunday Independent and subsequently The Irish Echo. I really enjoyed the work and I met so many Irish people which was great for making friends and contacts.
I got signed by Ford Model Agency in my 40's after being turned down in Ireland at 25 for being too old! I thank my silver hair for that! While modelling, I was lucky enough to book campaigns in beautiful locations like Hawaii and the Caribbean, and hopefully will continue to do more of the same with my current agency, O Models.
Obtaining my green card and subsequently citizenship in 2005 was a big deal. Also, buying my first home in LA in 2004 was really setting down roots – and not forgetting buying my first Convertible, the white Chevy Cavalier!
As an actor, working with the likes of Robert Duvall, Drew Barrymore and Eric Bana was amazing. Maybe my biggest role came in Red Roses and Petrol alongside Malcolm McDowell which was so much fun (I have Thom McNamara at the Celtic Arts Centre to thank for an introduction to the director Tamar Simon Hoffs on this).
I was also honored to be asked to produce a documentary to mark the centennial anniversary of the 1916 rising called "Rebel Rossa." It was based on the life of Jeremiah O'Donovan Rossa, produced and directed by his great grandsons. I'm glad to say it was a great success after a lot of hard work went into it.
Oh, and I won't forget spending an afternoon interviewing Gregory Peck at his Bel Air home! He was such a gentleman and a pleasure to spend time with. He was also very proud of his Irish heritage.
4. What are you currently reading/watching?
My favorite show is Blue Bloods. I'm totally addicted! It's all about integrity and doing the right thing. The cast is amazing and the writing too (including an Irish writer, Siobhan Byrne O'Connor). I recently watched Emily in Paris on Netflix. I love the fashion and the Parisian setting. Now I'm addicted to "Velvet," a love story set in the fashion world in 1960's Madrid, all in Spanish with English subtitles. It's fabulous. I would happily watch any of Nancy Meyer's movies too.
As for my reading, I've been indulging in my International Living magazines. I've been a subscriber for years and I love to read the inspiring stories about different people moving throughout the world. I have some books lined up too including The Writing Lives of Great Authors. It talks about the writing process and lifestyles of all these great writers. This has helped me begin writing my first novel. I cannot tell you anything about it yet except its set in my favorite place in Ireland - Kerry!
5. Who/What inspires you?
I suppose I would have to say Susan Jeffers' book Feel The Fear And Do It Anyway inspired me to follow my dream in the United States. I was lucky enough to have met and interviewed her subsequently.
As for people I admire, I loved Amanda Gorman reciting poetry at the Inauguration. I love her maturity, her insight and her self-confidence for a woman of that age. She intends to run for president in 2036 and I have no doubt she will! And on that, I greatly admire Kamala Harris, I thinks she's intelligent, accomplished, beautiful and a very kind human being.
In the Irish community I really admire Geraldine Hughes from Belfast - hugely successful and such a fascinating story. We ended up being great friends. Likewise I have tremendous admiration for friend and Music Conductor, Eimear Noone, along with actor Johnny O'Callaghan.
6. Describe your perfect two week vacation in Ireland?
Well, I would start in Dublin and attend the theatre, followed by dinner at either Trocadero or The Ivy. Of course catch up with friends and family in town. Then head down the coast and end up in my treasured Kerry. I spent all my childhood holidays there and I still have family in the area. The scenery is magnificent. I remember after the Star Wars directors shot there they attended Los Angeles Ireland Week and spoke about their amazing experience and support from the local community. From there, I'd travel on to Galway via the Cliffs of Moher! I love the Aran Islands and would definitely spend a couple of days there visiting my mother's cousins. And if I had the time I would travel up to Donegal. Although I don't know the county well, I watched a beautiful Aidan Quinn movie, A Shine of Rainbows, which was shot there and it should be an advertisement! Great story and it shows Donegal at its most beautiful. Ireland's Wild Atlantic Way awaits, so hopefully a return visit is nigh.