St. Patrick's Day Celebrations 2021
News
12 March 2021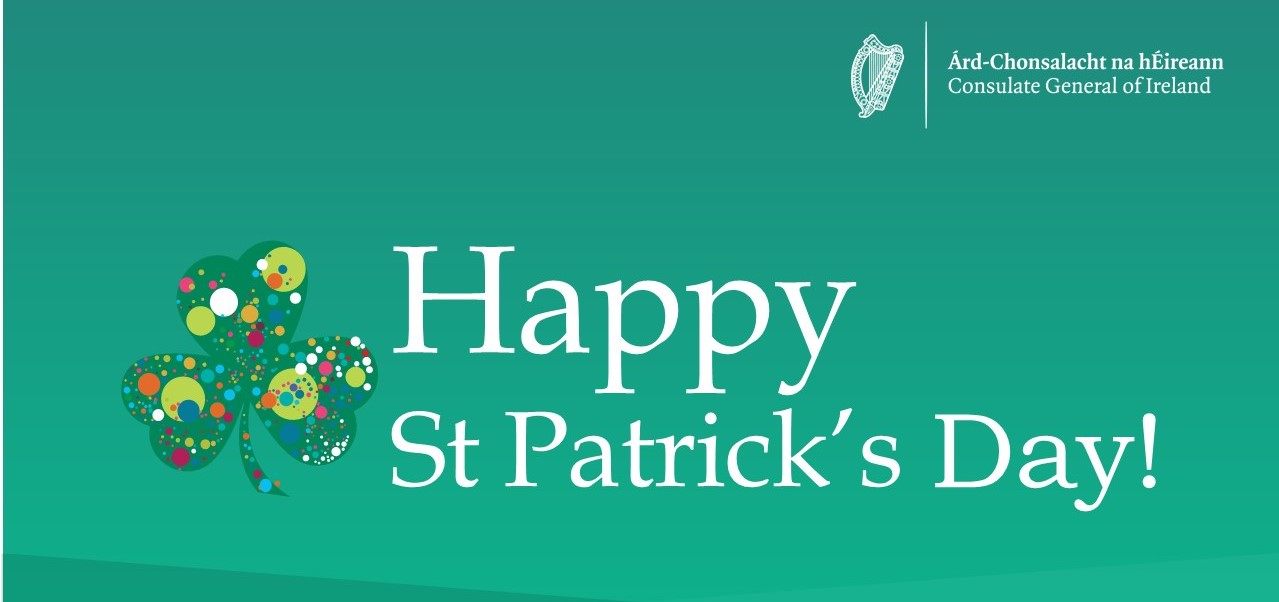 While we cannot gather in person to celebrate St. Patrick's Day, Irish communities across the South West US have organised virtual events that are open to join no matter where you are.
Saturday, 13 March
In Arizona, the Irish Cultural Center & McClelland Library are hosting their St. Patrick's Day Virtual Faire. Virtual attendees can enjoy live performances from some of Arizona's favorite Irish bands, interviews with local celebrities and community members. You can find out more and RSVP for the event at https://stpatricksdayphoenix.org/virtualfaire
The Hibernian Society of Utah invite you to a live event, with music, dancing and memories shared from across the community. Expect traditional Irish pipe bands, singing, and dancing in continuation of decades of St. Patrick's Day celebrations in Salt Lake City. Find more information, and a link to the broadcast at: https://www.irishinutah.com/events/virtual-st-patricks-day
Monday, 15 March
CIACLA is hosting a week long musical celebration of St. Patrick's Day, beginning on Monday, March 15th. Each day of this week, they will share a video highlighting the style and sound of a selected Irish artist based in LA. The CIACLA Irish Music Showcase is available to view at: https://ciacla.com/music/
St. Patrick's Day, Wednesday, 17 March
This year, the Ambassador of Ireland to the United States will join with the Irish Consuls General across the United States to celebrate Irish-America with Shades of Green, a program featuring performers from across America and Ireland, as well as more than a dozen exceptional Irish-Americans, who will reflect on the community's history and traditions as well as the resilience we have shown in response to COVID-19. Alongside a special St Patrick's Day message from Taoiseach Micheál Martin, the evening will include a poetic tribute to President Biden and a commemoration of those our community has lost over the past year.
The program will be broadcast on www.ireland.ie/usa from 4.30PM Pacific Daylight Time on Wednesday 17 March, and the webpage will go live a few days before the event. To register your attendance and for further information, please sign up via Eventbrite. Questions may be directed to eventswashington@dfa.ie.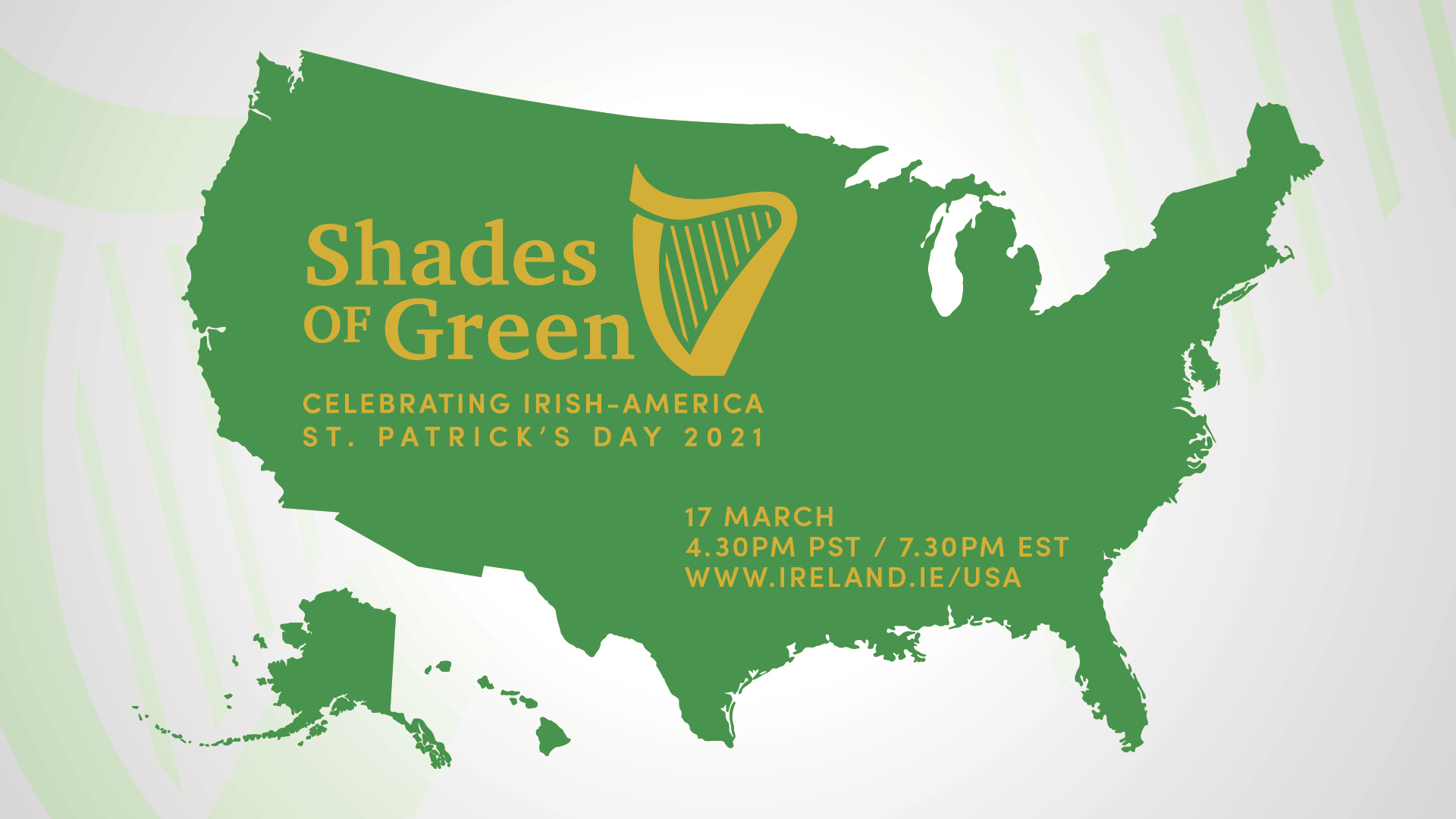 The 2021 national St. Patrick's Festival has been brough to life online, presenting our global family with the unique opportunity to take a front row seat at all of this year's events. The Festival theme is Dúisigh Éire! Awaken Ireland! It is a clarion call to all our people across the world to throw off the long, dark months and rise to embrace the brighter days ahead.
Showcased through St. Patrick's Festival TV - SPF TV - a dedicated TV channel at www.stpatricksfestival.ie and accessible globally, St. Patrick's Festival 2021 will feature more than 100 events, created by artists, performers, makers and dreamers across Ireland. Running from March 12 - 17, it offers six great virtual days and nights, where audiences can stream the full programme of events in real time, ensuring that we can celebrate together even though we are apart. Audiences will also be able to replay their favourite shows on the website Player.
This year ANAM Irish Arts is bringing St. Patrick's Day celebrations safely to isolated communities across nearly a dozen cities, from Los Angeles to Galway. Open Window Music is a musician led initiative, whereby duos, trios and quartets of traditional players will assemble in socially-distanced semi circles below the windows of elder care facilities and share brief sets of tunes or songs to lift the spirits of those inside. The performances have been arranged in compliance with local health and safety protocols, and will also be livestreamed so that no matter where you are, you can join in with the celebrations: https://www.facebook.com/openwindowmusic2021
The Global Greening initiative first began 11 years ago in Australia, when the iconic opera house was illuminated in green on 17 March 2010, and this year sees the tradition continue at world famous locations around the world. In the South West US, the Pacific Park Ferris Wheel on Santa Monica Pier, and the Irish Cultural Center and McClelland Library in Phoenix will all join the programme for the first time, joining some 'old favourites' including the Welcome Sign in Las Vegas.
Friday, 19 March
Back by popular demand, the Consulates General of Ireland in Los Angeles and San Francisco are delighted to bring you the St. Patrick's Day Community Quiz. We have partnered with Brainstormer Inc. to bring you an evening of trivia and fun, in a quiz that is open to all ages, and all communities. Register your team by emailing eventslosanges@dfa.ie, and test your trivia knowledge against communities from across the Western US.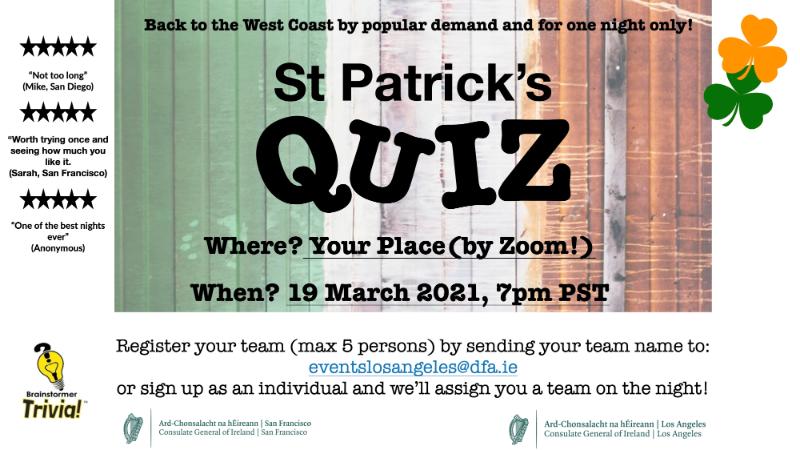 Sunday, 21 March
The Consulate General of Ireland Los Angeles and Irish Screen America partnering with Virgin Media Dublin International Film Festival are delighted to bring you a dynamic programme of the best contemporary Irish Hip Hop + R&B music videos in Ireland today. Curated for the 2021 Festival by producer Michael Donnelly V and musician Erica Cody, Playback presents 12 music videos alongside specially-recorded interviews with the featured film directors and music artists. This project showcases the vibrant, energetic creativity of the talents involved and gives them a platform to discuss their process, style and collaborations. Register at: https://watch.eventive.org/isa-la/play/602ec280136d40003e5716dd