Interview with Rachel Rath
News
26 August 2021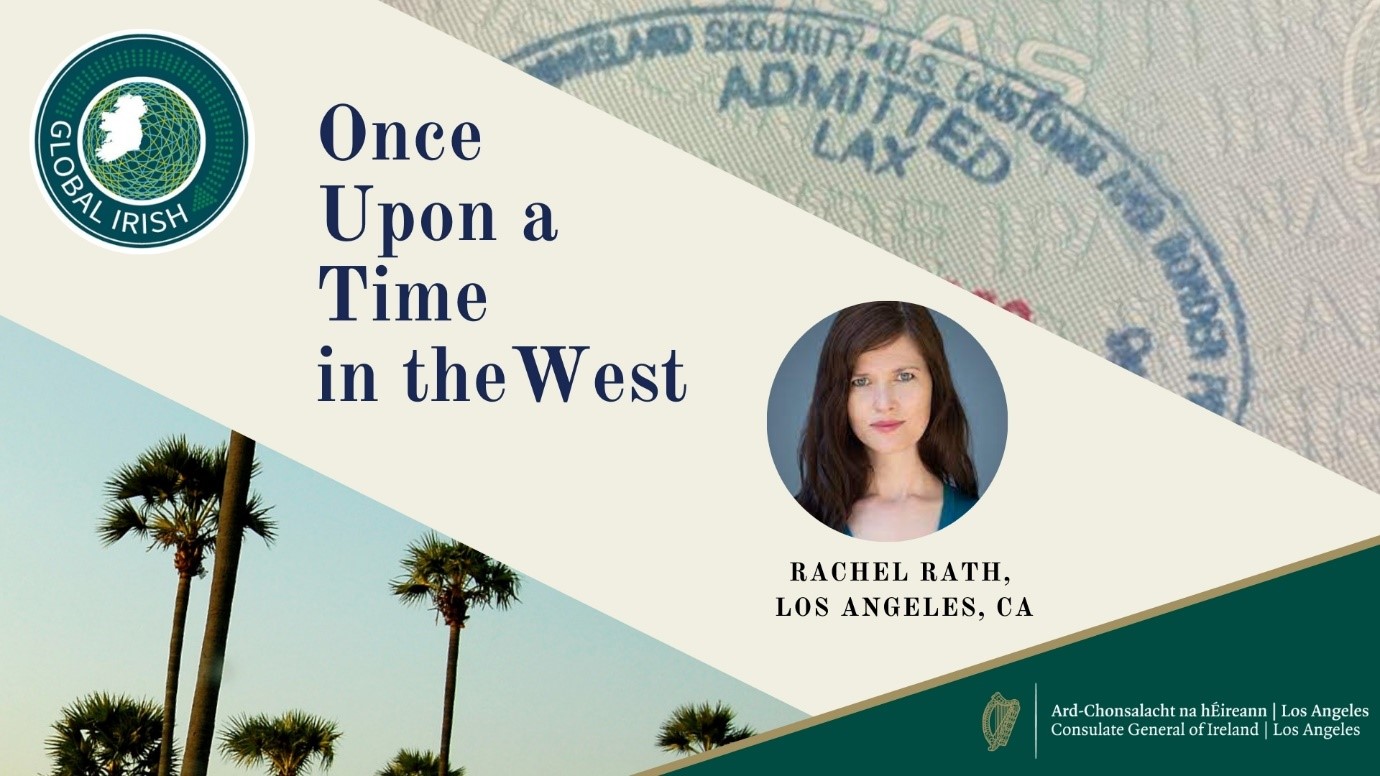 Rachel grew up in the Sunny South East (Wexford), and now lives with her partner near the Hollywood sign (which helps when lost!). She is an actress and writer, while also running an online business helping potential immigrants navigate the complicated visa application processes (https://artistgreencard.com/). She also has her own website: http://rachelrath.com/.
1. How long have you lived in the US, and what brought you here initially?
About 12 years. As for what brought me, following the dream. I came as an actor and I've been very fortunate to still be working in the business. I appear in Bottle Monster (directed by Irish Marjorie DeHey) which has just been released! Recently I have found myself gravitating towards writing screenplays too. Although I have written for American audiences, I've been inspired to write more projects set in Ireland. It's amazing how moving away from Ireland shifts your perspective allowing you to see things differently.
2. What was your initial impression of the US and life here?
It's funny, you grow up watching so many American TV shows and obviously we speak the same language, but I was amazed at how culture shocked I was moving here. I had to relearn simple everyday things. The food is totally different. I had to learn to pause at the end of a sentence and wait for someone to compute what I was saying!
As soon as I arrived, I immediately became involved with Irish Screen America, and more recently CIACLA. Helping out with various events was a great touchstone to the Irish community. The American culture is work - people don't have as much time for comradery. Back home you wouldn't think twice about calling around to someone's house but you would never dream of doing that here! That's why having various Irish events throughout the year is so important, otherwise you can get caught up in that constant work mentality.
3. Can you describe a little of what your job is like day to day?
The film business is my passion and the pandemic has made in person work difficult. Thankfully we have a pro voice booth set up in our place to record voiceovers. Very excited that in a few weeks I will work in the studios performing motion capture for a Warner Bros video game character I voiced before lockdown - it won't be released until 2022. Last weekend, I performed in my first in person script reading - readings have been performed over Zoom this past year, it was fun to have readers join in from all over the world but I am very happy to have that performance connection again.

It has been a tech learning curve, recording auditions and voiceovers at home, something most performers young and old have had to master over the past year. Very much looking forward to more in-person work when the virus has calmed down.
4. Have you any highlights of your time in the US?
I'm very lucky in that I have gotten to live in New York and Los Angeles, which were both dreams of mine. I love them equally and yet they are completely different. I remember attending an anniversary screening of the film Heat - so many of my heroes were there - "OMG, I'm at a screening, in Los Angeles, with all of these legends" and it was epic just being there. I have explored the Rocky Mountains, the Black Hills of South Dakota, Yellowstone, Zion, Grand Canyon and Yosemite and more - mind blowing magnificent places. America has so many adventures if you are willing to immerse yourself in them. Since the lockdown, Kevin and I got back into rebuilding things. We just rebuilt a small BMW convertible! A while back we actually rebuilt a Harley Davidson! And it worked! I never thought it would be so much fun.
5. What are you currently reading/watching?
I'm looking forward to reading Arnold Thomas Fanning's Mind on Fire. I know his work from his play McKenna's Fort, about Roger Casement and I performed in the premiere of his play Those Powerful Machines. Such a great writer. I just finished Irish Cinema in the Twenty-First Century by Ruth Barton, gifted to me by CIACLA. I have been sent a bunch of scripts too, so I am catching up on them. I immerse myself in film genres to match what I am writing so I am no fun getting recommendations from. Watch list: Ford vs Ferrari (starring the fabulous Caitríona Balfe), Rush, Le Mans, The Monuments Men, Race - Can you guess what my next script is about?
6. Describe your perfect 2 week vacation in Ireland?
I have been to the northern end of the Wild Atlantic Way and it's absolutely stunning. My grandad actually grew up in Donegal and I remember visiting his thatched cottage. You walked through the front door and through the house and instead of a backyard there is a sheer drop into the ocean! While there I travelled to another site in Antrim where Lilian Bland first designed, built and flew her airplane (the first woman in the world to do so!). One of my scripts, MayFly, is based on her incredible story. My partner, Kevin, took me to the Monaghan/Cavan area and we had some great adventures. I got to see beautiful caves and the Shannon Pot. For my next adventure I plan on exploring the southern part of the Wild Atlantic Way. American friends often ask what I should do when I visit Ireland and my recommendation is always - book a train tour and stay in castles! (This alleviates the panic associated with driving on the wrong side of the road!) Irish Rail have excellent packages - you get a great feel for Ireland travelling that way.