Interview with Leslie Thompson, Irish Cultural and Learning Foundation, Phoenix
News
23 September 2021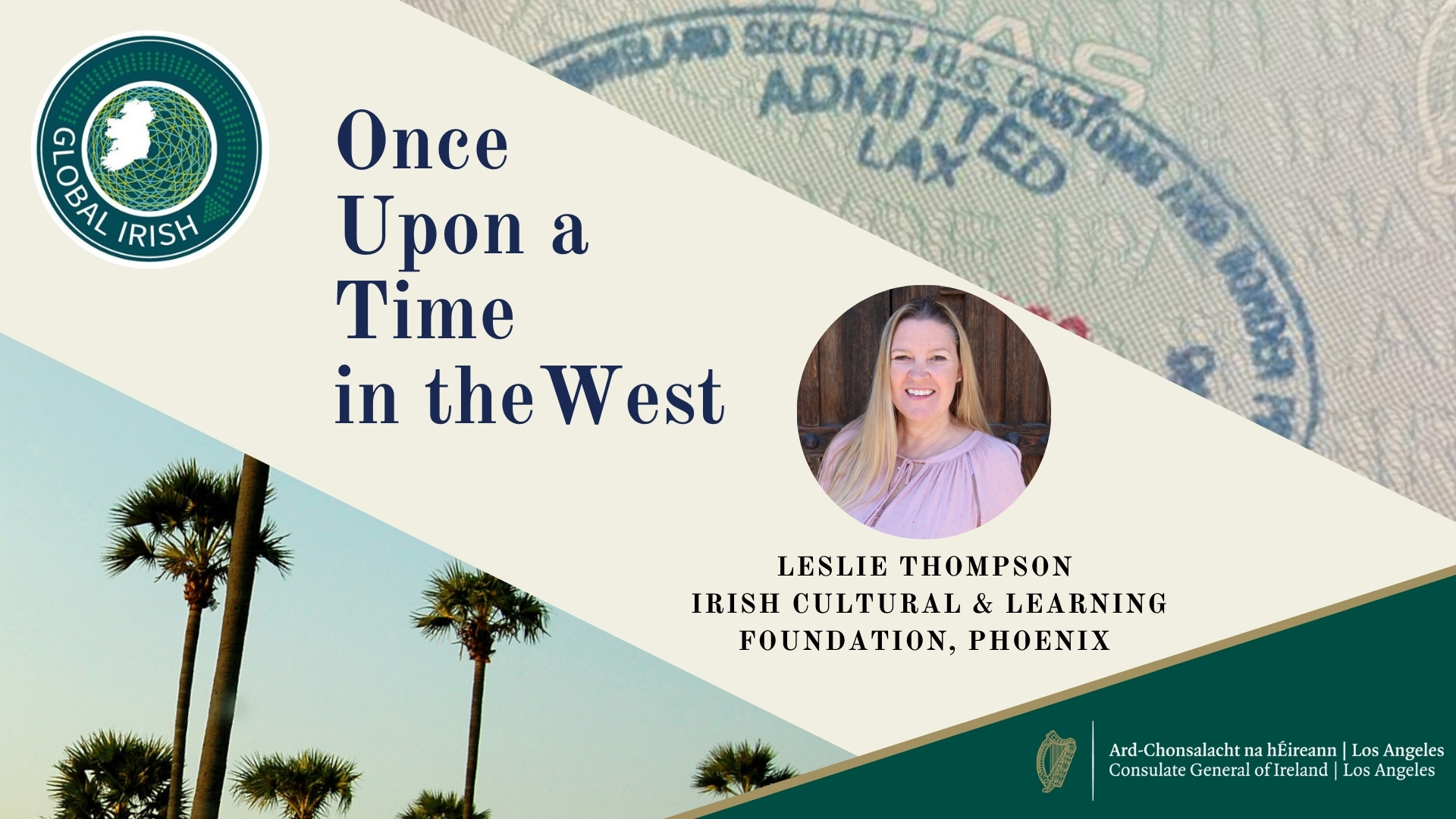 Leslie Thompson is the President of the Board for the Irish Cultural and Learning Foundation in Phoenix, Arizona. She grew up in Dublin and now lives in Arizona with her daughter Sali and husband Hal.
* This interview was condensed and edited for clarity.
1. How long have you lived in the US, and what brought you here initially?
My first time in the US was as a nanny for an Irish family in Maryland where I helped them move to New York. I have lived here in Arizona since September 1995. I was selected for an Intel assignment to support a start-up for one to two years and stayed. I also did some temporary assignments in California, New Mexico and Oregon.
2. What was your initial impression of the US and life here?
Large, choices, and opportunities. Everything is on a bigger scale here like shops, roads, buildings. Even simple choices like bread or where to go for a pint had more choices! From a career perspective there was more technical opportunities here for me although I will say Ireland is very different now. I also found the people very welcoming and I have friends across many cultures. I feel like this broadened my perspective and understanding of people and their experiences.
3. Can you describe a little of what your job is like day to day - Have you noticed any significant differences in working in the US compared to working in Ireland?
I'm in a different job now but the same company. I manage the People Systems for the Internet of Things group at Intel, so I interface with hiring managers, candidates, student interns, technical experts and managers depending on the day or schedule. Intel have goals for a diverse and inclusive workplace so I do a lot of work with our Employee Resource Groups and retention programs – this is my favorite part of the job. My other job is President of the Board for the Irish Cultural and Learning Foundation. I meet with them weekly and we talk about operations, finances and strategic planning. I think the most significant difference in working here is the pace and the hours. It is fast and long. When I work in Ireland, (which I am able to do through travel or assignments), I find a more healthy balance and a greater tolerance of taking the time for family or self.
4. Have you any highlights of your time in the US?
The birth of my daughter Sali – she is an AZ cowgirl! The many times I had visitors from home and our trips to the Grand Canyon. My family are all in Ireland so my friends here are very important to me for our cups of tea and chats. Our team recently won the Intel Quality Award which is the highest organization award in the company so that is a career highlight for me as I was the Program Manager for the process.
5. Ireland and its image abroad has changed a lot over recent decades. How do you imagine Irish communities in the US might change in the coming years?
Irish people have always had an impact no matter where they chose to live in the world and it amazes me when I learn of places they have travelled to. There is still a reputation or perception, sometimes unfounded, that people in the US have about Ireland and Irish people. The Irish American experience is very strong but it's also very different from the Irish born experience. In the coming years I see Irish communities representing "home" and its culture and history and education. Where I see the potential change is learning more about the communities they are living in. For example, here in the southwest we have a large Latinx, Native and Military communities. One other thing I believe is critical for us is to strengthen the Irish language. You don't have to be fluent but keep it alive by using words and stories that you do know.
6. Describe your perfect two-week vacation in Ireland?
Oh my! I am dreaming of that daily! First, I would spend some time in Dublin with my Dad having a pint in the Yellow House, walking through the city streets and playing in the park with my nieces and nephews. Then I would head west to Inis Oirr for a time to relax and watch the sea, and then south to west Kerry where I have wanted to spend more time listening to people speak Irish.
7. What are you currently reading/watching?
I am an avid reader so I always have a book on the go. I just finished Louise Phillips, The Doll's House, (winner of Irish crime novel of the year) and I am anxious to get back in to browse the books in the McClelland Library. I don't watch much but when I do it is PBS, something on the RTE Player or a good movie on one of the online platforms.
8. Who/What inspires you?
Many things. My family here and Dad back in Ireland. I admire the resilience of the Irish people who emigrated throughout the world and made a life for themselves. In work, the evolution of technology over the past number of years blows me away and the impact it has on people's lives through healthcare or wherever.