Ireland bursting with PRIDE in San Francisco!
News
31 July 2019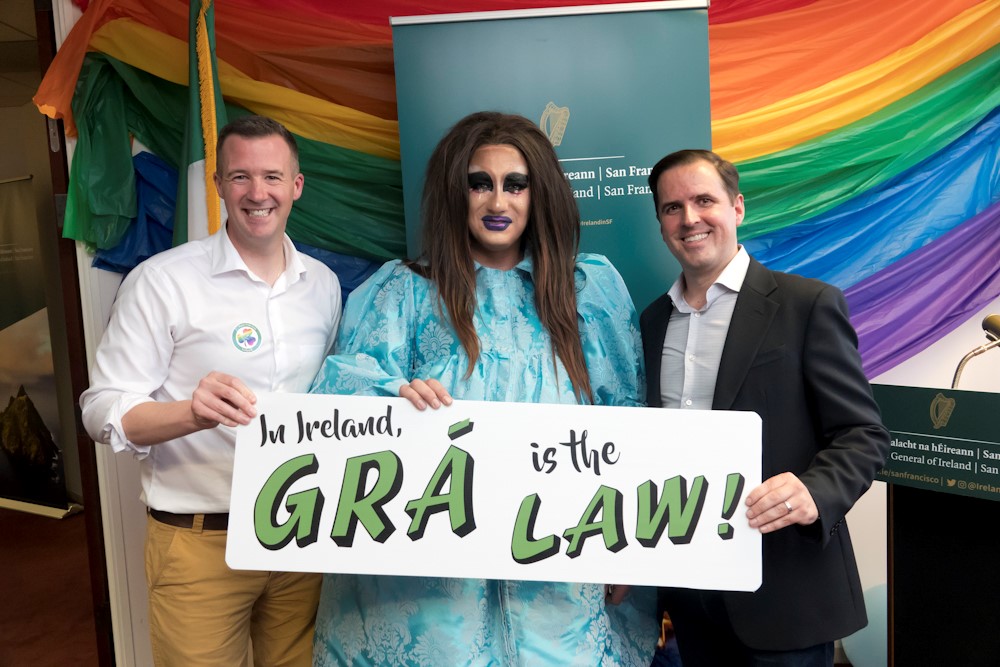 Consul General of Ireland to Western US, Robert O'Driscoll, Irish-American drag performer VivvyAnne ForEverMORE (Mica Sigourney) and CEO of IDA Ireland, Martin Shanahan
The theme for the 49th San Francisco Pride Parade this year was "Generations of resistance" paying tribute to past and current LGBTQI+ activists who have helped pave the way to, and indeed are still agitating for, more inclusive communities all around the world.
Inspired by this theme, the Consulate General of Ireland in San Francisco marched with our Bay Area Diaspora in solidarity as part of the European Union team under the banner, "All different, All Equal", demonstrating E.U. support for LGBTQI+ communities all around the world.
Over 200 people from 15 EU countries marched together. Team Ireland sported all things green and rainbow with the sign, "In Ireland, Grá is the Law!" front and centre.
We kicked off the weekend's celebrations with a Happy "PRIDE" Hour in the Consulate on the Friday evening. The event was electric! Over 80 guests enjoyed a festive and colourful Consulate, alive with energetic music, great food, and drinks courtesy of Future Bars and Dingle Distillery.
Consul General of Ireland to Western US, Robert O'Driscoll opened the event and spoke about the important connections between LGBTQI+ communities in Ireland and San Francisco noting in particular the rainbow flag gifted by the City of San Francisco to Cork City which flies over Cork City Hall each year for Pride. This was the first rainbow flag to fly over a public building in Ireland, and in 2018 both Cork and San Francisco signed a Rainbow Cities MOU and agreed to work together on LGBTQI+ inclusivity.
The CEO of IDA Ireland, Martin Shanahan, spoke about the enormous social transformation in Ireland, well reflected in the resoundingly positive endorsement by the Irish people of the 2015 marriage equality referendum.
Our very special guest was Irish-American drag performer VivvyAnne ForEverMORE (Mica Sigourney). VivvyAnne gave a thoughtful address about the importance of her Irish heritage and of Ireland's progressive stance on the rights of LGBTQ and marriage equality. She then performed an entertaining rendition of "All By Myself" to an adoring audience.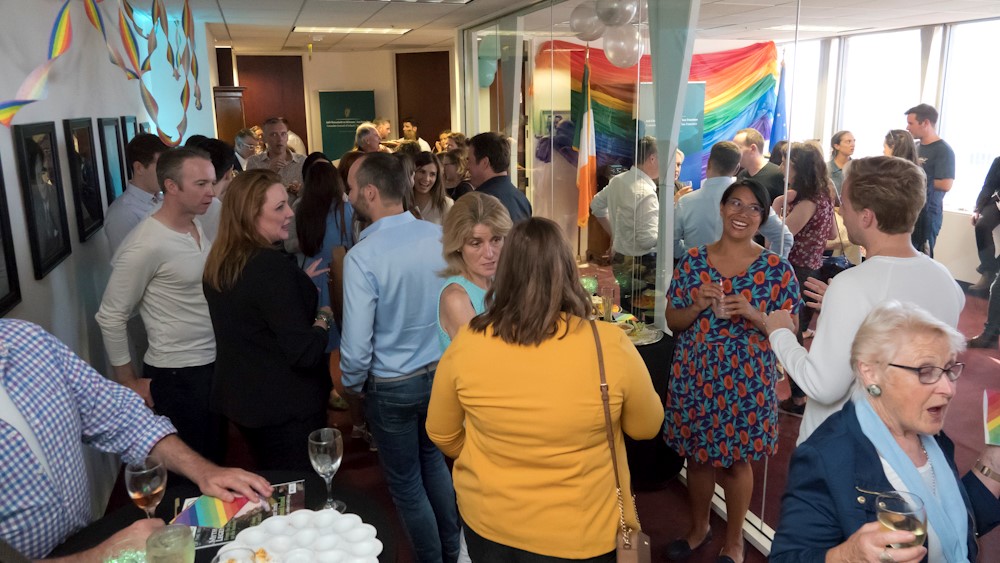 ‌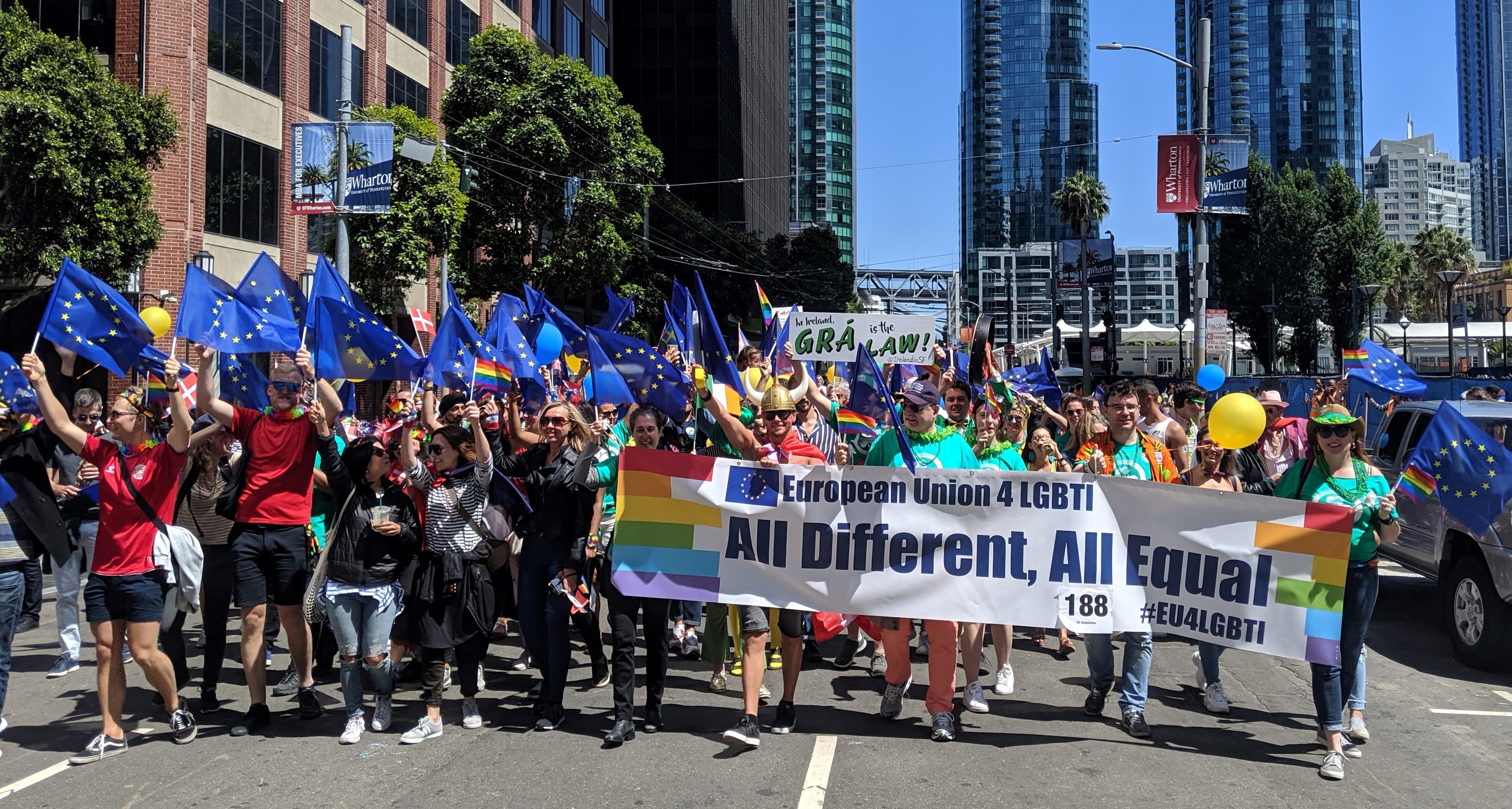 Pride weekend in San Francisco is a huge event, and the local Pride parade down Market Street is one of the oldest and largest LGBTQI+ parades in the world: it is also the main highlight of Pride in the Bay Area. This year's parade attracted an estimated 700,000 people to the streets of San Francisco, and city, state and national leaders including the Mayor of San Francisco, London Breed, House Majority Leader Nancy Pelosi, California Governor Gavin Newsom and Senator Kamala Harris were in attendance.
Plans have already begun for a fabulous 2020 SF Pride Parade where we expect another strong showing by local E.U. Consulates, the European population living locally, Ireland as represented by our Diaspora, and indeed the Consulate which will again be at the forefront in demonstrating that Grá is the law.