The Centenary of de Valera's visit to Montana celebrated.
News
18 September 2019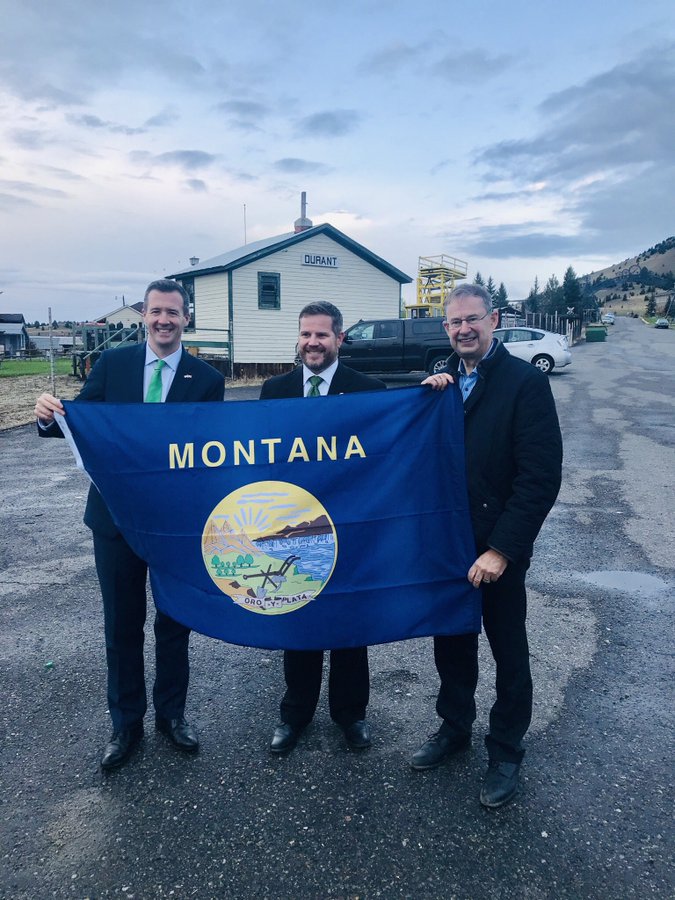 Consul General Robert O'Driscoll, Governor of Montana, Steve Bullock and Éamon Ó Cuív, T.D., with the Montana flag.
It was a busy visit to Montana as Consul General Robert O'Driscoll and Deputy Éamon Ó Cuív,T.D. participated in a range of events celebrating the 100th anniversary of the visit of "President of the Irish Republic" Éamon de Valera to the state in 1919 seeking recognition, support & funding for the Republic.
Montana has a deep Irish heritage. Butte is the, "Most Irish City in America," according to the last census. It was regularly referred to as "Ireland's Fifth Province". On his 1919 visit to Montana, de Valera raised over $300,000 on the visit - valued at over $4 million dollars today - a hugely generous contribution at the time.
A highlight for the visiting delegation was the unveiling of a plaque commemorating the thirty eight Irish nationalists buried in Butte. The Ancient Order of Hibernians in Montana are to be congratulated on completing this project and on-going work celebrating Irish heritage in Montana. The Consul General delivered remarks at the Anaconda branch of the AOH which focused on Ireland, the US, Global Ireland, Brexit and Northern Ireland. The group was also addressed by Deputy Éamon Ó Cuív who spoke primarily about de Valera's visit to America in 1919.
Consul General O'Driscoll also met with President Bodnar from the University of Montana to discuss the innovative Irish Studies program which is doing remarkable work on digitization, capturing oral histories, teaching the Irish and Irish culture supported by Global Irish.