A Night of Irish Storytelling and Music – Emerald Isle by Mosaïque
News
09 March 2018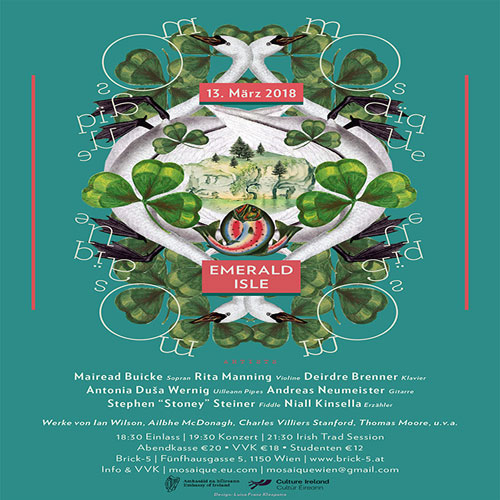 Emerald Isle brings together storytelling and music as myths and legends from Ireland are told alongside both contemporary and traditional Irish music. You'll hear tales about salmon and swans, magical horses and mighty warriors, with music by Ian Wilson, Ailbhe McDonagh, Charles Villiers Stanford, Thomas Moore and many others. Performers include pianist Deirdre Brenner, violinist Rita Manning, soprano Mairead Buicke, and storyteller Niall Kinsella, as well as the folk band The Moving Pints. Plan now to stay late as the party will continue after the concert with a traditional Irish folk music "session" in the bar.
The event is run by Mosaïque which is an innovative concert series created by pianists Deirdre Brenner and Chanda VanderHart in 2013. Concerts take place monthly at BRICK-5, a beautiful, lofted space that was originally a pea-shucking factory in Vienna's 15th district. Each Mosaïque concert revolves around a unique theme, and many contain elements of surprise and humor where performers often share personal insights about their music and art. Each concert combines classical art song with at least one additional artistic element such as dance, chamber music, folk music, jazz, declamation, visual art, or fashion. This cross-pollination of artistic forms and genres allows international performers to explore new ideas, repertoire and relationships while bridging stylistic divides.
Tickets are selling fast so advance booking is recommended.
EMERALD ISLE
March 13, 2018 @ 7:30pm. Brick-5, Fünfhausgasse 5, 1150 Wien
Tickets: €12 / €18 / €20
Available online at: http://www.mosaique.eu.com/tickets/
Contact: mosaiquewien@gmail.com Tel: 0650 523 4052