Schottenfest Vienna 2017
News
28 November 2017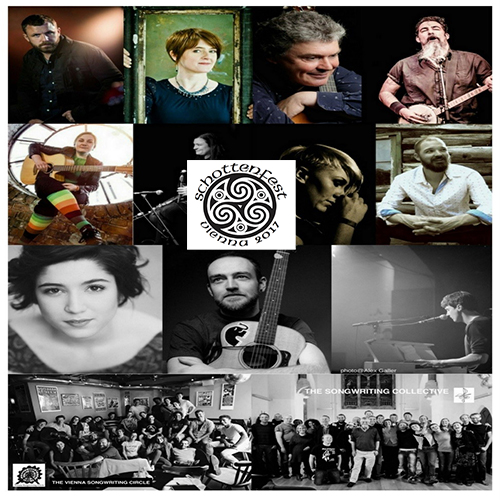 Schottenfest is a culture and music festival supported by the Irish Embassy and Culture Ireland celebrating the history of the Irish and the Scots in Vienna. This year it will take place in selected venues across Vienna from 29 November - 3 December 2017 and will feature readings, history lectures, and live concerts showcasing Irish and Scottish music, history and literature and their links with Vienna.
The full programme, along with the links how to book tickets for free and paid events, can be found at: http://www.schottenfest.com/
Particular highlights from the programme include:
Wednesday 29th November 21:00
A Traditional Music Session at Molly Darcy's Teinfaltstrasse 6-10 - Free Entry!
Austrian musician Antonia Ní Norica Duša Wernig has extended her roots and developed a passion for Irish traditional music and folk songs. While living in Ireland she has become an accomplished uilleann pipe and fiddle player and has studied the Irish language, Irish history, culture and folklore. In January 2016 she released the fantastic album "Slow Down" with her Trio Tóg Bog É.
Thursday 30th November at 13:00
Don't miss a fantastic lecture by Dr. Diarmuid Ó Ríain on the history of the Schottenstift also at Molly Darcy's. Spaces are limited to 40 so book early. Tickets cost 10€ and include a tour!
Thursday 30th November at 19:00
One of Ireland's most accomplished songwriters in Ireland today John Spillane will be preforming at the Theater am Spittelberg, Spittelberggasse 10 1070 Vienna. He will also be hosting a song writing workshop Saturday, 2nd December at the Ruby Marie Hotel, Mariahilferstrasse 120, 1060 Vienna.
Friday, 1st December 13:00-15:00, University of Vienna, Seminar Room 4
The University of Vienna Centre for Irish Studies will host a fascinating workshop:
Paul Fagan will give a talk on Macpherson's Ossian and the Emergence of Irish Studies
Sarah Ritt will give a talk on the Time and Space of Brendan Behan's Public House(s)
Dieter Fuchs will conclude discussion with a presentation titled "Irish Cannibalism and British Imperial Power Politics"
This will be followed by a screening of the film "Bloom" (Dir. Sean Walsh, 2003) based on James Joyce's "Ulysses" in Seminar Room 5
Friday, 1st December at 19:00
All the way from Cork, Mick Flannery latest album features new subject matter with a subtle focus on social injustice. See him perform with five-times winner at The BBC Radio 2 Folk Awards, Karine Polwart at Theater am Spittelberg Spittelberggasse 10 - 1070 Vienna.
Saturday, 2nd December at 12:00
A Songwriting Workshop hosted by John Spillane at 12:00 will be followed at 14:00 by The Irish Story of Song, presented by the TSC (Ire) followed by a performance by Karin Rabhansl from Germany all at the Ruby Marie Hotel - Mariahilferstrasse 120 - 1060 Vienna.
Saturday, 2nd December at 19:00
Scottish slide guitarist & songwriter Dave Arcari is one of the hardest gigging live artists on the circuit. He has performed with folks like Steve Earle, Alabama 3, Seasick Steve, Toby Keith and Jon Spencer and is famed for his unique blend of country, punk, rockabilly and pre-war delta blues which is showcased in no less than ten internationally-acclaimed solo albums. He will be supported by the fantastic soulful voice of Gráinne Hunt at 19:00 at AERA – Gonzagagasse 11 - 1010 Vienna
These are just the highlights see the full programme, along with the links how to book tickets for free and paid events, here: http://www.schottenfest.com/