Song Writing Workshop in Vienna
News
28 April 2018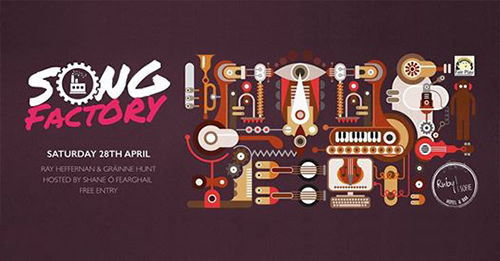 Talk song writing with Ray Heffernan (cowriter of the song "Angels" with Robbie Williams) and Gráinne Hunt who are presenting a workshop and concert in the Ruby Sofie Hotel and Bar in Vienna this Saturday!
Saturday 28th April 14:00 -22:00 – Ruby Sofie Hotel and Bar, Marxergasse 17, 1030 Vienna
This Song Factory is hosted by Shane Ó Fearghail with Ray Heffernan and Gráinne Hunt as guest performers. Both professional and established international songwriters, Ray and Gráinne will present a panel discussion with Q&A on the topic of song writing, performance and finding your own style. They will guide us through a professional co-writing session in the afternoon followed by an evening performance and live show. We wish to encourage high quality writing sessions so the afternoon is great for people who bring some song writing experience and want to improve their skills. Everyone not experienced with song writing is welcome to watch our performers over the shoulder during the writing session and to join us for the evening music performance.
Spaces for the afternoon panel and writing group sessions are limited to 12 participants. If you're interested in attending the session on the 28 April, please email shane@sadopera.com.