Ending Malnutrition: Ireland invests in research
News
18 May 2019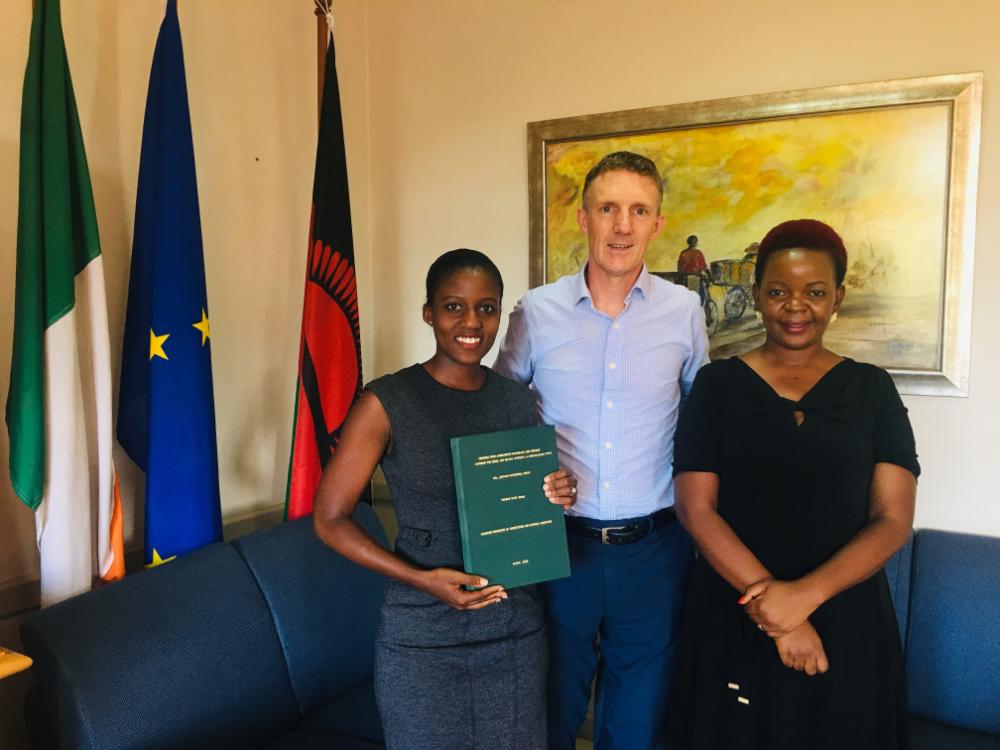 Ambassador of Ireland to Malawi, Gerry Cunningham, with Ruth Tiyezge Zimba (L) and Prisca Chisala (R), new graduates of Lilongwe University of Agriculture and Natural Resources. Photo: Irish Aid Malawi
The Embassy of Ireland in Malawi, through the Irish Aid programme, enjoys a fruitful relationship with Lilongwe University of Agriculture & Natural Resources (LUANAR) that spans back to 2010. This relationship was sparked by the introduction of the Global Scaling up Nutrition Movement in Malawi. LUANAR was instrumental in contributing towards strengthening the capacity of Government institutions and other stakeholders (NGOs) to effectively work together to end malnutrition, in all its forms. Irish Aid has continued to partner with LUANAR in research and capability building interventions within the nutrition sector.
Currently, LUANAR's funding is aimed at enhancing the national nutrition response by supporting generation of evidence and, monitoring implementation of evidence-based food and nutrition interventions that would help to further reduce the burden of under-nutrition by 2020.
Recently the Embassy team had an opportunity to interact with two amazing students who undertook their research with LUANAR through the Irish Aid funded programme.
Ruth Tiyezge Zimba graduated recently with an MSc in Human Nutrition at LUANAR. She supported development of seasonal food availability calendars in Dedza and Balaka districts. Her research also examined the eating preferences of households and communities, which further informed how programmes can promote more diverse and nutritious diets.
The second student, Prisca Chisala graduated in November 2018.Drawing from Ruth's research she focused on promoting appropriate Infant and Young Child feeding practices through consumption of complementary foods. Prisca further produced a recipe book of 13 meals based these locally and seasonally available ingredients.
As a follow on to the research, both students trained district nutrition committee members and community volunteers on using these calendars and nutritious recipes. The volunteers then went on to cascade this training to the nutrition vulnerable groups of pregnant & lactating women and women with under five children. Subsequently, these seasonal food calendars and recipes were included as modules in a district nutrition training manual which LUANAR developed for district and community level nutrition staff for the whole nation.
The experience gained through this research has given the students a spring board to nutrition employment. Ruth is a Nutrition and M&E officer at Catholic Health Commission and Prisca work with the Malawi Red Cross as Director of Programmes. In their current roles they are able to practically apply the research funded by Irish Aid in Balaka and Dedza to nutrition programmes across a number of other districts. 'My current work with Malawi Red Cross Society (MRCS) as Director of Programmes enables me to provide strategic direction in the management of nutrition related interventions in our institution and I am motivated to develop more nutrition and health related interventions within MRCS in order to help curb malnutrition in Malawi', Prisca explained.