Cruinniú na nÓg 2021
News
17 May 2021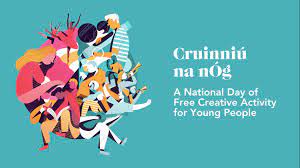 Cruinniú na nÓg 2021 Logo
Cruinniú na nÓg is the flagship youth initiative of Creative Ireland. It is a national day (12 June 2021) of free creativity for children and young people, the only day of its kind in the world. The first Cruinniú na nÓg took place in June 2018 and for the past 3 years, including under virtual circumstances in 2020, young people and families have come together to take part in a wide range of activities, including workshops and tutorials to recitals and readings in every city, town and village across the country. It has also stretched well beyond the island and it is hoped that international participation will continue to increase this year.
All of the initiatives and events of Cruinniú na nÓg 2021, including over 300 local authority events (to date), can now be viewed on https://cruinniu.creativeireland.gov.ie/news/.
Over the next 6 weeks an epic drumming film will be produced and then broadcast on 12th June 2021 as part of Cruinniú na nÓg. Children from around the world are asked to check out the following link https://glor.ie/cruinniu-na-nog-beat-your-drum/, choose a workshop (all less than 15 minutes long), film themselves playing with the Creative Ireland tutors at the end and send their videos.
The initial tutorials on the website are focused on Irish, African, Indian, Brazilian, Native American and body percussion but other unique cultural drumming contributions are encouraged from across the world. Expressions of interest can be made through the above website and/or by contacting beatyourdrum@glor.ie
A céilí in the kitchen can happen anywhere in the world and embrace all cultures and traditions. Families across the world are invited to get ready to host a Céilí. From Monday 17th May to Saturday 12th June children will be invited to join Céilí Club where 4 club leaders will host live and interactive workshops on Zoom (Monday – Thursday) in storytelling, song, dance, lilting and more https://cruinniu.creativeireland.gov.ie/event/ceili-in-the-kitchen-2/.
Expressions of interest can be made through the above website and/or by contacting aircdamhsa@gmail.com
The Imagine-Orchestra Music Marathon on the 12th June 2021 will be a world record attempt of the largest virtually performing music ensemble. The current record stands at 1320. Children can learn more at https://cruinniu.creativeireland.gov.ie/event/imagine-orchestra/. They will be encouraged to first join in a series of public access online workshops leading up to Cruinniú na nÓg 2021 and the world record attempt, which will see them joining the online concert alongside their tutors and guest artists.
Children can register on the above website and/or by contacting info@riam.ie