Farewell Message from H.E. Ambassador Aidan Cronin
News
12 August 2022
A cháirde
Friends‌

Tá an t-am tagtha, tar éis ceithre bliana iontacha mar Ambasadóir na hÉireann chuig an UAE, Catar, Cuáit agus an Afganastáin, dom slán a fhágáil.

The time has come, after four great years as Ireland's Ambassador to the UAE, Qatar, Kuwait and Afghanistan, for me to say goodbye.

لقد حان الوقت ، بعد أربع سنوات رائعة كسفير لإيرلندا في الإمارات العربية المتحدة، قطر، الكويت وأفغانستان ، لأقول وداعاً.

So much has happened since I arrived here with my family in August 2018. The first eighteen months were something of a blur - the honour of being appointed an ambassador, the excitement of a new posting, introducing myself to counterparts in foreign and other ministries, working with my colleagues in the Embassy and in the State agencies to promote Ireland's political and economic interests, comparing notes with my EU colleagues, getting to know the Irish communities in the UAE, Qatar and Kuwait, interacting with the vibrant Irish business communities, the wonderful Irish teacher communities and witnessing the incredible reach of the GAA across the Middle East.

Then, come March 2020, and the Covid-19 shutters came down. I don't want to dwell too much on the almost two years of restrictions, masks, lockdowns, webinars, zoom meetings and so on. Suffice to say that it was the strangest of times. Great credit is due to the public health professionals and healthcare workers who guided us through the pandemic and to all who continued working on the frontline, from retail workers to police officers and many others. It was the worst of times, of course, but we also saw the best of us as people and as communities.

From a work perspective, it meant that practically all of the in-person contact that is so essential to the work of a diplomat came to a sudden halt. I went from at least weekly visits to Dubai to just four visits over an eighteen month period, and travel to Qatar and Kuwait also became extremely difficult. We were still busy, of course, helping Irish citizens to get home during the lockdown, finding new, innovative ways of staying in touch with the Irish community and with other contacts, but it was very different.

I have to say, however, that I felt very fortunate to be in this region during the pandemic. The authorities here deserve much credit for their measured, responsible and very effective responses and, personally, I always felt that myself and my family were in good hands here.

The UAE authorities also deserve much credit for making Expo 2020 the success that it was. A high point for me was the largely spontaneous St. Patrick's Day Parade at Expo 2020 when hundreds of Irish people set off from the Irish pavilion and marched, in full voice, flags waving, so proud to be Irish, to the Al Wasl Plaza where we were treated to a concert of some of the best of Irish traditional music. It was the stuff of which great memories are made.

I also want to put on the record my thanks to all of those who helped us as we worked to evacuate Irish citizens, their families and others from Afghanistan over the past twelve months. We have all watched in dismay as events have unfolded there and we wish only the best for the people of that wonderful country, in particular Afghan women and girls, for whom daily life is now so challenging.

I want to thank all of you, the friends of Ireland here in the region, for your support over the past four years. I must say a special thank you to the superb Embassy team for their support and guidance. Ireland is fortunate indeed to have such a dedicated and professional team working for us in the region. I also want to thank my colleagues in the State agencies - Enterprise Ireland, Tourism Ireland, Bord Bia and IDA Ireland - for their collaboration and support. We worked so well together as Team Ireland, particularly during Expo 2020, and the future is bright for Ireland here in the Gulf.

I know how excited my successor, Alison Milton, is to be coming here as Irish ambassador. It is a fantastic job - busy, varied, relevant, interesting and challenging - and she will be a great representative for Ireland in the region. I wish Alison and her family every success and happiness here. Similarly to our new Deputy Head of Mission, John Forde who is also moving here with his young family. So, there is much change here in the Embassy.

Finally, I want to thank my wife Maedhbh, my daughter Caoimhe and my son, Cadhla. It isn't easy, packing up and moving every few years, but they have done it without complaint (mostly), always eager for the next adventure.

Guím gach rath oraibh go léir.

I wish you all the very best.

اتمنى لكم كل التوفيق.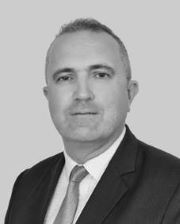 Aidan Cronin
Ambassador