St. Patrick's Day Reception Abu Dhabi, 2023
News
17 March 2023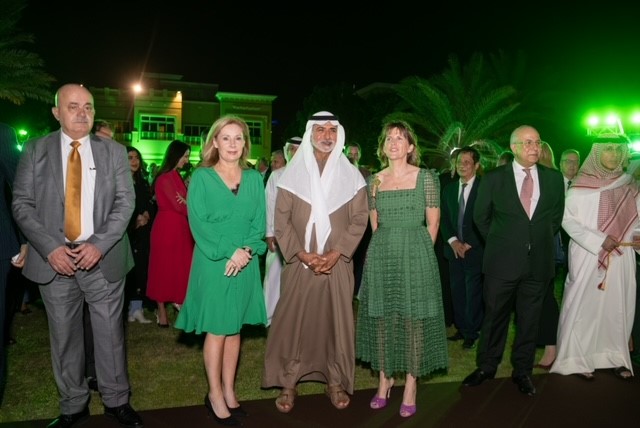 H.E. Ambassador Alison Milton with Ireland's Minister for Special Education, Josepha Madigan, and the UAE Minister of Tolerance and Co-Existence, Sheikh Nahyan bin Mubarak Al Nahyan
‌On 17th March, the Embassy of Ireland in Abu Dhabi hosted their National Day Reception at the Irish Ambassador's Residence.
There was a mix of diplomatic, government, and business contacts, as well as strong representation from the Irish community here, including members from the Middle East GAA, the Irish Business Network, the Irish Business Council, teachers, academics, and medical practitioners. Approximately 400 guests attended the reception with special guests including Ireland's Minister for Special Education, Josepha Madigan, and the UAE Minister of Tolerance and Co-Existence, Sheikh Nahyan bin Mubarak Al Nahyan.
The menu was composed of a wide range of Irish produce, with fantastic sponsorship from a range of Irish food producers, and entertainment was provided by two local Irish bands, as well as harpist and piper, Kavan Donohoe, who travelled over from Ireland. The Irish National Anthem was performed by a member of the band, an Irish teacher based in Dubai, and an Emirati singer performed the UAE National Anthem, Ahmad el Hosani. An Irish dancer also performed a routine from the world famous Riverdance show, and entertained the guests throughout the evening with the crowd often joining in.