St. Patrick's Day 2021 Events Programme
News
16 March 2021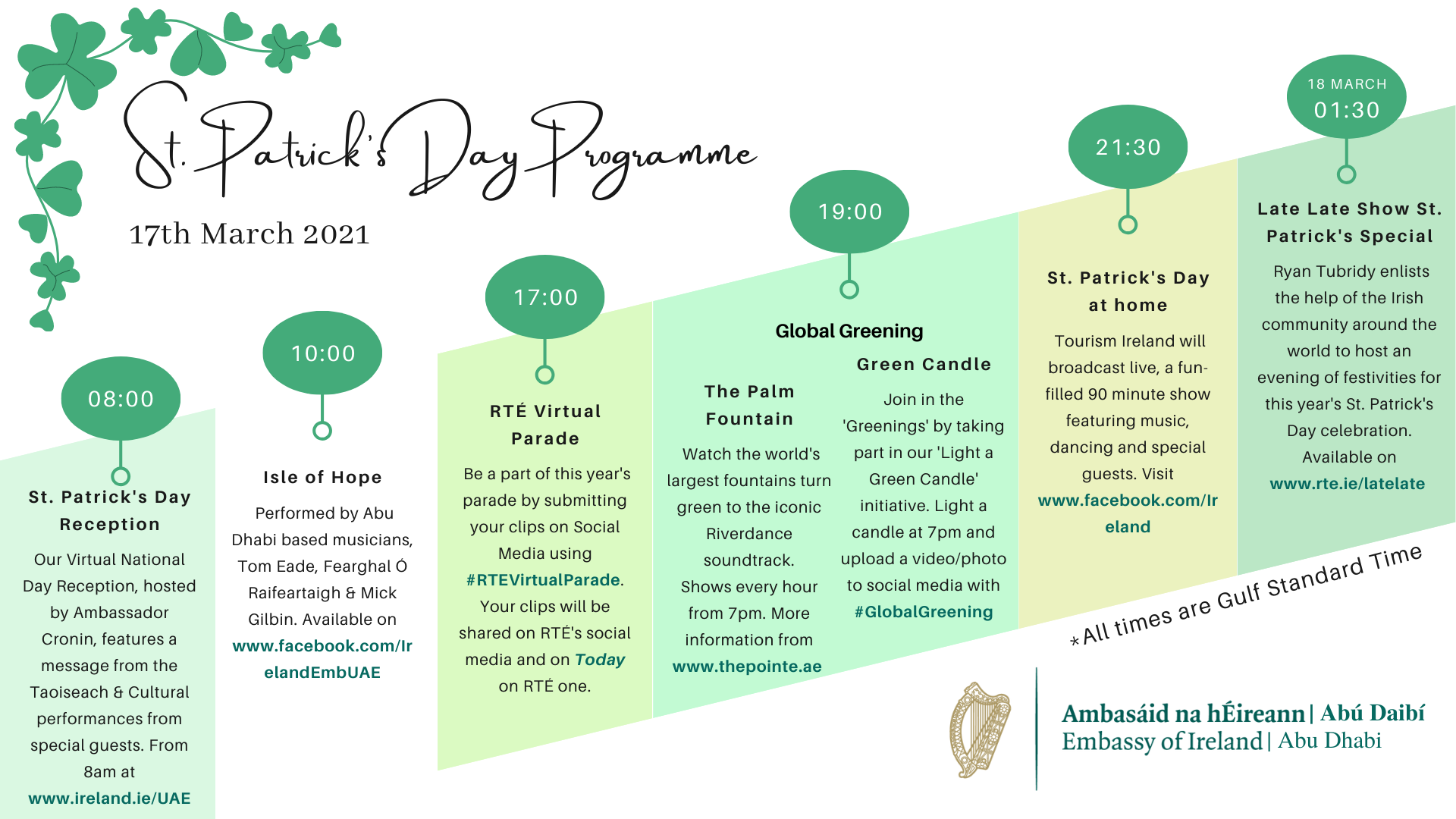 Lá Fhéile Pádraig sona dhuit! - Happy St. Patrick's Day!
This year, we are once again celebrating virtually rather than in-person. However, the Embassy of Ireland, Abu Dhabi and a number of cultural organisations in Ireland have created a fun-filled programme of events to ensure that Ireland's National Day is celebrated all over the globe.
St. Patrick's Day Programme Highlights
8am: St. Patrick's Day Reception
Our virtual National Day Reception, hosted by Ambassador Cronin, features a meesage from the Taoiseach and cultural performances from special guests. Available from 8am at www.ireland.ie/UAE
10am: Isle of Hope
Perfromed by Abu Dhabi based musicians, Tom Eade, Fearghal Ó Raifeartaigh and Mick Gilbin. Available from https://www.facebook.com/IrelandEmbUAE
5pm: RTÉ Virtual Parade
Be a part of this year's parade by submitting your clips on Social Media using the #RTEVirtualParade. Your clips will be shared on RTÉ's social media pages and on Today on RTÉ One from 5pm.
7pm: Global Greenings
The Palm Fountain
Watch the world's largest fountain turn green to the iconic Riverdance soundtrack. Shows every hour from 7pm. More information from www.thepointe.ae
Green Candle
Join in the 'Greenings' by taking part in our 'Light a Green Candle' initiative. Light a green candle at 7pm and upload a video or photo to social media using #GlobalGreening
9.30pm: St. Patrick's Day at home
Tourism Ireland will broadcast live, a fun-filled 90 minute show featuring music, dancing and special guests. Watch live on www.facebook.com/Ireland
1:30am, 18 March: Late Late Show St. Patrick's Special
Ryan Tubridy enlists the help of the Irish community around the world to host an evening of festivities for this year's St. Patrick's Day celebration. Available from www.rte.ie/latelate
*All times are Gulf Standard Time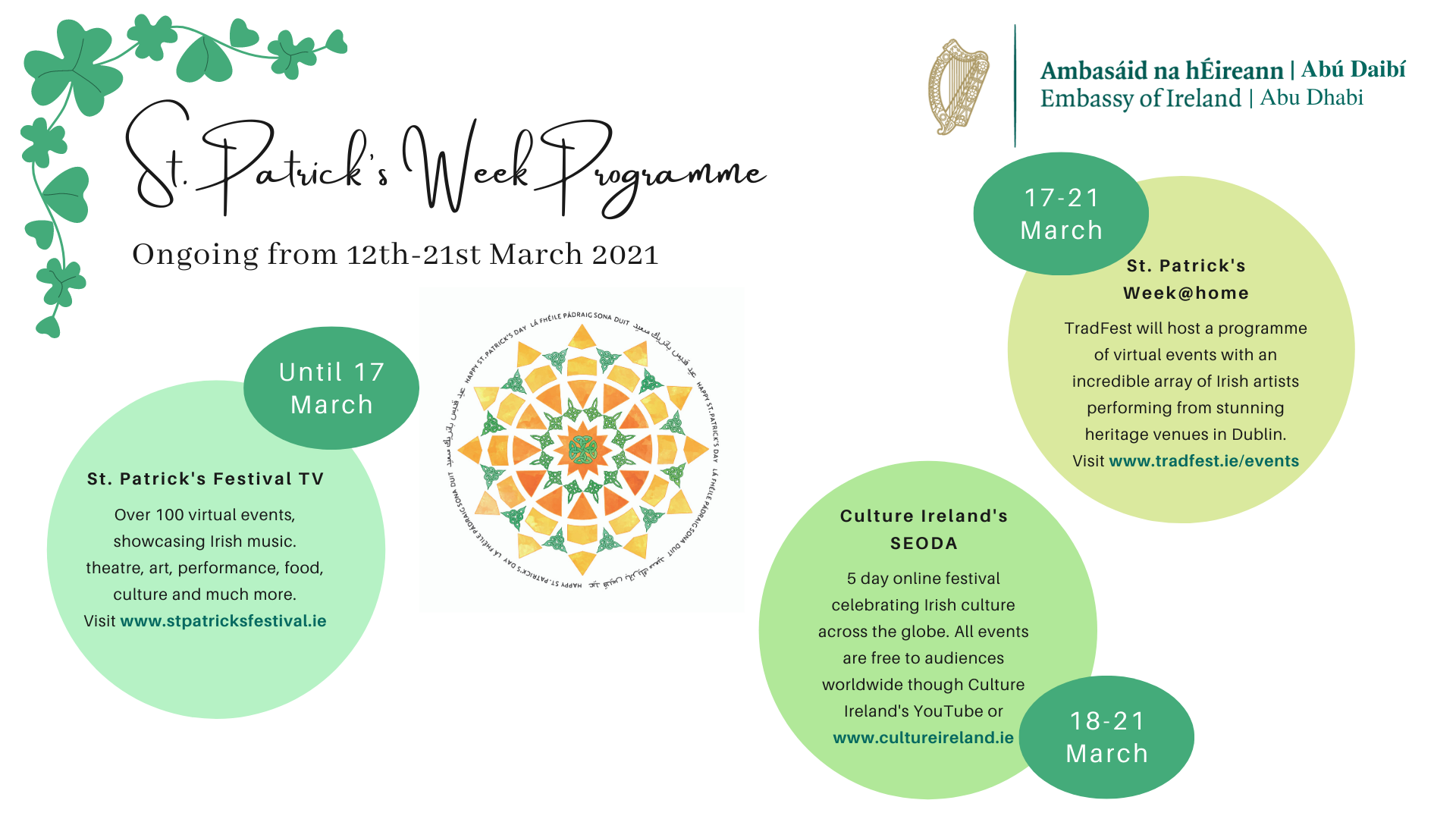 St. Patrick's Week Programme
A number of cultural organisations are running five or six day online event programmes, catering to audiences of all ages and interests. A snapshot of these include:
St Patrick's Festival TV
Until March 17th, St Patrick's Festival TV will host over 100 virtual events, showcasing Irish music, theatre, art, performance, poetry, storytelling, traditional arts, virtual tours, food, culture and more;
TradFest
St Patrick's Week@Home: TradFest will host a programme of virtual events from 18-21 March, with an incredible array of Irish artists and some very special guests from some of Dublin's most stunning heritage venues;
Culture Ireland
Culture Ireland's SEODA online festival will celebrate Irish culture across the globe from 17-21 March. The five day festival will feature over 100 artists, including The Abbey, CoisCéim Dance Theatre, Druid, Rough Magic/Kilkenny Arts Festival, Stephen Rea, Sinead Gleeson and Martin Hayes, alongside Irish work from New York, London and Paris. All events are available free to audiences around the world through Culture Ireland's YouTube channel here.
We are already looking forward to celebrating St. Patrick's Day in-person and in-style in 2022 when we will be hosting a very special and very exciting series of St. Patrick's Day events at Dubai Expo 2020.